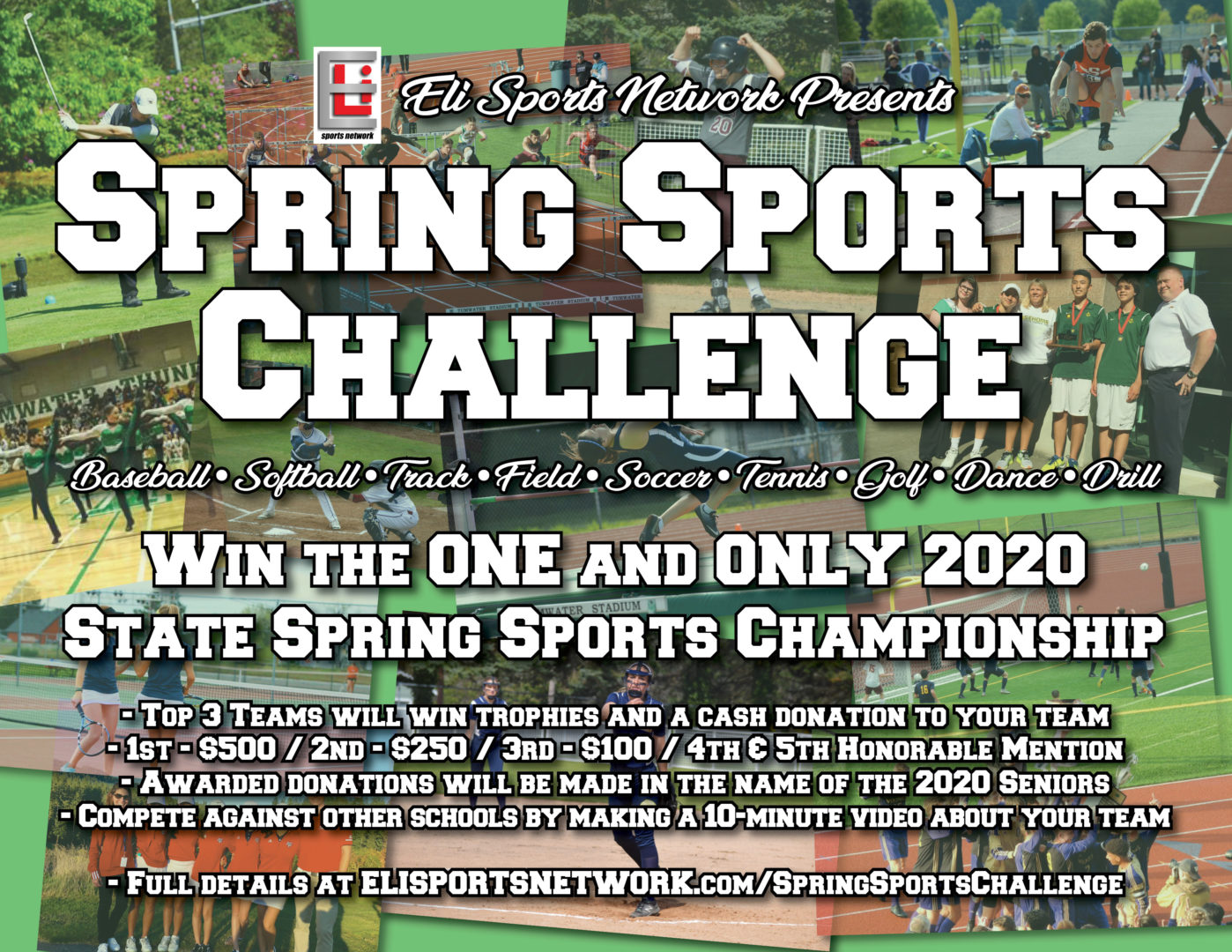 The Eli Spring Sports Challenge!
The Governor made the call we all dreaded and with that the cancellation of School and Spring Sports plus Dance and Drill who also had their State Tourney cancelled. Students cannot freely see friends or teachers or coaches and are confused, angry and isolated. We here at the Eli Sports Network have an idea to help satisfy some of that competitive energy your student-athletes have pent up and a chance to win a decent donation to your team.
We present the
Spring Sports Challenge!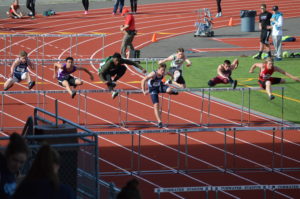 We invite each Spring sport, Fastpitch, Baseball, Soccer, Golf, Track, Tennis plus Dance and Drill to create a video up to 10-minutes about your team. A State Champion will be crowned and will also receive a $500 prize to go to your team to use for next year's squad. The donation will be made in the name of the 2020 Seniors on your team. 2nd place with receive $250 and 3rd place will get $100. 4th and 5th place finishers will receive plaques.
All approved videos will be aired in one of the episodes of the Spring Sports Challenge beginning hopefully in mid-May. We will air episodes for free on the Eli Sports You-Tube Channel.
We will have a minimum of 5 and up to 10 independent judges review each of the videos and they will rate their top 5 in a 1-2-3-4-5 order. A point system of 10-7-5-3-1 will be used to crown the Champion.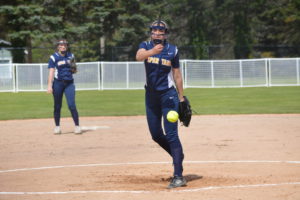 Teams can use video highlights from hudl, home video, your phone or a camera and record yourself, or previous recordings from other highlights.
You can simply string highlights together or come up with something super creative with the idea of standing out to the judges. Think outside the box with athlete interviews, digital or virtual pieces on how your team would have done this year or against your main rival. Make it fun, or really cool, serious or goofy just stand out from the rest.
If you are a track participant, have a family member time you in the 100 and show us the time to say this would be the State Championship time or throw the shot, baseball and fastpitch players hit a whiffle ball with your brother or sister make a diving catch, knock one over the back yard fence, same with soccer, golf and tennis. Get creative and stand out from the crowd, this is a competition and a State Champion will be crowned!
You should organize your team anyway you want pick a captain or designate one person to put the final product together, but all of this MUST be done remotely or with social distancing rules in effect. Breaking the social distance rule with will be grounds for disqualification. Exceptions are made for family members already together.
We don't have many rules so this will leave you LOTS of room to be creative, so grab the judges' attention!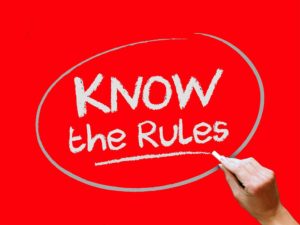 Rules
The most important rule is that you can't meet with each other physically or always the proper social distancing and the guidelines laid out by the state.  Any violation of these rules and your video will be disqualified. There is an exception for family members or those you are currently living with in the same household. For example, siblings can create or video themselves in the context of their home or home property like your backyard.

Send completed videos, we will not edit any video. What you send is what we will air.. 

No profanity, vulgarity or anything that would be against the athletic code.

Teams can submit their videos to this e-mail elispringsportschallenge@gmail.com between May 1 and May 22, 2020.

Only 1 submission from each team of each school allowed. For Track, Tennis and Golf each team boys and girls can each submit a video or you can combine the two teams for 1 entry.
Teams whose videos are rejected will be informed why and if they can make the necessary changes prior to May 22 they may re-submit their video.
Email all submissions to elispringsportschallenge@gmail.com by May 22nd and all videos will be aired on the Eli You-Tube Channel. The shows will air live at a to be determined time and then be saved in the Spring Sports Channel Playlist on the Eli You-Tube Channel. When you submit your video you will receive a note back that we did get it and will follow up with another note telling you if your video was approved and what date it will air. If  rejected you will be notified why and if prior to May 22 teams may make changes and re-submit their video for consideration.
No more than 6 videos will be combined for an individual episode of The Spring Sports Challenge. Our first airdate is scheduled for Tuesday, May 26 at Noon. As entries are received we will announce further air dates as we finalize scheduling. There will be a final show that announces the top 5 finishes.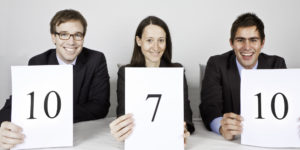 Judging
Judges will rate their top 5 videos with the following point system: 1st-10 points, 2nd-7 points, 3rd-5 points, 4th-3-points and 5th-1 point. The Judges totals will then be added up and the video with the highest point total wins the Eli Spring Sports Challenge State Championship and this process will continue to fill out the top 5. (Ties will be re-judged by the judges with only the tied videos being judged. This is our "Overtime" provision.)
Teams that are part of the most viewed episode of the Eli Spring Sports Challenge will receive 1 bonus point. The measurement will be a 24-hour measurement from the time it is posted to the next day. This is set to be from noon to noon.
So what do you say? Who is up for a challenge? Let us know and let's get this competition underway!
www.elisportsnetwork.com