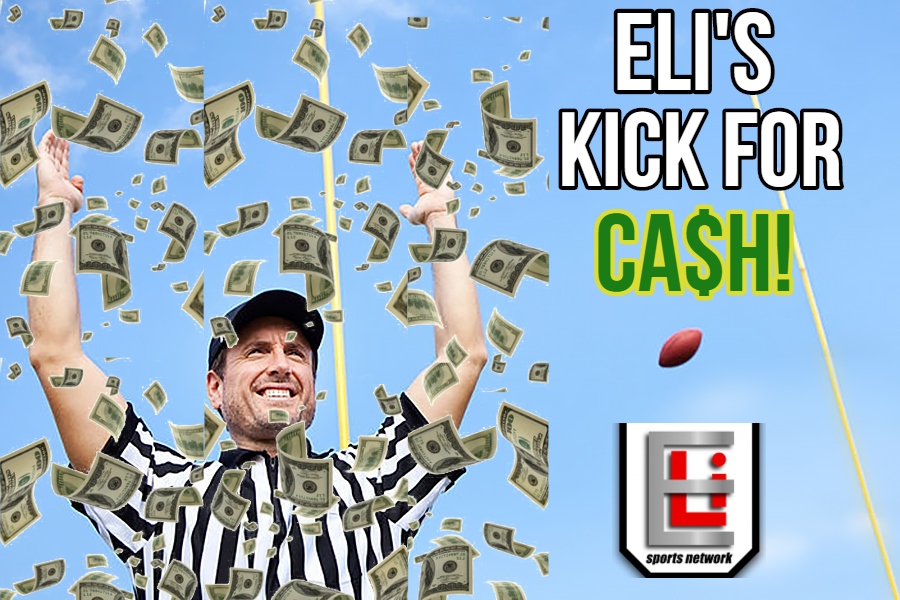 Eli's Kick for Cash
The Eli Sports Network is excited to present Eli's Kick for Cash! Your chance to win $10,000!
All you have to do is kick a 50-yard Field Goal during our live video streamed Kick for Cash broadcast and you win $10,000! A total of 6 Winners will qualify for our kicking day with 1 randomly chosen to kick for the $10,000. The Winner is guaranteed $250. The other 5 will get a chance to kick for $100 and all 6 will get gift bags.
To sign-up, #1) you must follow us on either Facebook, Twitter or Instagram. #2) Then you must like, share, post or retweet the Eli's Kick For Cash flyer, with the hashtag #eliskickforcash. #3) Lastly, you must also complete the sign-up form so we can get ahold of you if you are selected!
Weekly finalists will be posted so check back to see if your name was drawn!
Be sure to check the eligibility rules to make sure you are eligible to be a contestant.
Weekly Finalists
Facebook:
Twitter: 
Week 1 Finalists: @AndreasMalunat & @kevinschultz15
Instagram: