5/19/2022
With Day 1 which was all of week 1 we are set with our 2nd round of Power Rankings. Quite a bit of movement and we arrive at these rankings by using a formula we devised measuring wins, places, shows and 4th place finishes, how much you won by and odds.
The Power Rankings are meant to be fun and to focus on the human competition between these awesome athletes. Moreover it's a chance to focus more on each rider and their accomplishments each week. We stress there is nothing "official" about these rankings and we know there will be varying opinions which is also great and we hope it does create more conversations about our sport and our athletes.
We will rank only our top 10 and add a "be on the look-out" for those outside of our top 10 that are about to crack the top 10. With that, here is our second Emerald Downs Jockey Power Ranking!
#1 Juan Gutierrez (last week #3)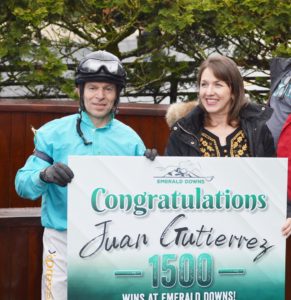 The Emerald OG triple won winning the 1st 2 races and the last race to bookend it. The win in the last race was also Gutierrez's 1,500th career win at Emerald Downs adding to his lead as the winningest jockey in ED history. Gutierrez didn't just win he rode hard all day and picked up a 2nd and a 3 shows to go 7 of 8 in the money or 88% in the trifecta. Guti came out sizzling hot in the rain and he moves into the 1 spot.
#2 Alex Cruz (last week #1)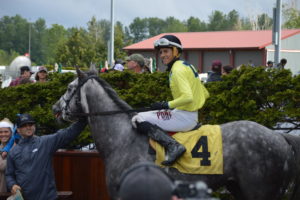 The 2-time defending Champ rode the card and picked up 2 wins, one of 3 riders to win multiple races. Cruz deserves to be at or near the top until someone can slow him down. Cruz had the longest winning streak in state history last season, he may be gearing up for another long run of at least 1 win a day.
#3 Jennifer Whitaker (last week #10)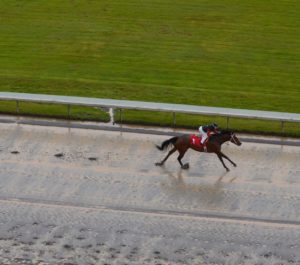 Whitaker only had 7 wins in all of 2021 with 5 places and 19 shows! She has already won 29% of what she did all of last season and looks ready to turn those shows into Winner's Circle Pictures. She was 2 for 3 on the with a win percent of 67%.
#4 Eddie Martinez (last week #8)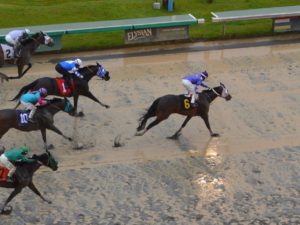 Eddie Martinez had a great start to the 2022 season, something he was looking to do after a late and slow start last year. Martinez picked up a win on I Am Allthatyouare in the 6th, nearly held on for the win in the 3rd getting caught in the final strides and added another 2nd in the 7th and was 3 of 4 in the money.
#5 Javier Matias (last week #6)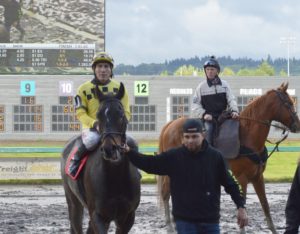 Javier Matias has been here for a couple of decades and is one of the more dependable riders. You always know you're going to get a veteran ride from Matias and he won the 1st feature race of the season with his heads up race riding of using the front speed of Frank's Fix It perfectly with plenty left to hold off all comers. 
#6 Alex Anaya (last week #9)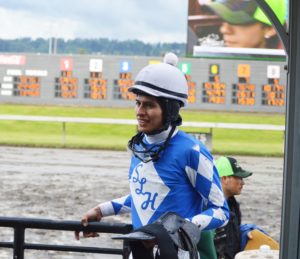 Although Alex Anaya did not win a race he collected 3 2nd's, a 3rd and a 4th from 7 mounts. His average odds was 13.3-1. He placed 2nd on an 18-1 shot and a 12-1 and showed on a 28-1 longshot. It won't be long until Anaya is in the circle.
#7 Kevin Radke (Last week same)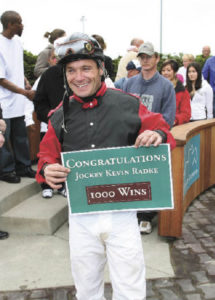 Radke held steady in the 7th position. Despite 1 of 3 riders with 8 or more rides he had no wins, 1 2nd, 2 3rds and 2 4ths and did finish 5 of 8 times in the superfecta.
#8 Leslie Mawing (last week #2)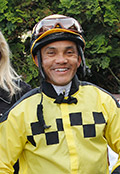 Mawing came in at #2 to begin the year based on his long history of success. But he only had 3 mounts on opening day and did take a 2nd and almost held on for a stunning upset on Whenducksfly at 20-1. We suspect Mawing will get it going here over the next few days.
#9 Chester Bonnet (unranked)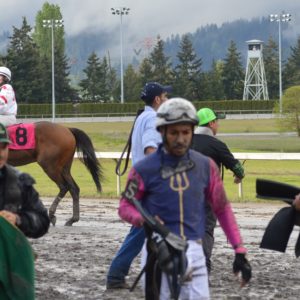 Bonnet had just 1 ride and it was in the feature race on Kay Cooper's Nationheart who went off as the betting favorite. Bonnet rode a heady race sitting off the front pace and made a run at Frank's Fix It but could not get to the winner but a solid ride for Bonnet on his only chance.
#10 Kevin Orozco (last week #4)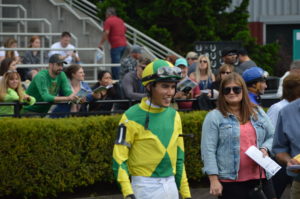 Kevin Orozco hangs in the top 10 after a disappointing 1st day where he hit the tote board just once, a 4th in the finale from 5 rides. Orozco was the leading Stakes rider here last year, we don't think he will wait for the Stakes before he starts hitting the front.
Power Rankings Notes:
Wayne Barnett new to the colony and was scheduled to ride several and placed 2nd in the 1st race on the 1-1 favorite Big Fashion. He then rode in the 3rd on an outsider showed brief speed and then faded to last. After that race he told the Stewards he was not feeling well and took off his mounts. We hope this was just an isolated issue we project Barnett to be in the top 10 in a full season.
Kassie Guglielmino rode here several years back and is back for the season. She got on 6 on opening day but could only get a pair of 4ths. If she keeps drawing that number of mounts she will be firing soon so we are keeping our eyes on Kassie. However, not this weekend as she had to go out of town and won't be riding.
Jose Zunino was the only one to get dropped from the top 10. After a solid season last year and a sizzling spring in Phoenix Zunino had 5 rides on opening day but could not light any of the positions on the tote board. We believe Zunino will bounce back and expect him to re-emerge soon.
David Martin had 2 rides and did not hit the board while Vladimer Jensen rode once to finish out of the money. Jensen has 1 mount for the final race on Sunday this weekend and Martin has a few rides over both days as well trying to get their seasons going in the right direction.
The entries are out for this weekend and Jose Nava-Marin will get his 1st mount of the season on Saturday in the 3rd race. James Wooten a favorite at Emerald Downs is set to return on Saturday as well with a ride in the 1st. 
www.elisportsnetwork.com