5/15/2022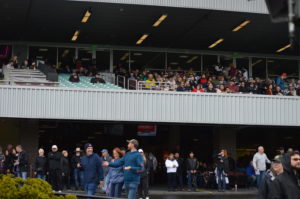 The clouds rolled in the rain fell hard, the track was sloppy but smiles were aplenty at the Emerald Downs opening day.  The smiles bright and clean on those in the stands and for those on the back of the horses only their eyes and teeth were visible with the caked on sloppy track remnants kicked up into their face.
Here is a race by race re-cap of each of the 9 opening day races with full coverage of the 8th and featured race, the Muckleshoot Casino Purse.
Race 1
A field of 6 saw one scratch out of the race leaving a field of 5. The Betting favorite was #6 Big Fashion with Wayne Burnett up. As the gates to the 5 1/2 furlong dash opened Pearl River Delta and Celinas Blue Bird broke for the lead with Coastal Queen sitting off the pace with Fully Compliant and Big Fashion trailing.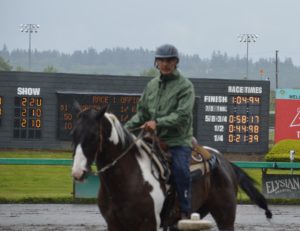 The front speed held to the top of the stretch when Pearl River Delta pulled away as Celinas Blue Bird and Coastal Queen both began to fade as Fully Compliant was revving up with Big Fashion still trailing. Juan Gutierrez on Fully Compliant rolled up on Pearl River Delta as Kevin Radke was strongly urging to hold on with Big Fashion closing on the far outside. Fully Compliant held off Big Fashion and Pearl River Delta settled for 3rd while Celinas Blue Bird finished 4th.
2021 leading trainer Joe Toye got the win for owner Wayne Williams. We got a chance to talk with jockey Juan Gutierrez on winning the 1st race of the year and his expectations for the 2022 season:
Juan Gutierrez
Fully Compliant went off at 6-1 and paid $14.40 to win, $4.20 to place and $2.20 on the show. The $1 exacta Fully Compliant to Big Fashion was good for $16.90 the 50-cent Trifecta with Pearl River Delta returned $24 and the 10-cent Superfecta paid $8.82.
Video of 1st Race Stretch Run
Race 8 (we're skipping to Race 8 our Feature race coverage)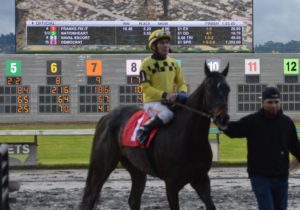 The first feature race of the year was a good one with 8 going postward in the Muckleshoot Casino Purse. Kay Cooper's #5 Nationheart with Chester Bonnet in the saddle was bet down as the post time favorite at 5-2 then it was a grab bag with #1 Frank's Fix It with Javier Matias up and #3 Decimate ridden by Jennifer Whitaker both at 4-1. At 9-2 Juan Gutierrez had #7 Ididntseethatcomin, #2 Naval Escort with Kevin Radke was 8-1, Alex Cruz rode #4 Ethan's Animal at 9-1, Time 'N Time Again with Kevin Orozco was #6 and 13-1 and #8 Democrat with Kassie Guglielmino was 15-1.
There was plenty of speed in the race and Decimate and Frank's Fix It went at it from the starting bell. Democrat and Nationheart sat just behind as they headed into the far turn. Approaching the 1/4 pole the 3-year-old Decimate had had enough and began backing out as Matias pushed go on Frank's Fix It to roll out to a 3 length lead. Bonnet swung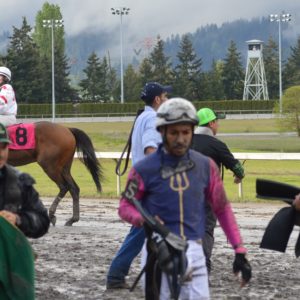 Nationheart to the outside and made a nice closing move but Frank's Fix It had flown the coop and held on for a 1 1/4 win. Nationheart was 2nd and Naval Escort closed well up the rail to snatch 3rd from a game Democrat who held on to 4th.
Frank's Fix It is owned by the defending leading owner champion John Parker and trained by Candi Cryderman. Frank's Fix It ran the 2nd fastest 5 1/2 furlongs on the day where the first 8 races were all 5 1/2 at 1:03.45.
Frank's Fix It is a 4-year-old Washington bred gelding by Gold Aly, out of Nina Nicole by Touch Gold and was bred by Steve Meredith. Frank's Fix It picked up $13,750 to push his career total to $53,000. He is now 3-3-3 from 15 lifetime starts.
Frank's Fix It paid $10.40 to win and the 10-cent superfecta was a solid $139.20.
Stretch run of Frank's Fix It
Winner's Circle Ceremony
Here's the re-cap of the other 7 races:
Race 2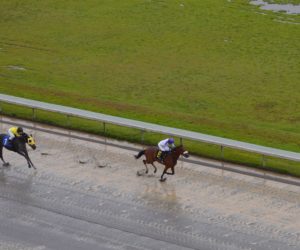 The 2nd race saw 2 of the 6 entries scratch leaving a field of 4 which also meant there was no show wagering, but there was superfecta betting allowed. Juan Gutierrez made it 2 in a row with a gate to wire run aboard the 4-5 odds-on choice Willing to Burn. The other 3 ran in a bunch behind the front runner when they separated as they turned for home and turned into a procession with Lookout Taylor with Kevin Radke  running a clear 2nd and 2nd favorite Dodropin with Alex Cruz running 3rd and American Royalty with Javier Matias finishing 4th.
Mike Pierce was the conditioner for owners the Purple Rose Ranch. Willing to burn paid $3.60 on the $2 win, 10-cent superfecta returned $1.12 and the $1 Juan Gutierrez Daily Double returned $17.60.
Race 3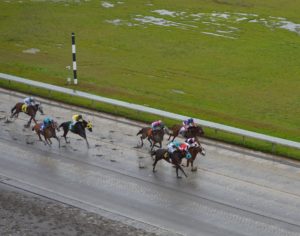 The 3rd race was a field of 7 going 5 1/2 furlongs and a well matched field of 7 saw the betting spread out from the betting choice #7 American Buddha at 2-1 to the longshot #4 Mosquito Fleet at 11-1 and everyone else in between. As they turned for home the field remained bunched on the front end with some closers trying to make up ground and the 2nd choice March On Linch at 5-2 with 2 time defending jockey Alex Cruz getting his 1st win of the season.
Outsider #1 Curling Secret was 2nd with Eddie Martinez up while American Buddha finished 3rd and #2 Rings of Saturn with Alex Anaya grabbing 4th to complete the super.
March On Linch is owned and trained by Alan Bozell and paid $7 on the win. The 1st 50-cent Pick 3 paid $27.95.
Race 4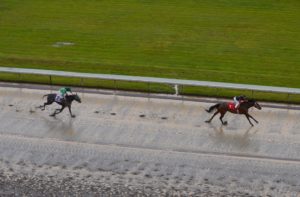 7 lined-up for the 4th race of the season and it was the 1st race with female jockeys up and both were part of the superfecta. Jennifer Whitaker was on the 1 horse and 2nd favorite at 2-1, Sleepy Sue for owner/trainer Howard Belvoir and quickly got Sue to the lead. Whitaker edged off the rail and Flyin By came up inside but when they turned for home Sleepy Sue was fully awake and drew off to win by 5 lengths. #2 Lovely Hussar with Alex Anaya got up for 2nd, Flyin By with Cruz aboard held 3rd and #4 26-1 longest shot on the board Ashley Beautiful took 4th with Kassie Guglielmino riding.
The betting favorite, Chinook Quick was bet down to 1-1 and was in the outside 7 hole post and when the gates opened she took a hard right turn nearly to the outside fence. Kevin Radke aboard did all he could to straighten her out and did run up to the leaders but the adventure took its toll and she faded off the board.
The female 1st and 4th place superfecta paid a nice $39.06 for dime bet, the 1st 50-cent Pick 4 returned $65.90.
Race 5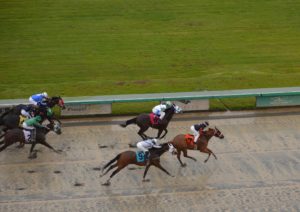 The 5th race had a strong field of 9 and Alex Anaya aboard Vince Gibson's New Every Morning almost pulled off the 1st big upset of the season. Anaya sent New Every Morning from the 8 hole and drew away to a 2-3 length lead. Anaya turned for home with a solid lead but 2-1 favorite Western Rule who had been stalking New Every Morning began to close slowly but surely. Another outsider #9 Oxbow Park with Juan Gutierrez also began to move and inside the 16th pole Western Rule under the steady urging of Jennifer Whitaker overtook New Every Morning to win by a half length. New Every Morning held off Oxbow Park for 2nd and Mancuso at the Mic got up to complete the superfecta.
Western Rule is owned by Robert Buchanan and Howard Belvoir and trained by Belvoir. The Whitaker/Belvoir Daily Double paid $11.80. The 50-cent trifecta and 10-cent superfecta both hit triple figures for the first time with the tri paying $100.55 and the super $133.88. This was the 1st double win day for Whitaker since 2019.
Race 6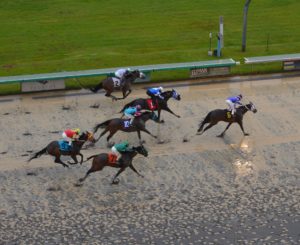 Eddie Martinez got his 1st win of the season on I Am All Thatyouare at 5-1 and had to overcome longshot Whenducksfly to get the win. Leslie Mawing picked up the mount on the 20-1 shot and nearly wired the race of 10 starters. Sir Deputy was bet down as the even money favorite and snagged 3rd while Iron Rob settled for 4th. 
I Am All Thatyouare is owned and trained by Tena Birdwell. The 50-cent trifecta paid $101.75 and the 2nd Pick 4 returned $123.50.
Race 7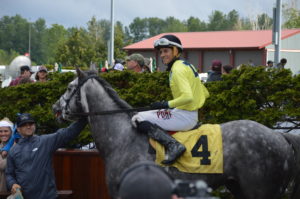 9 horses broke from the gate in the 7th and the 2 favorites popped and battled from start to finish. Boldacious with Eddie Martinez was the 3-1 2nd choice and had the early lead. Nine One One at 5-2 with Alex Cruz refused to let him loose and hung just off of Boldacious. Down the stretch Boldacious could not deny None One One who wore him down to win by 3 lengths. It was Cruz's 2nd win of the season. 
Meantime, Alex Anaya closed from far back on 28-1 Brannigan to get 3rd and 12-1 Firewalker held for 4th with Javier Matias. Nine One One is owned by Robert and Victoria Gilker and trained by Robert Gilker. 
The 10-cent superfecta paid huge even with the top 2 favorites finishing 1-2 in order the 28-1 Brannigan and 12-1 Firewalker combined for a $314.97 10-cent pay-off. 
Race 9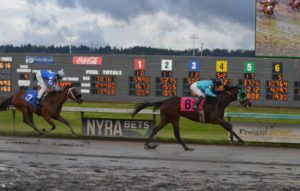 Juan Gutierrez picked up his 3rd win of the day and takes the early lead in the jockey standings but the bigger accomplishment was getting his 1,500th win at Emerald Downs. Gutierrez is already the track's winningest jockey and he just keeps adding to that impressive total year after year. He now has 2,111 for his career.
Gutierrez sat just behind #2 Eltonsingstheblues and #3 Bobby Buckets with 5-1 Linchtown. Those two were throwing it down on the front end of the 5-furlong finale. 12-1 Bobby Buckets with Alex Anaya finished off a tiring 11-1 Eltonsingstheblues and took the lead.  Gutierrez swung to the outside with Linchtown and ran past a tiring Bobby Buckets for a 2-length victory. 10-1 Bet the House with Javier Matias and 7-1 Attorney Louis with Kevin Orozco finished off the superfecta and Mayhem and Chaos who was bet down to 5-2 favoritism completed the super High 5.
The best pay-offs of the day came in the get-away race with the Linchtown to Bobby Buckets $1 Exacta paying $80.30, the 50-cent trifecta with Bet the House returning $293.85, the dime superfecta with Attorney Louis good for $322.25 and the Super High 5 with favorite Mayhem and Chaos good for $1,523.07. The 50-cent Pick 4 paid $641.80, the 50-cent Pick 5 $2,635.45 and 20-cent Pick 6 $3,344.84.
Juan Gutierrez on winning #1,500
www.elisportsnetwork.com