5/7/2022
After 3 years of strangeness the 2022 Emerald Downs season feels like it is supposed to feel as they head into opening day next Sunday on May 15. At 2:15pm the gates will spring open and the 27th season will be underway with more optimism than in many other seasons. 
There are many things to point at as negative in the horse racing industry and it continues to struggle in all parts of the country but here in Auburn, Washington the gem of Northwest Racing at Emerald Downs has many good things to look forward too.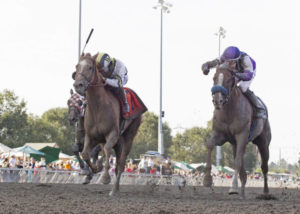 ESN chatted with Emerald Downs President Phil Ziegler who told us they are excited to get the season underway. Early indications there are more horses on track than there were last year at this time, purses are up 20%, 23 Stakes races also get a boost in purses highlighted by the $150,000 Longacres Mile. 
Racing days will go back to weekends  with just 1 day on Sunday, May 15 (opening day) then weekend racing only for 2 weeks and then a 3 days, Friday, Saturday and Sunday from June to September 11 and then a final weekend on September 17 and 18. Post times will be 2:15 on both Saturday and Sunday, departing from the Saturday night schedules and on Friday nights at 7pm. There will be 1 special post time of 5pm on Sunday, July 3 to coincide with the traditional Fireworks display later that night.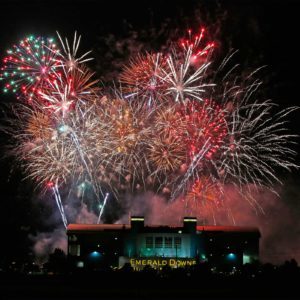 Speaking of special promotional days all of your favorites are back. Along with the Fireworks Spectacular on July 3rd, Father's day is a huge day and will also be the weekend of the Indian Relays. This year there will be Corgi, Weiner, Bulldogs and wanna-be dogs racing on 3 different days. The racing of the T-Rex's are also back. 
Some of the other favorites are ready for the crowds including Free T-Shirts on the 1st Friday that will give you free admission on all Fridays when you wear it to the track. Kids Days in the Park, Premio Esmeralda and Italian Day. 
Plus August 14 is Championship Sunday with the Longacres Mile, Washington Oaks, Emerald Distaff and Muckleshoot Derby will all be contested.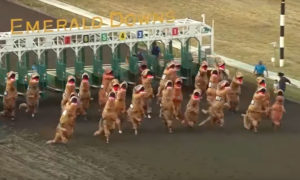 Emerald Downs remains one of the best sports entertainment values available for everyone from the Seniors to families. Admission is $10 for adults and includes a race program, kids and teens 5-17 is $5 and 4 and under are free. Season passes are $149 (average of $2.87 per day) and for seniors 60 and older $95 (average of $1.83 per day). There is also a general admission, program and reserved seat choice for adults it's $13 and for youth $8. Parking is free or $10 preferred parking on weekends. Box seats of 4 to 6 are $20 including admission.
Food concessions are very affordable considering the cost of concessions at sports events where you can get everything from hot dogs to burgers, fries, pizza, tacos, specialty sandwiches, ice cream, soft drinks to beer, wine and cocktails starting at $5. There is also the Rainier restaurant for sit-down meals and group event packages.
A family of 4 with 2 kids aged 5-17 can get in for $30 unless you find one of the many ways to get free or reduced admission, free parking, free seating and food costs easy at $15 per person which is tough to do even at McDonalds these days. Then if you come on a kids day there are free activities in the park, invite friends and their kids and you can picnic together for like $90. The only cost after that is maybe for a few extra beverages and the amount you are willing to wager. Then there's the possibility you could win and actually leave Emerald Downs with more money than you came with.
What other sports entertainment can even come close to the fun that can be had at Emerald Downs. It's a great day for families, a great time to meet old college buddies or more organized group events. It's a gorgeous setting and time to enjoy the sport and enjoy your company. You are not stuck in an assigned seat and after 45 minutes your kids are ready to go or run around well that is welcomed at Emerald Downs. 
The contact information to make reservations or purchase advance tickets or season passes click on this link: https://emeralddowns.com/visit/admission/
www.elisportsnetwork.com