4/30/2022
(Shelton, WA) The rain and wind decided not to wreak havoc at the the longest running Invitational Track meet in the State in Shelton on Saturday as 56 teams battled in a great showcase and prep for the State Tracks meets set for the end of May.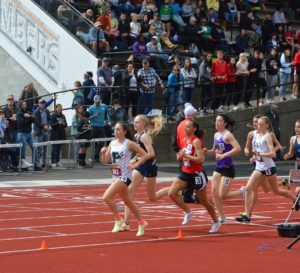 There were high expectations, some redeemed others frustrated, brilliant performances but most of all a sheer excitement of simply competing and getting back to normal after having the past 2 seasons wiped out due to Covid. To put in perspective the Seniors last participated in organized school track and field as Freshmen. Many did not have a chance to get to State their Freshmen years but many certainly would have been in the big meet as Sophomores or Juniors or both so the big take-away was how grateful, especially the Seniors were just to have that once in a lifetime chance and one of the big challenges indeed was the Shelton Invitation.
Below is extensive coverage of each event, pictures, interviews and video highlights along with our All-Meet Teams and Team standings. You can watch the entire broadcast on NFHS subscription network here https://www.nfhsnetwork.com/events/wiaa-district-iv-tumwater-wa/game2919f47d4
The Yelm Tornados won the Boys Championship winning easily pulling away with a 1st and 3rd place win in the Pole Vault. Tumwater was 2nd,m Gig Harbor 3rd, Spanaway Lake 4th and Silas 5th. Central Kitsap and Olympia finished tied for 1st each scoring 55 points then there was a tie for 3rd between Gig Harbor and Tumwater with Peninsula finishing 5th. Full standings are at the bottom of this story.
The Shelton Invitational named an Athlete of the Meet for each the boys and girls. For the boys Jaylen McCabe of Silas High School took the honor and for the girls Hoquiam's Tyara Straka took the win. We have more in our expanded ESN Shelton Invitational Meet Awards below which may or may not agree with the Invitationals selections.
The ESN Shelton Invitational Meet Awards
Our Meet Awards will award the same for both boys and girls and will include overall MVP's, and a Top Performer and Honorable Mention for our categories of Sprint which is 100-400 races, Distance 800-3200, Hurdles, Relays and the field events Throws (Shot-Jav-Discus) and Jumps (Long, High, Triple and Pole Vault). Plus a Best Effort in all these categories. MVPs will not get any other award and we are trying to not double up any competitor as there were so many great performances we want to celebrate as many different athletes as possible.
Girls
MVP Hailey Perrine Spanaway Lake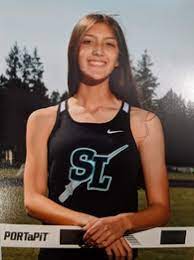 Hailey was a double winner in the Long Jump and Triple Jump and placed 4th in the 100m. She posted PR's in both jumps coming within just 1-inch of the Shelton Meet record in the Long Jump and is now tied for 2nd for the longest jump in the state. In the Triple Jump she blasted past her PR topping 37′ at 37-02 which put her 3rd best in all classifications in the state. In the 100m she finished 4th but just 3/10ths of a second separated the top 4 finishers. Her performance was tops for our ESN Shelton Invitational Awards.
Sprints (100-200-400).
Top Performer: Kymeal Gaulden, Central Kitsap 1st in 200, 3rd in 100m.
Honorable Mention: Destinee Robertson, Timberline 1st in 100m, 3rd in 200m.
Best Effort: Ava Wolin, 1st in 400m and only sub 60-second time of 59.70.
Distance (800-1-Mile-3200)
Top Performer: Katelyn Rigg, Olympia 1st in 800 setting a new Shelton Invite record and school record of 2:13.67.
Honorable Mention: Samantha Christy, Olympia 1st and set a PR in the 3200 and ran down the front runners down the stretch.
Best Effort: Alauna Carstens, Shelton Represented the host team with their only win with a great stretch run to hold off all-comers for the win.
Hurdles
Top Performer: Alyssa Duncan, Tumwater 1st in 100m and pulled away to leave no question who the winner was and was only sub 16-second finisher.
Honorable Mention: Lavender Bel, Graham-Kapowsin finished 8th in the 100m and in the 300m she just missed by 5/100's of a second to finish 2nd.
Best Effort: Joceline Schaapman, Quincy 1st in the 300m holding off Bel for 1st in one of the most exciting finishes of the meet.
Relays
Top Performer: Tumwater (Mariah Jett, Annabelle Clapp, Reese Heryford, Ava Jones) won the 4×200 and their 4×400 relay finished 3rd.
Honorable Mention: Central Kitsap did not win but competed in all 3 and placed 2nd in the 4×100, 6th in the 4×200 and 4th in the 4×400.
Best Effort: Peninsula also a team that did not win but also had teams in all 3 and scored more points than any other school in the relays with a 3rd in the 4×100, 2nd in the 4×200 and 5th in the 4×400.
Throws
Top Performer: Tyara Straka, Hoquiam Tyara was a double winner taking the Shot and the Discus. She just missed the Meet record in the shot by 3.5 inches and her school record by 4 inches.
Honorable Mention: Abigail Pedro, Timberline Abigail scored the 3rd most points in the throws with a 3rd place finish in both the shot and discus.
Best Effort: Saydi Orange It was a tight contest between Saydi and Tyara and both were in the running for our MVP as Saydi threw in all 3 events finishing 2nd in the shot and discus but shined in the Javelin winning by nearly 30 feet.
Jumps
Top Performer: Kyra Gardner, Raymond Kyra jumped 5-06 to win the High Jump and just missed tying the meet record. She also finished 5th in the Long Jump to earn the Top Performer award.
Honorable Mention: Alyssa Duncan, Tumwater finished 2nd in the Triple Jump and 2nd in the Long Jump both behind our MVP. She lost the Triple Jump by less than an inch.
Best Effort: Lauryn McGough, Willapa Valley won the Pole Vault with a PR of 11′ and was the only one to hit the 11′ mark.
Boys
MVP Jaylen McCabe, Silas HS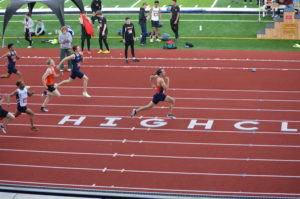 Jalen McCabe blazed to wins in the 100m and 200m where he fell short of the meet record by 4/10ths of a second while setting a PR. Jaylen also shredded the competition in the 110m hurdles also just missing the meet mark and he surged into the top 10 in the state as the 6th fastest time. Jaylen then nearly helped Silas pull; the upset in the 4×100 relay over Spanaway Lake running the anchor leg but just missed by 5/100ths of a second to finish 2nd. McCabe was also the individual male points leader.
Sprints
Top Performer: Connor Johnson, Olympia won the 400m in a personal record time of 50.17 winning by 7/10ths of a second. He also ran the anchor leg of the winning 4×400 Bears relay team.
Honorable Mention: Jermaine Broussard, Spanaway Lake finished 4th in the 100m and 200-m and was the lead-off of the Sentinels winning 4×100 relay team.
Best Effort: William Idso, Ocosta with a personal best time in the 200m finishing 3rd and taking 6th in the 100m.
Distance
Top Performer: Kelton Gagnon, Klahowya Gagnon finished 2nd in a blazing flat mile and then Kelton came back to win the 3200 by more than 2-seconds.
Honorable Mention: Jack Gladfetter, Port Angeles finished 4th in the 1-Mile and a clear 3rd in the 3200.
Best Effort: Ethan Coleman, Olympia won and set the new meet record for the traditional flat mile in a time of 4:11.30 breaking the 42-year-old record.
Hurdles
Top Performer: Nathan Kuhnau, Peninsula Kuhnau won the 300m hurdles in the only sub 40-second time and set a PR, he could have bolstered his day but false started in the 110 event.
Honorable Mention: Seth Weller, Tumwater placed 5th in the 110m and then came back to finish 2nd in the 300m.
Best Effort: Kyler Ronquillo, Yelm took 2nd behind Jaylen McCabe in the 110m and was clear by nearly a half second over the rest of the pack.
Relays
Top Performer: Spanaway Lake 4×100 (Jermaine Broussard, Trishion Sullivan, D'Aryhian Clemons and Charles McQueen) Despite winning by just 5/100ths their time of 42.11 set a new meet record and pushed them to the top of the state's fastest times for 2022.
Honorable Mention: Olympia 4×400 won the finale running event and took 5th in the 4×200.
Best Effort: Silas 4×100 finished 2nd just missing the Gold Medal in a thrilling blanket finish with Spanaway Lake.
Throws
Top Performer: Brayden Platt, Yelm Platt was a double winner taking the Shot and the Javelin and finished 6th in the Discus. A higher finish in the disc would have had him considered for MVP as he destroyed his PR and surged to the best throw in the state. He also won the Jav by 17-feet.
Honorable Mention: Tyler Bates, Aberdeen took 2nd in the discus well behind the winner, below but a clear 2nd and added a strong throw in the shot to end up 4th to get the HM nod.
Best Effort: Jeremiah Nubbe, Rainer Nubbe came in as the leading discus thrower in the Nation and State. He just set the State record of more than 207′ and came to Shelton as the heavy favorite. Although not his best effort of the year he set a new Shelton Invite Discus record of 188-11. Beating the old mark set in 1989 by more than 5 feet.
Jumps
Top Performer: Kyler Ronquillo, Yelm Kyler won the Pole Vault, 2nd in the Long Jump and was 10th in the High Jump to claim the top performer.
Honorable Mention: Makhi Odoms, Tumwater won the Long Jump in a PR of 22-00.25 and was 5th in the Triple Jump.
Best Effort: Andrew Troeh, Aberdeen won the high jump at 6-02 was 4th in the Triple Jump and was 14th in the Long Jump.
Event Results
Boys 100M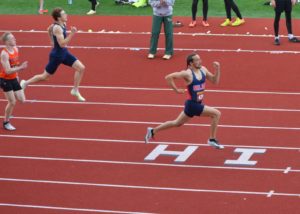 Silas HS Jalen McCabe got his meet off to a fast start winning the 100M in a time of 11.06 out finishing Charles McQueen from Spanaway Lake who finished with a 11.4 final time. Zach Lamkin from Crosspoint edged out Spanaway Lake's Jermaine Broussard for 3rd.
Girls 100M
Timberline's Destinee Robertson stop the clock in 12.61 to win the 100M over Foss's Rhonda Newton who posted a PR with a 12.76 time. Central Kitsap's Kymeal Gaulden was 3rd with Hailey Perrine of Spanaway Lake 4th.
Boys 100M (Soph/Frosh)
Spanaway Lake's Freshmen D'Aryhian Clemons served notice he will be a contender for the next 3 years winning the Soph/Frosh heat in a time of 11.70 which would have placed him 11th of 16 in the main heat. A pair of Blazers from Timberline were right behind in 2nd Tarelle Hunter and taking 32rd was Ezekiel Conley.
Girls 100M (Soph/Frosh)
The top 5 all set personal best times with yuna Daniels winning it for Graham-Kapowsin in a time of 12.94. Puyallup's, Rhyann Atwood was 2nd, Taylor Even from Peninsula 3rd, finishing 4th was Jade Braithwaite from Spanaway Lake and Klahowya's Maggie Keenan was 5th.
Boys 200M
Silas' Jayle McCabe pulled away in a PR time of 22.06 to win the 200 for his 2nd win of the meet. His time was about 4/10ths off the meet record and also puts in the 6th best time across the state. Ben Stevens of Gig Harbor was 2nd also with a PR of 22.51 and a 3rd PR set by William Idso of Ocosta.
Girls 200M
It was maybe the best race of the meet and in a blanket finish Kymeal Gaulden of Central Kitsap pulled out a 1/100th of a second victory over Alexa Callahan of Puyallup. Gaulden's time of 26.10 set a school record while Callahan set a personal best. Timberline's Destinee Robertson was just 4/100ths of a second behind in 3rd also setting a PR.
Boys 400M
Olympia's Connor Johnson began the Bears sweep of the 400M pulling away down the stretch to win in a time of 50.17. Ocosta's Matthew Idso was a clear 2nd finishing in front of Da'Shawn Sands from Spanaway Lake. Steven Dunbar from Central Kitsap was 4th and all 4-runners set personal records.
Girls 400M
Ava Wolin completed the Olympia Daily Double in the 400M cruising to a big win with the only sub 1-minute time finishing in 59.70. The race was on for 2nd with Gig Harbor's Maura Lenzi 2nd in a time of 61.52 just in front of Orting's Carmen Perez-Jimenez at 61.61. Next was Tumwater's Annabelle Clapp in 4th with a PR.
Boys 800M
Blake Reynolds was the 1st to cross the finish line and the Central Kitsap Sophomore stopped the clock in 1:56.51. Yelm's Ryan Lange was a clear 2nd 2 seconds+ in front of 3rd place Ashton Theel from Aberdeen. Theel held off Ridgefield's Henry Nelson who was 4th and 5th place Timothy Bradshaw from Bremerton. Those 3 had just 4/10ths of a second separating them.
Girls 800M
Katelyn Rigg of Olympia blistered the Shelton track setting a new school and meet record finishing in a time of 2:13.67 snapping the meet record of 2:14.88 set in 2007 by Chelsie Jorgenson of Puyallup. It was not easy though as Chelsie's meet record time in 2007 is now the 3rd fastest as Sequim's Riley Pyeatt stopped the timer at 2:14.29 or about 4/10ths faster than the previous record and is a PR. Rigg and Pyeatt were well in front of the rest of the field. Rigg's time is now the 2nd fastest in the State just behind Eisenhower's Kara Mickelson's time of 2:13.35 as just jumped over Pyeatt who had and continues to have the 3rd best time improving her own mark from 2:15.16.
Boys 1-Mile
The Shelton Invite runs the Mile race part of the uniqueness of the Invitational and holding on to a bit of Track and Field history so there was no 1600 race. So how did the competitors do? They responded pretty well with Olympia's Ethan Coleman setting a new meet record finishing in a time of 4:11.30 smashing the old mark of 4:13.2 set in 1979 by Steve Kaestner from Shoreline High School. Klahowya's Kelton Gagnon also broke the old mark for the 2nd race of a double breakage of a meet mark. Gagnon finished in a time of 4:13.06. Both times were personal bests and were well ahead of the rest of the pack.
Girls 1-Mile
Shelton's Alauna Carstens carried the host team to their only victory. Carstens had to withstand a furious rally from Peninsula's Hannah Lee and held her off to win the gold. Carstens stopped the clock at 5:08.92 and Lee just behind at 5:09.05. Peninsula's Elektra Higgins, a Freshman, could have run in the Soph/Frosh Mile race and would have won by 16-seconds but ran in the main heat taking the 3rd place medal.
Boys 1-Mile (Soph/Frosh)
There was a full field in this 2nd heat of the Classic Mile and Sequim's Colby Ellefson ran a strong stretch run for the win by 2 seconds over Bremerton's Dallin Anderson. Gavin Brown of Central Kitsap finished 3rd and Gabe Schilter from Olympia was 4th.
Girls 1-Mile (Soph/Frosh)
18 runners ran the Mile in this underclassman race with Klahowya's Natalie Oathout rolling to a 7-second win in a time of 5:26.65 which actually would have placed her in 9th in the main heat. Gig Harbor's Alexander Ferrer ran 2nd, Katie Mingus from Foss was 3rd and taking 4th was Kaitlyn Bloomenrader from Sequim.
Boys 3200
Klahowya's Kelton Gagnon fell short in the Mile race but put his stamp on the 3200 with a solid win in a time of 9:24.15. Tumwater's John Hoffer tried to close on Gagnon in the final lap and finished a clear 2nd place with a personal best time of 9:26.30. Jack Gladfelter from Port Angeles was 3rd, 4th went to Yelm's Zachary Walsh, 5th to Isaac Akiyama from North Thurston and set PR's.
Girls 3200
The top 6 finishers all scored personal best times and Olympia's Samantha Christy led the way winning in a time of 11:21.04. Puyallup's Nicole Yanasak keld off 3rd place Aliyah Yearian of East Jefferson for 2nd place with just 3/10ths of a second between the 2. They were 24 seconds in front of the rest.
Boys 110M Hurdles
Jalen McCabe from Silas High School just missed the Meet mark of 14-seconds flat with a time of 14.18. This was McCabe's 3rd Gold medal and was well clear of Yelm's Kyler Ronquillo who was a clear 2nd over Andrew Bell from Spanaway Lake. Bell just nosed out Kentridge's Jevon Cloy by 1/100th of second for 3rd place. It was a PR for Cloy.
Girls 100M Hurdles
A pair of PR's topped the girls sprint hurdle event with Tumwater's Alyssa Duncan winning by about a half second in a time of 15.65 over Gig Harbor's Addison Herig. Raymond's Kyra Gardner ran hard and won the bronze while North Mason's Averie Dupont was 4th.
Boys 300M Hurdles
Peninsula's Nathan Kuhnau set a PR and moved into 7th fastest in the state for the season. Kuhnau posted the only sub 40-second time of 39.91. Tumwater's Seth Weller also set a PR with a 40.08 final just missing the 39-second mark. His time is will move him into the top 10 for the state at #8. Quincy's Jalen Spence took 3rd and Cole Logan of Woodland was 4th.
Girls 300M Hurdles
Quincy took the long trip to get to the Invitational and Joceline Schaapman carried the Jackrabbit's to their lone win of the day in a personal best time of 48.65. Schaapman was head and head with Graham-Kapowsin's Lavender Bel out-leaning her by 5/100ths of a second. Bel's 48.70 time was her best as well. Aaliyah Booker finished 3rd for Peninsula and Myquela Pride from Orting was 4th.
Boys Shot Put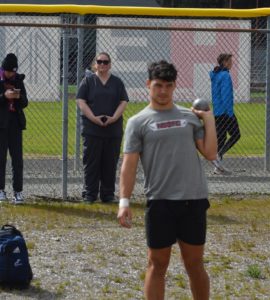 Yelm's Brayden Platt unleashed as personal best throw of 57-03 to top Rainier's Jeremiah Nubbe who recorded a toss of 54-07. Platt's throw is also the best in the state moving past Hermiston's Caden Hottman. Platt's previous top toss was 55′.Eatonville's Kyle Cox had a great showing with a PR of 48-04 and Olympic's Gavin Triplet also with a PR of 47′ for 4th place.
Girls Shot Put
Hoquiam's Tyara Straka just missed 2 records with her 45′ shot put throw. The throw did tie her PR but was 3.5 inches short of the meet record set in 2011 and 4 inches short of the school record. She remains 2nd in the state trailing Hermiston's Bailey Young's 46-1.5 effort. Saydi Orange of Kentridge had a strong meet including a PR in the shot of 40-04 taking 2nd. Her throw moved her up to 7th best in the state. Abigail Pedro of Timberline was 3rd and Sara Leasiolagi from Olympic was 4th.
Boys Discus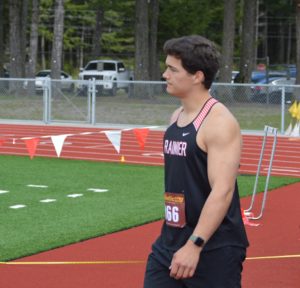 All eyes were on Rainier's Jeremiah Nubbe who came in fresh off setting a new State record Discus throw of more than 207-feet. He led the nation by a foot in the discus with his qualifying throw and extended his lead as tops in the United States with his State record toss just 2 days prior to the Shelton Invitational. The Invite's record was 183-06 set by Jason Baskett from Mead High School in 1989. Nubbe beat the meet mark on his 1st throw of 184′ and then extended it to 188-11 but could not top the 190 mark. He shattered the record by more than 5 feet but was not pleased with his effort The race was on for 2nd and Aberdeen's Tyler Bates was all alone for the silver with a throw of 146-07 12 feet better than 3rd place Mario Boxley of Shelton.
Girls Discus
Hoquiam's Tyara Straka took her 2nd Gold medal with a toss of 126-03 again besting Saydi Orange of Kentridge who settled for 2nd. Orange tossed it 119-05. Those two were well ahead of the rest where Timberline's Abigail Pedro took 3rd and Bremerton's Trinity Malaga was 4th.
Boys Javelin
Brayden Platt of Yelm was a double winner taking the Javelin with a huge toss of 186-11 nearly 17-feet in front of 2nd place Jakob Braunstein from Ridgefield. Joshua Felt's 165-06 toss was good for 3rd nd Tusker Behrenfeld was 4th from East Jefferson.
Girls Javelin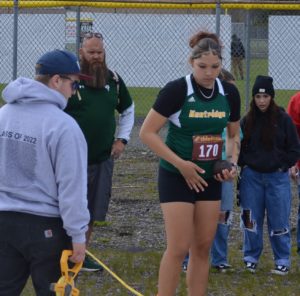 Kentridge's Saydi Orange had picked up 2 seconds in the shot and disc but dominated the Javelin with a PR 144-11 winning by 28-feet. She currently had the 3rd best throw in the state of 139-4 and went well past that toss for a PR but still remains 3rd closing the gap on the top throws of 150-03 and 146-08. Lydia Ward from Gig Harbor was 2nd with a throw of 116-03 just 4 inches more than 3rd place Natalie Sumrok of Tumwater. Ridgefield's Kelli Krsul hi9t a PR and took 4th.
Boys High Jump
Andrew Troeh led the Bobcats to their lone win with a leap of 6-02 and won the event on fewer jumps. Ocosta's William Idso also cleared the bar at 6-02 but settled for the silver medal. It was a PR for Idso. Tumwater's Jayden Thomas and Yelm's Trevontay Smith both cleared 6-feet and both did it in the same round so they did tie for 3rd.
Girls High Jump
Raymond's Kyra Gardner came in with the 2nd best jump min the state at 5-08 and if she could hit that would tie the Meet record. She got to 5-06 and attempted 5-08 height but just nipped it to knock the bar off. Her 5-06 was good enough for the win. Central Kitsap's Savannah Fournier was 2nd clearing 5-04 while Jolene Vaara from Sequim and Yelm's Nolah Wofford each hit 5-feet but 3rd went to Vaara for fewer attempts.
Boys Long Jump
Tumwater's Makhi Odoms was the only one topping 22-feet with a lunge of 22-00.25 to win the Long Jump event. The leap was a PR and jetted him into the top 10 jumps statewide into 6th place. Yelm's Kyler Ronquillo was 2nd and also hit his best 21-09.75 and moves him out of a tie for 10th best jump to sole possession of 10th place by the .75. Tenino's Gavin Watson was just behind with a jump of 21-04.25 taking 3rd and in 4th was Gig Harbor's Kael Probst.
Girls Long Jump
Spanaway Lake's Hailey Perrine just missed the Shelton Invitational mark when she fell 1 inch shy of 19-feet with a leap of 18-11. 19-feet is the Meet record set by Andrea Geubelle of Curtis in 2009. Her jump pushed her into a tie for 2nd best in the state with Cassandra Atkins of Federal Way and both are behind Gilana Wollman of Shorewood with a 19-1.5 jump. Tumwater's Alyssa Duncan was 2nd at 17-11, Yelm's Isabelle Wright-Cloran set a PR snagging 3rd and Foss's Rhonda Newman was 4th also with a PR.
Boys Triple Jump
Yelm's Travontay Smith Triple Jumped his way to a Gold medal and right into the state's top 10 with a distance of 43-08.75. That was a foot better than 2nd place and good for 5th best jump in the state. 2nd place went to Timberline's Jackson Brown who also set a PR and school record with the 42-08.75 jump. Rainier's Chase McFarland took 3rd and Andrew Troeh hit a PR to finish 4th.
Girls Triple Jump
Spanaway Lake's Hailey Perrine smashed her personal best with 37-02 jump just edging out Tumwater's Alyssa Duncan by 3/4's of an inch. Perrine's jump was more than a foot better than her previous best and moved her up the state's top 10 list to 4th place and even though she beat Duncan, Duncan still has the 3rd best jump in the state at 38-1.25. There were 7 PR's from 3rd to 7th with Yelm's Isabelle Wright-Cloran taking 3rd and Graham-Kapowsin's Dasha Mason 4th and the Eagles Yuna Daniels 5th.
Boys Pole Vault
The boys pole vault went extra long with 4 finishing tied at 13-feet and 2 of them setting PR's. But Rainier's Ryan Dodge and Yelm's Kyler Ronquillo split 1st place as both were even in the attempts. Gig Harbor's Luke McMahon and Chris Western both hit PR's but McMahon was 3rd and Western 4th based on attempts.Yelm's Jordan Lasher was 5th as the only one at 12-06.
Girls Pole Vault
Lauren McGough from Willapa Valley soared over the competition with a PR 11-feet to win by a foot over her competition and just missed getting into the top 10 in the state by 3-inches. Olympia's Claire Lee was a clear 2nd at 10-feet while Kalama's Alena Ross and Central Kitsap's Cara Schweitzer each hit 9-06 but Ross gets 3rd on fewer attempts.
Boys 4×100 Relay
The track was lightning fast for this race as the two top teams set new team bests and a thrilling finish. Spanaway Lake held off Silas is a crazy final leg. The Sentinels set a new standard for the state as well finishing in 42.11, topping Squalicum who had the top time at 42.16. Silas tied Squalicum's mark at 42.16. Both teams beat the Shelton Invite record of 42.30 set by Foss back in 1980. The Spanaway Lake teams was comprised of Jermaine Broussard, Trishion Sullivan, D'Aryhian Clemons and Charles McQueen. The Silas team was Jayden McDaniel, Dominick Dirton, Connor Meade and Jaylen McCabe.
Girls 4×100 Relay
Graham-Kapowsin put together the winning combination  and pulled away to win the 4×400. Lavender Bel, Yuna Daniels, Kamisha Hurse and Grace Peterson won by nearly a second and a half with a time of 50.31 which is also 8th best in the state. Central Kitsap ran 2nd just in front of 3rd place Peninsula and Yelm finished 4th.
Boys 4×200 Relay
This is not a usual event for the boys and is not a state event so only 5 schools put teams together. Yelm won the race in a time of 1:36.76 with Deegan Golden, Anthony Kiamco, Dylan Conklin and Onyx Carter bringing home the win. Shelton was 2nd with Gavin Nielsen-Ricker, Bradley Eleton, Nathan Gomez and Kaden Pearson.
Girls 4×200 Relay
Tumwater's team of Mariah Jett, Annabelle Clapp, Reese Heryford and Ava Jones rolled to a clear win and surged into the top 10 in the state in 8th. Peninsula finished 2nd edging out Cascade Christian who finished 3rd. All three teams were the only ones sub-1:50.
Boys 4×400 Relay
The Olympia Bears did well in the 400 and Mile and used that to push them to victory in the finale and pushed their way into the State's top 10 times as well. Ethan Coleman, Kenyatta McNeese Jr, Owen Windrope and Connor Johnson kept the pressure on and slowly pulled away for nearly a 2-second win over Central Kitsap. The Bears time of 3:28.63 also placed them 6th best in the state. Central Kitsap finished 2nd, Tumwater was 3rd and Peninsula took 4th.
Girls 4×400 Relay
Olympia completed the sweep of the finale's with the girls 4×400 team winning by 3 seconds with a time of 4:06.62. Josie Hutt, Katelyn Rigg, Samantha Christy and Ava Wolin were super consistent and too much for 2nd place Sequim to overcome. Their time also put them on the board for one of the state's best times in the 5th position. Sequim's team of Eve Mavy, Kaitlyn Bloomenrader, Emily Carlier and Riley Pyeatt  and their time of 4:09.59 was 1/100th of a second better than the Burlington-Edison team and puts Sequim in as the 10th best time in the state. Tumwater would finish 3rd and Central Kitsap took 4th.
Boys Team Standings
1st Yelm 82.5
2nd Tumwater 48.5
3rd Gig Harbor 46.5
4th Spanaway Lake 45
5th Silas 43
Girls Team Standings
1st Central Kitsap 55
1st Olympia 55
3rd Gig Harbor 51
3rd Tumwater 51
5th Peninsula 34.5
Combined Standings
1st Yelm 108.5
2nd Tumwater 99.5
3rd Gig Harbor 97.5
4th Olympia 90
5th Spanaway Lake 70
Photo Gallery
www.elisportsnetwork.com