4/25/2022
(Tumwater, WA) This past Friday and Saturday ESN did back-to-back doubleheaders in Tumwater at T-Bird field. Both were non-traditional twin bills as neither were the same 2 teams for both games. On Friday, the T-Birds and Wolves were scheduled to play as were 4 of the other 5 EVCO 2A teams with Aberdeen on a bye. But with finally some weather to play and Aberdeen having only played 8 games asked if Black Hills would play after their game with Tumwater.
So it was worked out that Tumwater would host Black Hills at 3p and then Aberdeen would be the home team playing Black Hills in the following game and Tumwater agreed to let the two teams to play on their field. With the shortage of umpires and just to try and get in the game which was scheduled to start at 6p there wasn't time to shift to another field and the T-Birds were happy to accomodate them. Tumwater Head Coach Lyle Overbay told ESN he'd hope other schools would do the same for them if the need arises so it was a no-brainer.
After the games were completed we had Tumwater picking up 2 wins and losing 1, Centralia with a win, WF West with a loss, Black Hills with a loss and the Wolves and Aberdeen ended in a tie when the game was called due to darkness. This game will now be completed prior to the Black Hills vs Aberdeen game tomorrow at Aberdeen. (More below)
On Saturday it was a doubleheader for Tumwater as they hosted WF West at 11a and then Centralia at 2p in a pair of make-up games. Below are short re-caps, video highlights and a picture gallery.
Friday Game 1
Tumwater 4, Black Hills 3
The Wolves would take a 1-0 lead in the top of the 3rd inning when Blake Klinger drew a 1-out walk, was sacrificed to 2nd followed by another walk and then 2 over-throws by the T-Birds when starting pitcher Jordan Hansen tried to pick off Klinger and the ball went into center field and then a throw to 3rd was high and Klinger came in to score.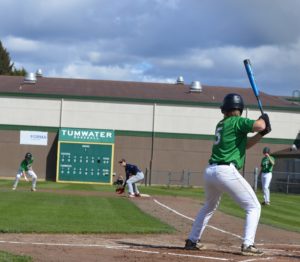 Tumwater came back to tie in the bottom half of the inning on an RBI single from Brayden Oram. Tumwater would then have a big top of 4th knocking in 3 runs for a 4-1 lead. Alex Overbay singled, Blake Smith drilled an RBI double followed by an RBI single from Graysen Reveal and another double this time from Derek Thompson driving in the 4th run.
Hansen had dominated the Wolves in their 1st meeting striking out a school record 17. He finished with 9 k's in this one but gave up 4 walks and 3 hits and was done after 5 with a 4-1 lead. Ayden Ramsay came in to relieve but only lasted 2 batters. Parker Termini singled to lead off and then Asher Shorthand demolished a pitch over the right-center fence for a 2-run dinger and just like that it was a 1 run game. Alex Overbay came in to relieve and retired the next 3.
The top of 7 Overbay also retired 3 in a row to end the game but prior to that he gave up a lead-off single to Klinger, a walk and then a bunt single to Braiden Bond to load the bases with no outs. Max Johnson then ripped a lineshot but Tumwater's Eddie Marson snagged it and nearly doubled off Bond but the umpire ruled he got back under the tag. That left Termini and Shorthand for Overbay and he fooled Termini who took a 3rd strike and Shorthand smacked a hot grounder to Marson who backhanded it and threw him out to end the game and preserve the win.
Our MVP's went to Tumwater's Eddie Marson and Black Hills' Asher Shorthand.
Video Highlights
Black Hills turns a Double Play
Tumwater's Blake Smith with an RBI Double
Friday Game 2
Aberdeen 6, Black Hills 6 (top of 7, game suspended due to darkness)
Aberdeen led 6-1 going into the top of the 7th and Black Hills rallied for 5 runs with the bases loaded and 2 outs when the game was called due to darkness. There was a question of whether or not the game would be suspended and completed at another time or if the game would revert back to the bottom of the 6th inning score which Aberdeen led 6-1. It was ruled to continue the game and will be completed on Tuesday, April 26 prior to the already scheduled Black Hills at Aberdeen game.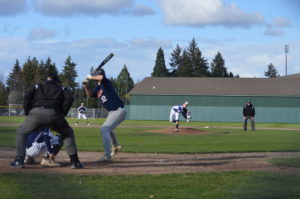 Meantime, it is hard to imagine this game came into question at all as Aberdeen built a 4-0 lead and pushed it to 6-1 in the bottom of 6. The Bobcats got 3 in the 2nd inning when Charlie Ancich walked, Toby Heggie singled and Maliki Balesteri doubled. Aberdeen added a run in the 3rd after Hunter Eisele tripled and scored on an RBI grounder from Trevon Nichols.
Black Hills got a run in the top of 6 with as Braiden Bond would come around to score after a lead-off single and a double from Asher Shorthand. The Bobcats added to their lead in the bottom half with 2 more as Balesteri walked and scored and Kyle Goings got on with a fielder's choice and would also score. Eisele drew a bases loaded walk for an RBI and Luca Pisani knocked in the other run with a sac fly.
The umpires decided to let play continue although it was right on the edge of being too dark and of course the unimaginable occurred. The question was could Black Hills score 5 runs and even if they did would there be enough light for Aberdeen to get their turn at the plate?
It looked like it would not even be a question. Eisele had pitched a great game but was pulled and Pisani was on the hill in the top of 7. He quickly got 2 outs on 2 strike-outs and then it all went south. He walked 2 followed by a double from Bond another double from Parker Termini and Pisani was pulled. Balesteri would be the last pitcher for Aberdeen when Shorthand walked, a fielder's choice and 2 more walks tied the game and the umpires then called it in a 6-6 tie.
The 2 teams will finish the game tomorrow at Aberdeen prior to their already scheduled league game.
Video Highlight
Aberdeen's Maliki Balesteri with a Double
Saturday, Game 1
Tumwater 8, WF West 0
In game one of Tumwater's doubleheader on Saturday, the T-Birds had a tough task in front of them in the WF West Bearcats. However, pitching dominated the day for Tumwater as they would cruise to an 8-0 win to solidify themselves atop the Evergreen 2A standings.
Starting pitcher Ryan Orr and reliever Blake Smith combined to go seven innings of shutout ball while allowing one hit with one walk and 10 strikeouts. The pitching staff only face one batter over the minimum on the day.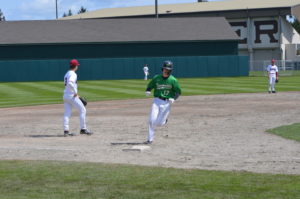 On offense, the T-Birds were held hitless until the 3rd inning by Bearcat pitcher Gavin Fugate. Tumwater would then score three runs in the 3rd and three in the 4th to build a 6-0 lead. Orr did his part on offense as well by driving in a run.
In the 5th, Trent Roy came off the bench and with a runner on first with two outs, swung at the first pitch and sent it over the wall in centerfield for a two-run homer. Tumwater would coast from there for the 8-0 victory.
Our Pacific Sports Spa MVP for Tumwater was Ryan Orr and our Thorbecke's MVP for WF West went to Brock Bunker.
Video Highlight
Trent Roy with a 2-Run Round Tripper!
Post Game Show
Saturday Game 2
Centralia 13, Tumwater 7
After Centralia took a 1-0 lead in the top of the 1st the T-Birds responded with 4 runs, 2 in the 1st and 1 in each the 2nd and 3rd. Centralia starting pitcher Landen Jenkins walked the first 2 batters. A sacrifice and a pair of errant throws scored the 2 runs Braydon Oram and Kyler Collier, without Tumwater getting a hit. The T-Birds added a run in the 2nd when Eddie Marson singled with 2 out and scored on a grounder by Landon Roy that was misplayed by the shortstop. Another run scored in the 3rd when Oram singled and on scored on a sacrifice from Ryan Orr who collected the RBI.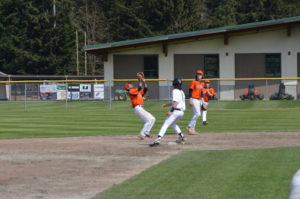 Centralia would get their 2nd run in the 4th when Landon Kaut led off with a double and scored with the bases loaded on a single. Kaut would takeover for Jenkins on the mound in the 4th and gave up a run in the 4th and 5th innings but did not let Tumwater run off with a big inning leading 6-2 after 5.
It was the Tigers who would explode in the top of the 6th sending 11 to the plate. Gabe Seymour, Seth Akins and Moshie Zport all drew walks to load the bases with no outs. Brady Sprague then drew a 4th straight walk for an RBI. Jenkins then singled in a run, Carlos Vallejo singled in a run. Kaut then came up with the key hit another double scoring 2 giving the Tigers a 7-6 lead. After a strike-out the Tigers added 4 more with a walk, a single by Akins driving in 2 and a double by Zport scoring 2 more before he got tagged out trying to stretch the double to a triple and the Tigers went up 11-6.
The T-Birds got 1 back in the bottom of the 6th but Cole Wasson put a cherry on top of the comeback win in the 7th with a 2 run  double to make the final score 13-7.
Our Pacific Sports Spa visiting team MVP went to Landon Kaut and our Thorbeckes home team MVP was Braydon Oram.
Video Highlight
Centralia's Landon Kaut with a 2 run double
Post Game Show
Photo Gallery for all 4 Games
www.elisportsnetwork.com