4/16/2022
(Tumwater, WA) The Aberdeen Bobcats traveled to Tumwater on Friday night with a nearly perfect league record at 5-1. The lone loss was the first time these two teams played to open league play last month. Tumwater held off the Bobcats 3-2.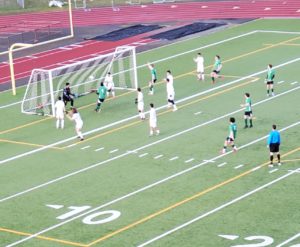 The T-Birds came in at 6-0 and were ready to defend that mark and hold on to sole possession of 1st place. As the game got underway it looked like it would a tight match as both teams were able to get runs in but both defenses were solid. Tumwater then lined up a corner kick in the 8th minute and a perfect hooking shot from Zackary Schmidt curled right around the near post for an early 1-0 T-Bird lead.
That lead would hold until just before halftime when a penalty was called on Tumwater in the box and Edwin Quintana hit the P-K to even the match at 1-1 and that would remain to the half. As the 2nd half began the two teams both had some opportunities but could not cash in until the 54th minute when Schmidt would hit his 2nd goal to push the lead to 2-1.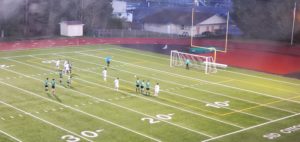 Tumwater then believed they iced the game in stoppage time when Sam Southworth fired a shot just inside the right post and Tumwater was up 3-1 with time slipping away. However, it took less than 45 seconds for Aberdeen to answer when Juan Guzman finished off the quick attack leaving basically one possession left to go and Aberdeen simply ran out of time.
Tumwater improves to 7-0 in league play and Aberdeen drops to 5-2 losing twice to the T-Birds by the same 3-2 score. Our Thorbeckes home team MVP went to Zackary Schmidt and the visiting team Pacific Sports Spa MVP was Edwin Qintana.
Video Highlights
Zackary Schmidt gets the T-Birds on the board
Sam Southworth scores late for Tumwater
Aberdeen's Daniel Guzman keeps the Bobcats hope alive
The ESN crew's Post Game wrap-up
www.elisportsnetwork.com