3/22/2022
(Tumwater, WA) Tumwater's Jordan Hansen took the mound Tuesday afternoon with hopes of coming away with a win against their cross-town rivals Black Hills. In the end he would limit the Wolves to just 1 run and although several chances to build a lead the T-Birds could never get the key hit to open a scoring barrage.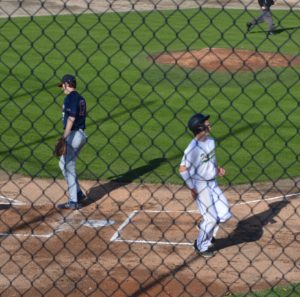 Tumwater did squeeze out a run in the bottom of the 1st when Eddie Marson led off with a single advanced to 3rd on a base hit from Derek Thompson to give the Birds a runners on 1st and 3rd with no out. However, Tumwater could only squeeze out 1 run and led 1-0 headed into the top of the 2nd.
Hansen was forced to control the Wolves offense and boy did he ever. Hansen would strike out 3 then 6, 9 and 12 in a row. 12 up and 12 down through 4 innings but yet only led by 1 run. The Wolves Xander Shepler would grind on the mound and got some great defense behind him with Joey Floyd playing tough at 3rd, Mark Otto handling 1sgt and some key catches in the outfield from Blake Klinger and Truman Winsett.
In the top of the 5th, Hansen surrendered a hit to the lead-off batter, Shepler who legged out an infield single. Shepler then stole 2nd and then a wild pitch tipped off catcher Trent Roy's glove and into the T-Bird dug out and Shepler was awarded home pushing the tying run across the plate. Hansen then finished off the inning by striking out the side once again.
To re-cap from Hansen's perspective, he struck out 15 of 16 batters in 5 innings, gave up only an infield hit and after 5 innings of work found himself in a 1-1. Additionally, the 15th strike-out set a school record for Tumwater snapping the former mark of 14 K's.
Jordan Hansen set Tumwater Strike-Out Record
The T-Birds would re-take the lead when Derek Thompson blasted a 2 out triple to right field and then scored on an EBI single from Brayden Oram. With that 2-1 lead Hansen took to the hill again in the top of 6 and walked lead-off batter Tanner Parkinson who worked his way to 3rd but Hansen added strikeout #16 and 17 on the way. Parkinson then got caught up in a rundown between home and 3rd and was tagged out to end the 6th.
Derek Thompson rips a triple to set up the go-ahead and winning run
Tumwater added an insurance run in the bottom of the 6th and Hansen's night was over. Blake Smith came in for the save in the top of the 7th and the the T-Birds held off the pesky Wolves with a 3-1 final. Tumwater is now 2-0 and Black Hills falls to 2-1.
Hansen finished going 6 innings facing 1 over the minimum 19 batters striking out 17 giving up 1 hit, 1 walk and 1 run. Black Hills used a gritty pitching performance from Shepler, Derek Clark and Braiden Bond to stay in the game but got no offensive support.
Our home team Thorbeckes MVP went to Tumwater's Jordan Hansen and our Pacific Sports Spa visiting team MVP was Xander Shepler for the Wolves.
www.elisportsnetwork.com