3/11/2022
The return of the WIAA Hardwood Classic was a welcome relief to the thousands of high school sports fans. There were the usual highs and lows with champions, first time trophy winners, individual records and other odds and end from the 4 day run in Tacoma, Yakima and Spokane. Let's get to these fun facts from the 2022 Hoop Championships!
Overall
Attendance
There has been a real concern with a continuing drip, drip, drip of declining attendance especially at the Tacoma Dome. So much so that there was a plan to change the basketball format that had a lot of momentum just prior to the pandemic. Of course all those plans got shelved while the scramble was on to just games on.
Well maybe absence indeed makes the heart grow fonder as the live attendance at Tacoma Dome was up 30% and there were gains also in Yakima and Spokane where attendance grew nearly 35% overall.
Live Streaming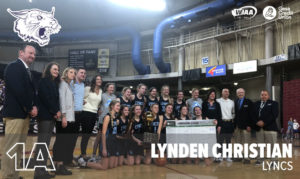 There is also this concern from some that live streaming the games is a cause for reduced attendance but this remains an unfounded theory. Over the 4 days there were 157,556 live device views of state tournament basketball games. This is an estimated total viewership of about 300,000.
Since there is no way to know how many people are watching or listening to individual devices we times the total by 1.9 or not quite 2 people per device. This is far less and we feel conservative but more realistic than how newspapers determine readership of anywhere 2.5 to 4 people per printed copy or the small sampling done by the Nielsen company to determine television viewership.
Individual Game Highs
4A Boys Curtis vs Mt Si: The Championship game was one of only 5 games with more than 2,000 live device views with 2,376 but has the 2nd most replay views of 442 for an estimated viewership of 5,000.
4A Girls Sumner vs Woodinville: This was the Championship game and drew 1,365 live device views and 179 replay views for an estimated viewing audience of 2,600.
3A Boys Auburn vs Garfield: This is unique because it was a 10:30am quarterfinal game on Thursday between #1 Garfield and #2 Auburn. Auburn was upset at Regionals by Mt Spokane which dropped them into the #1 bracket and forced the early 1 vs 2 match-up. Auburn would win it in OT. 3,341 live devices tuned in and there have been 462 replay views which is also the high for replays at this time and an estimated viewership of 6,500.
3A Girls Garfield vs Lake Washington: The title game drew 1,407 live device views and 192 on-demand views for an estimated 3,000 viewership.
2A Boys Lynden vs Pullman: The Championship game drew 1,770 live device view and 181 on-demand for a viewership of about 3,700.
2A Girls Prosser vs Port Angeles: This is a real oddity as it was the 2nd highest overall viewed game and the highest viewed girls game for all classifications and it was a day 1 loser out contest on Wednesday. 2,664 live device views were recorded with 212 replay views for an estimated 5,200 viewers.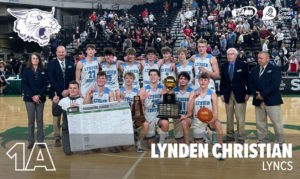 1A Boys Lynden Christian vs King's: The Championship game was one of those north of 2,000 with 2,053 live device views and 232 replays for a viewership of 4,000.
1A Girls Lynden Christian vs Nooksack Valley: Also the Title game and had 1,609 live device views and 226 replay views for an estimated viewership 3,100.
2B Boys Liberty (Spangle) vs Brewster: The Championship showdown drew 1,542 live device views and so far 164 replays for a total audience of 3,000.
2B Girls Warden vs Colfax: This Championship tilt saw 1,535 live device views tune in with 137 replay views and a total viewership of about 3,000.
1B Boys Cusick vs Almira-Coulee-Hartline: The Championship had 1,550 live device views and 101 on-demand for an audience of about 3,000.
1B Girls Mt Vernon Christian vs Neah Bay: 1,647 tuned in to watch on their live devices with another 144 on-demand for nearly 3,200 viewers.
1,000+ Viewer Club
There were a total of 41 games with at least 1,000 live device views with Lynden vs Pullman 2A boys leading with 1,770 followed by 4A boys Mt Si vs Olympia and 2A boys with 1,746 and 2A boys Lynden vs RA Long with 1,726.
2,000+ Viewer Club
There 4 games with more than 2,000 live device views led by 2A girls Prosser vs Port Angeles with 2,664 followed by Curtis vs Mt Si in boys 4A with 2,376. 3A boys Auburn vs Rainier Beach drew 2,367 and 1A boys Lynden Christian vs King's with 2,053.
3,000+ Viewer Club
Just 1 in this exclusive club and it was an early 1 vs 2 in the boys 3A with Auburn and Garfield going to OT before Auburn knocking off the #1 team. 3,341 was the total live device view.
Most Watched Boys Team
Auburn was part of the top 2 3A boys broadcasts against Garfield and Rainier Beach plus games with Kennewick and Seattle Prep totaled 8,275 live device views equaled nearly a 16,000 viewership.
Most Watched Girls Team
Warden from 2B topped the viewers list with 4,674 total live device views edging out 2A Prosser by just 70 viewers. Prosser was part of that 2,664 audience on day 1 but Warden had 3 games over 1,000 and a 4th game of 700 to give them the win. This is an estimated viewership of about 9,000 for the tournament.
Tacoma
Championship Coach masters the unbeaten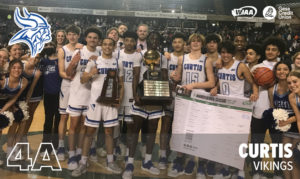 Curtis Head Basketball Coach Tim Kelly scored his 4th career State Championship Saturday by knocking off #1 seed and undefeated Mt Si in the 4A boys game. This is not new to Kelly as he his Curtis Vikings beat Jackson in 2013 who was also undefeated at the time. In his past 2 Championships Kelly has beaten teams with a combined 51-0 record. Kelly has 2 other Championships under his belt from his time at Lincoln (Tacoma) high school prior to taking the Curtis job.
We thought that Kelly may be alone in this accomplishment but he is actually 2nd at beating 2 undefeated teams in the title game. Ray Ricks guided NW Christian (Colbert) to back-to-back titles in 2008 and 2009 with wins over Davenport and Toutle Lake. Those 2 teams were a combined 52-0. Ricks however joined a small list of coaches to go undefeated from start to finish with his win over Davenport finishing 27-0 and went 28-1 when they beat Toutle Lake.
1st Time Champions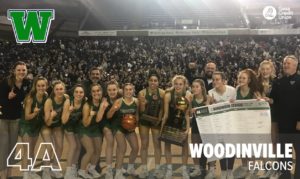 There were 2 new Champions crowned in Tacoma beginning with 4A Woodinville in the girls tournament. The Falcons defeated Sumner 65-63. Woodinville has been to state 9 times in the history of the school with their 1st appearance in 1993. They would be absent until 2006 where they won their 1st trophy a 7th place finish. The Falcons won a 5th and 6th place along the way and then took home 2nd in 2 of the last 3 tournaments before finally taking the top trophy home in their win on Saturday night.
The other 1st time Champion was Auburn. The Trojans also did it the hard way as the #2 seed got upset at Regionals and fell into the same side of the bracket as #1 Garfield. They faced the Bulldogs in the quarterfinals and scrambled late to force overtime and knocked out the #1 seed. They faced #4 Rainier Beach for the Championship who were also playing their 4th game of the tournament. In a tight game the Trojans pulled away late to record the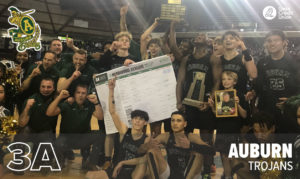 10 point win and win their 1st boys basketball Championship in the schools 119 year history.
In fact Auburn's 1st tournament appearance was in 1923 or 99 years ago. In that time they have won only 5 trophies and had never been to the State Championship game. They had a 3rd, 2 4th's, a 5th and a 6th place trophy and the last year they won a trophy was 30 years ago in 1992. It is easy to say now that all those demons have now been excised for good.
Adding to their Titles
With 2 1st time Champs that means the other 2 Titlists added to their trophy count. The Curtis Vikings picked up their 3rd big trophy in the boys 4A game. They added to the titles they won in 2013 against Jackson and in 1971 when they beat Battle Ground. Curtis has been to 6 State Championship games and are now 500 at 3-3.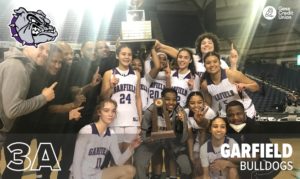 3A Girls Champ Garfield held on late to nip Lake Washington for their 5th State title and defending their Championship they won in 2020. Garfield is no stranger to the pressure of the Championship game having played in 9 Championship games in their history and are now 5-4 when playing for all the marbles.
1st Time Trophy Winner
The Tahoma Bears finished their season with the 6th place trophy after winning their 1st ever State basketball game. Appearing in just their 3rd State tournament in school history which goes back to 1927 they technically won their 1st game when they upset Kamiakin at Regionals in Richland. That put them straight into the quarterfinals against Olympia and fell short dropping them into a loser out game on Friday. A win would give them their 1st ever win in a big stadium and guarantee the Bears their first trophy in the school's 95 year history. Tahoma then defeated Graham-Kapowsin and fell short playing for 4th but finished with the school's 1st boys basketball trophy and solidified their place in Tahoma history as the best team ever to come from THS.
Yakima
Yakima Valley SunDome: Lynden #2?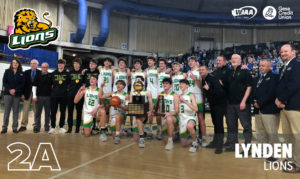 Teams from Lynden have dominated the 1A and 2A state tournaments for both boys and girls for a long time now. Since 2016, either Lynden or Lynden Christian have won at least one state championship, including three this year (Lynden Christian girls, Lynden Christian boys, Lynden boys.) Since 2016, those two schools have combined for 12 state titles in basketball! Lynden Christian have been the epitome of success in state tournaments. The Lyncs have taken home a trophy every year since 2006! Meanwhile, with the Lynden Lions winning the boys 2A championship, they become the only school to win a team state championship in both the fall and spring seasons.
One New Record
There was only one record to fall according to our research in Yakima. That would be for the most assists in this tournament format in the 2A girls classification. The old record was 14 set by Megan River of Black Hills in 2019. The new record holder? That would be Kyla McCallum of WF West who dished out 15  assists this year to put her name into the history books.
Spokane
Records Were Made to be Broken
Something was in the water at Spokane Arena as eight records were broke and one more was tied! Kyra Gardner of Raymond had a historic tournament as she set a new state record for points at the 2B girls state tournament with 95. The WSU commit would also blow away the steals record as she stole the ball 27 times over Raymond's four games. Adding to her historic career, Gardner also broke Raymond's all-time scoring record to leaver her mark on both Raymond and 2B girls history books.
More records were broke at the 1B level as well. Two players broke the 1B girls scoring record in the same tournament. Mossyrock's Payton Torrey scored 75 points to break the previous scoring record in this format of 64 set by Sailor Liefke in 2017. Torrey would also set the record for most steals in this 1B girls tournament format with 18 steals. That was the record that she will get to keep.
It would be Keely Maves of Pomeroy blowing Torrey's scoring record away along with the scoring records of the old formats for a single tournament. Maves finished with an unbelievable total of 100 points over her four games! Maves teammate Jillian Herres would make her mark as well tying the single game assists record with 11 and setting a new record for assists in a tournament with 32. That is the most assists in any tournament format in 1B girls history.
For the 1B boys, it would be Colton Seymour of Cusick setting the record for assists in a 1B boys state tournament with 26 assists in just three games! That is the most in any tournament format. Willapa Valley would also leave Spokane with a record. The Vikings' Riley Pearson would hit the most three pointers in a game in 1B boys history. Pearson knocked down nine three pointers to beat the eight made by Tyler McCaulley of Neah Bay back in 2013.
Liberty Finally Gets to the Top of the Mountain, Warden Wins First State Title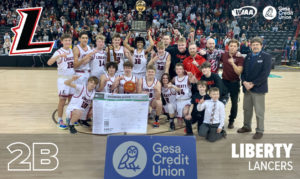 After getting so close, so often, the Liberty Lancers finally took home the Gold Ball. The Lancers knocked off 2B powerhouse Brewster 64-55 in the championship game. This is Liberty's first state title since 1986. The Lancers took 2nd place in 2015 and 2017 before finally finishing the job this year. Liberty finished the season with a record of 23-2
After dropping down from 1A, the Warden Cougars immediately made their presence felt at the 2B level winning their first girls state basketball championship in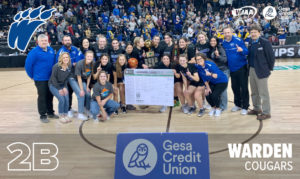 school history. Warden defeated Colfax 70-55 thanks to a 24-0 run in the 2nd quarter. The Cougars previous best finish was a 5th place trophy at the 1A level back in 2000. The father-daughters moment between head coach Josh Madsen and his daughters Jaryn and Lauryn Madsen was one of many feel good moments in Spokane. Warden finished with a record of 26-1 with their only loss coming in regionals.
Two Teams Win First State Titles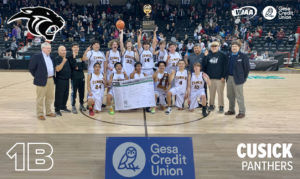 At the 1B level, we saw two teams win their first basketball state titles. For the boys, it was the Cusick Panthers defeating Almira-Coulee-Hartline 61-48 to win their first boys basketball state championship. This was Cusick's first state appearance since 2015 and their first championship appearance since 1981. The speed of the Panthers was just too much for any team to handle all season long. Cusick finished with a record of 23-1.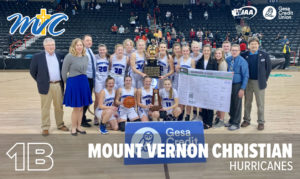 The Mount Vernon Christian Hurricanes were the ones to survive the storm defeating Neah Bay in a comeback in the title game 37-33. The Hurricanes had never finished better than 5th even though they finished 5th four times in the school's history. Mount Vernon Christian didn't allow more than 33 points in the entire tournament to show that defense really does win championships. The Hurricanes finish the season with a record of 23-3.
Stats, Stats, Stats
4A Boys 
Team Top Scoring Average
1.  Kamakin          66.3
2. Tahoma            59.7
3. Mt Si                56.7
Top Individual Scoring
1. Tyler Bilodeau, Kamiakin            83
2. Jayden Stevens, Gonzaga Prep  67
3. Parker Gerritts, Olympia            60
Top Individual Rebounding
1. Tyler Bilodeau, Kamiakin    41
2. Miles Heide, Mt Si              39
3. Trey Arland, Kamiakin        26
4A Girls
Team Top Scoring Average
1. Sumner          64.3
2. Woodinville   56.3
3. Camas           55
Top Individual Scoring
1. Reagan Jamison, Camas     20
2. Kylee Foxx, Richland           17
3. Macie Milum, Richland       14.7
Top Individual Rebounding
1. Reagan Jamison, Camas     36
2. Kendall Mairs, Camas         35
3. Kylee Fox, Richland            22
3A Boys 
Team Top Scoring Average
1. Garfield                    71
2. Mount Spokane       63
3. Mountlake Terrace   59.8
Top Individual Scoring
1. Zaveon Jones, Mountlake Terrace       72
2. Jeffrey Anyimah, Mountlake Terrace   71
3. Nahmier Robinson, Rainier Beach       60
Top Individual Rebounding
1. Josh Conerly, Rainier Beach              42
2. Maverick Sanders, Mt Spokane        28
2. Jaylin Stewart, Garfield                     28
3A Girls
Team Top Scoring Average
1. Snohomish                 56.3
2. Lakeside                     55.3
3. Garfield                      54
Top Individual Scoring
1. Ella Gallatin, Snohomish      69
2. Claire O'Connor, Lakeside   59
3. Jada Andresen, Snohomish 51
3. Mia Broom, Lakeside          51
Top Individual Rebounding
1. Vivienne Berrett, Stanwood               38
2. Tyler Gildersleeve-Stiles, Snohomish 34
3. Claire O'Connor, Lakeside                 33
2A Boys 
Team Top Scoring Average
1. North Kitsap    66.7
2. Prosser            62.7
3. Pullman           60.3
Top Individual Scoring
1. Jonas La Tour, North Kitsap     70
1. Wyatt Dunning, Port Angeles  70
3. Luke Brewer, Tumwater           69
2A Girls
Team Top Scoring Average
1. Prosser             54.5
2. Ellensburg        51.3
2. Hudson's Bay   51.3
Top Individual Scoring
1. Hallie Wright, Prosser                   75
2. Drea Brumfield, WF West             56
3. Mahaila Harrison, Hudson's Bay   53
1A Boys 
Team Top Scoring Average
1. Zillah       71.3
2. Freeman  68.8
3. Quincy     61.7
Top Individual Scoring
1. Clay Delp, Zillah                89
2. Ashton Waldman, Zillah    68
3. Josh Perez, Toppenish       62
1A Girls
Team Top Scoring Average
1. Wapato                55.8
2. Nooksack Valley   55.3
3. Lynden Christian  52.7
Top Individual Scoring
1. Kayana Bass, Wapato                 75
2. Libby Stump, Lynden Christian   73
3. Trinity Wheeler, Wapato             56
2B Boys 
Team Top Scoring Average
1. Colfax                 73
2. Liberty                69.3
3. Lake Roosevelt   64.3
Top Individual Scoring
1. John Lustig, Colfax                 110
2. Zach Swanson, Toutle Lake      83
3. Jackson Esary, Kalama             77
2B Girls
Team Top Scoring Average
1. Colfax          65.3
2. Warden        63.5
3. La Conner    61.3
Top Individual Scoring
1. Kyra Gardner, Raymond      95
2. Teagan Colvin, Liberty         74
3. Asher Cai, Colfax                 72
1B Boys
Team Top Scoring Average
1. Cusick              64.7
2. DeSales            60.3
3. Lummi Nation  57.8
Top Individual Scoring
1. Yoel Kintzer, NW Yeshiva                     80
2. Tyran Lane, Lummi Nation                   71
3. Reece Isaak, Almira-Coulee-Hartline   67
1B Girls
Team Top Scoring Average
1. Pomeroy                       52.3
2. Wilbur-Creston-Keller   50
3. Neah Bay                      46.7
Top Individual Scoring
1. Keely Maves, Pomeroy      100
2. Payton Torrey, Mossyrock   75
3. Maggie Meyer, Colton        59
www.elisportsnetwork.com