2/20/2022
(Federal Way, WA) The WIAA State Swim meets all concluded on Saturday after a 3-day run at the King County Aquatic Center in Federal Way and Curtis held off Newport to win the 4A Championship. Below is the re-cap, the final results of each event, video clips and photo gallery. Coverage of the Diving event can be found at this link: 2022 Diving Championships Coverage
The Curtis Vikings edged Newport for the team title by just 10 points and won the Championship with some eye popping performances. The Vikings relay team in the 200 freestyle destroyed the meet record held by Kamiak and snapped the 2003 Mercer Island State mark of 1:23.84 with a blazing 1:23.23. This was an automatic All America standard. The Vikings sent Tolu Young out first followed by Sam Funchess, Eric Kwon and Patrick Keough was the anchor.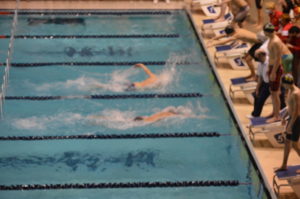 Logan Kwon then jumped in for Funchess with the other 3 to blow away the field in the final event the 400 freestyle. Their final time of 3:06.45 was good for All America consideration. Curtis also picked up individual championships led by Keough taking the 200 free and the 100- Butterfly in an automatic All America time of 48.37. Young added to the Curtis Gold taking the 50 free with a time of 20.78 which earned AA consideration and just missed in the 100 free but his time also qualified for AA consideration. Other top 8 placers for Curtis were the 200 medley relay, Adam Kwon, David Idio, Eric Kwon and Logan Kwon.
Newport got off to a fast start winning the opening event the 200 medley relay. Nathan Xu, Chrisitan Koh, Dylan Ling and Liam Campbell set a new meet record breaking the 1:33.55 mark set by Wenatchee in 2020 with a time of 1:33.06 which was an automatic All America time. Newport's Liam, Campbell was edged out by Young of Curtis in the 50 free by just 3 hundreths of a second but his time of 20.49 was also an automatic All America. Campbell got his revenge on Young in the 100 free taking 1st and outfinishing Young by a tenth of a second 45.22 which was good for AA consideration. Other top 8 finishers for Newport were both the 200 and 400 free relay teams, both finishing 2nd. Evan Ping, Christian Koh and Dylan Ling also had top 8 finishes.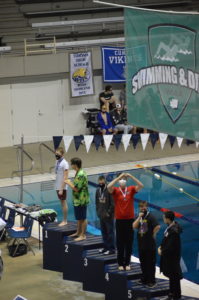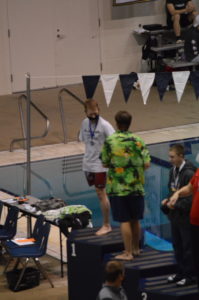 Other individual winners came included Noah Laird of Inglemoor taking the 200 IM in 1:51.71 which was an AA consideration time. Puyallup's Aidan Davis scored in the marathon 500 meter stopping the clock in 4:39.13. Olympia's Tony Ponomarev won the 100 backstroke with a time of 50.27 which qualified for consideration and Kennedy Catholic's Chris Louie also earned an AA consideration by winning the breaststroke in 56:04.
There were 2 adaptive races as well the 50 free which was won by Alex Filkowski of Richland with a time of 31.56 and the 50 backstroke was won by Kaden Cole of South Kitsap with a finishing time of 39.03.
Video Highlights followed by all event results and at the bottom a huge Photo Gallery
200 Meter Relay New State Record by Curtis
50 meter sprint Curtis's Tolu Young and Newport's Liam Campbell
Newport sets a new meet record in the 200 medley relay
Richland's Alex Filkowski wins the 50 free Adaptive
South Kitsap's Kaden Cole takes the adaptive 50 backstroke
Team Standings
Men - Team Rankings - Through Event 412                      
 
  1. Curtis                            292   2. Newport                           282
  3. Jackson                           168   4. Skyline                           154
  5. Hanford                           144   6. Union                             137
  7. Wenatchee                         135   8. Redmond                           104
  9. Issaquah                          102  10. Mount Rainier                      75
 11. Lake Stevens                       72  12. Olympia                            71
 13. Kennedy Catholic                   68  14. North Creek                        66
 15. Puyallup                           63  16. Camas                              60
 17. Tahoma                             51  18. Moses Lake                         37
 19. Inglemoor                          36  20. Glacier Peak                       35
 21. Mount Si                           34  22. Decatur                            32
 23. Sumner                             23  24. Battle Ground                      15
 25. Richland                           14  26. South Kitsap                       12
 27. Kamiak                             11  28. Kentwood                            7
 29. Eastmont                            6  30. Chiawana                            5
 31. Woodinville
Event Results
Event 401  Men 200 Yard Medley Relay
==================================================================================
  Meet Record: ! 1:33.55  2/22/2020 Wenatchee, Wenatchee
                          C Elwyn, C Cutter, A Broxson, I Walsh
 State Record:   1:32.64  2/18/2017 Bainbridge Island, Bainb
                          W Waite, K Houseman, M Ingalls, J Wenker
                 1:33.21  AAA
                 1:34.74  AAC
    School                        Prelims     Finals       Points 
==================================================================================
                                === A - Final ===                                 
 
  1 NEW  'A'                      1:34.04    1:33.06!AAA     40  
     1) Xu, Nathan 9                  2) r:0.16 Koh, Christian 11     
     3) r:0.52 Ling, Dylan 12         4) r:0.39 Campbell, Liam 11     
     r:+0.61  24.53    25.23    22.66    20.64
  2 WEN  'A'                      1:35.98    1:35.02         34  
     1) Madson, Benjamin 9            2) r:0.20 Grigsby, Benjamin 12  
     3) r:0.19 Elwyn, Austin 11       4) r:0.28 Broxson, Leif 12      
     r:+0.60  23.36    27.39    22.70    21.57
  3 JACK  'A'                     1:37.32    1:36.98         32  
     1) Thompson, Braden 12           2) r:0.27 Georgiev, Alex 12     
     3) r:0.30 Chen-Parks, Ethan 10   4) r:0.13 Georgiev, Ethan 10    
     r:+0.67  25.88    25.55    23.40    22.15
  4 CURT  'A'                     1:36.86    1:37.14         30  
     1) Idio, David 10                2) r:0.17 Kwon, Logan 12        
     3) r:0.21 Kwon, Adam 10          4) r:0.13 Funches, Sam 11       
     r:+0.62  24.37    27.52    23.65    21.60
  5 SKYL  'A'                     1:37.67    1:37.39         28  
     1) Lee, Terry 9                  2) r:0.13 Tran, Justin 12       
     3) r:0.40 Lee, Charles 10        4) r:0.41 Lewis, Kyle 12        
     r:+0.60  25.71    27.36    23.10    21.22
  6 HAN  'A'                      1:37.13    1:37.51         26  
     1) Gelston, Andy 11              2) r:0.13 Jones, Andrew 11      
     3) r:0.47 Nielson, Luke 9        4) r:0.26 Wright, Easton 10     
     r:+0.66  24.02    26.54    24.93    22.02
  7 U  'A'                        1:37.83    1:38.03         24  
     1) Empey, Sam 10                 2) r:0.24 Wahlman, Alexander 11 
     3) r:0.16 Empey, Steven 9        4) r:0.24 Robertson, Owen 9     
     r:+0.63  23.81    27.72    23.70    22.80
  8 NC  'A'                       1:38.56    1:38.57         22  
     1) Da, Andrew 10                 2) r:0.19 Joshi, Amey 10        
     3) r:0.44 Pak, Joshua 11         4) r:0.17 Kim, Tayne 10         
     r:+0.61  25.11    26.82    23.51    23.13
Event 402  Men 200 Yard Freestyle
=========================================================================
  Meet Record: ! 1:37.17  2/18/2006 Nathan Adrian, Bremerton
 State Record:   1:37.17  2/18/2006 Nathan Adrian, Bremerton
                 1:38.40  AAA
                 1:40.13  AAC
    Name           Year School            Prelims     Finals       Points 
=========================================================================
                            === A - Final ===                            
 
  1 Keough, Patrick  12 CURT              1:41.20    1:40.30         20  
    r:+0.68  23.28        49.14 (25.86)
        1:15.07 (25.93)     1:40.30 (25.23)
  2 Elsemore, Jense  12 JACK              1:43.62    1:44.13         17  
    r:+0.69  23.13        49.01 (25.88)
        1:15.60 (26.59)     1:44.13 (28.53)
  3 Kwon, Adam       10 CURT              1:44.34    1:45.24         16  
    r:+0.53  24.49        51.39 (26.90)
        1:18.20 (26.81)     1:45.24 (27.04)
  4 Ping, Evan       11 NEW               1:45.35    1:45.48         15  
    r:+0.67  24.45        51.10 (26.65)
        1:18.02 (26.92)     1:45.48 (27.46)
  5 Davis, Aidan     12 PUY               1:46.51    1:47.55         14  
    r:+0.70  24.72        52.05 (27.33)
        1:19.84 (27.79)     1:47.55 (27.71)
  6 Thompson, Brade  12 JACK              1:48.44    1:49.21         13  
    r:+0.74  25.16        52.40 (27.24)
        1:20.84 (28.44)     1:49.21 (28.37)
  7 Jackson, Ben C   11 KCATH             1:47.91    1:49.68         12  
    r:+0.74  25.65        53.38 (27.73)
        1:21.73 (28.35)     1:49.68 (27.95)
  8 Robertson, Owen   9 U                 1:47.51    1:50.04         11  
    r:+0.65  25.15        53.24 (28.09)
        1:22.16 (28.92)     1:50.04 (27.88)
Event 403  Men 200 Yard IM
=========================================================================
  Meet Record: ! 1:48.36  2/18/2017 Jonathan Cook, Jackson
 State Record:   1:47.60  2/22/2014 Abrahm Devine, Lakeside
                 1:49.57  AAA
                 1:51.57  AAC
    Name           Year School            Prelims     Finals       Points 
=========================================================================
                            === A - Final ===                            
 
  1 Laird, Noah      12 INGL              1:51.71    1:50.90 AAC     20  
     r:+0.70  23.71    27.75    32.64    26.80
  2 Ponomarev, Tony  12 OLY               1:54.41    1:52.60         17  
     r:+0.69  24.50    27.08    33.94    27.08
  3 Lee, Charles     10 SKYL              1:55.05    1:53.37         16  
     r:+0.56  24.08    29.24    32.21    27.84
  4 Koh, Christian   11 NEW               1:54.54    1:53.98         15  
     r:+0.62  24.59    28.24    32.93    28.22
  5 Gelston, Andy    11 HAN               1:53.08    1:56.27         14  
     r:+0.66  24.08    27.68    35.90    28.61
  6 Benevedes, Leo   12 MR                1:55.31    1:56.41         13  
     r:+0.58  24.97    30.34    33.01    28.09
  7 Kim, Nathan      11 CAM               1:55.60    1:57.25         12  
     r:+0.66  24.05    28.31    36.28    28.61
  8 Medvinsky, Jona   9 RED               1:55.47    1:57.71         11  
     r:+0.62  24.76    30.47    33.78    28.70


Event 404  Men 50 Yard Freestyle
=========================================================================
  Meet Record: ! 19.81  2/22/2020 Matt King, Glacier Peak
 State Record:   19.81  2/22/2020 Matt King, Glacier Peak
                 20.54  AAA
                 20.91  AAC
    Name           Year School            Prelims     Finals       Points 
=========================================================================
                            === A - Final ===                            
 
  1 Young, Tolu      10 CURT                20.78      20.46 AAA     20  
          r:+0.59                             
  2 Campbell, Liam   11 NEW                 21.22      20.49 AAA     17  
          r:+0.61                             
  3 Georgiev, Alex   12 JACK                20.79      20.92         16  
          r:+0.61                             
  4 Empey, Sam       10 U                   20.93      21.11         15  
          r:+0.58                             
  5 Yount, Karl      12 ISSY                21.95      21.82         14  
          r:+0.75                             
  6 Lewis, Kyle      12 SKYL                21.97      21.85         13  
          r:+0.81                             
  7 Idio, David      10 CURT                21.88      21.96         12  
          r:+0.69                             
  8 Taylor, Kaiu L   10 GP                  21.96      22.20         11
Event 406  Men 100 Yard Butterfly
=========================================================================
  Meet Record: ! 47.81  2/21/2009 Cody Roberts, Richland
 State Record:   47.81  2/21/2009 Cody Roberts, Richland
                 48.92  AAA
                 49.95  AAC
    Name           Year School            Prelims     Finals       Points 
=========================================================================
                            === A - Final ===                            
 
  1 Keough, Patrick  12 CURT                49.83      48.37 AAA     20  
    r:+0.68  22.43        48.37 (25.94)
  2 Empey, Sam       10 U                   50.43      50.83         17  
    r:+0.60  23.46        50.83 (27.37)
  3 Ling, Dylan      12 NEW                 50.67      51.08         16  
    r:+0.60  23.71        51.08 (27.37)
  4 Xu, Nathan        9 NEW                 51.58      51.55         15  
    r:+0.61  24.01        51.55 (27.54)
  5 Pak, Joshua      11 NC                  52.44      52.37         14  
    r:+0.62  24.38        52.37 (27.99)
  6 Hicks, Carsten   12 BG                  52.92      52.40         13  
    r:+0.61  23.96        52.40 (28.44)
  7 Wilson, Tanner   10 SUMN                51.30      52.51         12  
    r:+0.61  23.79        52.51 (28.72)
  8 Chesley, Garret  11 LS                  52.47      53.54         11  
    r:+0.73  24.55        53.54 (28.99)
Event 407  Men 100 Yard Freestyle
=========================================================================
  Meet Record: ! 43.24  2/22/2020 Matt King, Glacier Peak
 State Record:   43.24  2/22/2020 Matt King, Glacier Peak
                 44.95  AAA
                 45.73  AAC
    Name           Year School            Prelims     Finals       Points 
=========================================================================
                            === A - Final ===                            
 
  1 Campbell, Liam   11 NEW                 46.14      45.22 AAC     20  
    r:+0.63  21.78        45.22 (23.44)
  2 Young, Tolu      10 CURT                45.66      45.35 AAC     17  
    r:+0.52  21.55        45.35 (23.80)
  3 Laird, Noah      12 INGL                46.41      45.98         16  
    r:+0.68  22.08        45.98 (23.90)
  4 Ping, Evan       11 NEW                 47.71      47.11         15  
    r:+0.63  22.53        47.11 (24.58)
  5 Elwyn, Austin    11 WEN                 47.82      47.25         14  
    r:+0.58  22.76        47.25 (24.49)
  6 Elsemore, Jense  12 JACK                46.62      47.51         13  
    r:+0.77  22.22        47.51 (25.29)
  7 Yount, Karl      12 ISSY                48.36      48.08         12  
    r:+0.73  22.95        48.08 (25.13)
  8 Jones, Andrew    11 HAN                 48.30      48.24         11  
    r:+0.60  23.12        48.24 (25.12)
Event 408  Men 500 Yard Freestyle
=========================================================================
  Meet Record: ! 4:23.06  1995      Wes Oliver, Sammamish
 State Record:   4:23.06  1995      Wes Oliver, Sammamish
                 4:28.38  AAA
                 4:33.10  AAC
    Name           Year School            Prelims     Finals       Points 
=========================================================================
                            === A - Final ===                            
 
  1 Davis, Aidan     12 PUY               4:37.24    4:39.13         20  
    r:+0.58  24.47        51.07 (26.60)
        1:18.67 (27.60)     1:46.67 (28.00)
        2:15.37 (28.70)     2:44.19 (28.82)
        3:13.18 (28.99)     3:42.55 (29.37)
        4:11.60 (29.05)     4:39.13 (27.53)
  2 Springer, Jack   12 DEC               4:41.29    4:41.34         17  
    r:+0.59  24.79        51.86 (27.07)
        1:19.58 (27.72)     1:47.45 (27.87)
        2:15.77 (28.32)     2:44.21 (28.44)
        3:13.19 (28.98)     3:42.55 (29.36)
        4:11.90 (29.35)     4:41.34 (29.44)
  3 Benevedes, Leo   12 MR                4:37.56    4:43.31         16  
    r:+0.61  24.07        50.64 (26.57)
        1:18.13 (27.49)     1:46.21 (28.08)
        2:14.91 (28.70)     2:44.08 (29.17)
        3:13.46 (29.38)     3:43.12 (29.66)
        4:13.08 (29.96)     4:43.31 (30.23)
  4 Kwon, Eric       12 CURT              4:46.86    4:45.79         15  
    r:+0.66  25.56        53.45 (27.89)
        1:21.94 (28.49)     1:50.89 (28.95)
        2:20.00 (29.11)     2:49.54 (29.54)
        3:18.78 (29.24)     3:47.87 (29.09)
        4:17.06 (29.19)     4:45.79 (28.73)
  5 Kwon, Adam       10 CURT              4:45.20    4:49.80         14  
    r:+0.56  25.51        53.66 (28.15)
        1:22.92 (29.26)     1:52.18 (29.26)
        2:21.65 (29.47)     2:51.03 (29.38)
        3:21.02 (29.99)     3:50.95 (29.93)
        4:20.80 (29.85)     4:49.80 (29.00)
  6 Lewis, Kyle      12 SKYL              4:54.92    4:52.48         13  
    r:+0.88  25.38        53.77 (28.39)
        1:22.67 (28.90)     1:52.43 (29.76)
        2:22.15 (29.72)     2:52.20 (30.05)
        3:22.50 (30.30)     3:52.98 (30.48)
        4:23.50 (30.52)     4:52.48 (28.98)
  7 Angeline, Evan    9 TAH               4:54.46    4:55.74         12  
    r:+0.75  25.94        55.10 (29.16)
        1:24.87 (29.77)     1:55.20 (30.33)
        2:25.51 (30.31)     2:55.67 (30.16)
        3:25.94 (30.27)     3:56.91 (30.97)
        4:26.91 (30.00)     4:55.74 (28.83)
  8 Robertson, Owen   9 U                 4:54.31    5:00.38         11  
    r:+0.61  25.68        54.64 (28.96)
        1:24.72 (30.08)     1:55.78 (31.06)
        2:27.07 (31.29)     2:57.95 (30.88)
        3:28.94 (30.99)     3:59.96 (31.02)
        4:30.64 (30.68)     5:00.38 (29.74)
 


Event 409  Men 200 Yard Freestyle Relay
==================================================================================
  Meet Record: ! 1:25.53  2/22/2020 Kamiak, Kamiak
                          M Fang, B Park, S Gilszmer, V Gilszmer
 State Record:   1:23.84  2003      Mercer Island, Merce
                          Sussex, Easton, Strand, Kaarma
                 1:24.80  AAA
                 1:25.86  AAC
    School                        Prelims     Finals       Points 
==================================================================================
                                === A - Final ===                                 
 
  1 CURT  'A'                     1:24.85    1:23.23!AAA     40  
     1) Young, Tolu 10                2) r:0.22 Funches, Sam 11       
     3) r:0.07 Kwon, Eric 12          4) r:0.29 Keough, Patrick 12    
    r:+0.56  20.55        42.13 (21.58)
        1:03.25 (21.12)     1:23.23 (19.98)
  2 NEW  'A'                      1:27.36    1:26.06         34  
     1) Ping, Evan 11                 2) r:0.27 Koh, Christian 11     
     3) r:0.43 Sunwoo, Mason 10       4) r:0.19 Ling, Dylan 12        
    r:+0.62  21.80        43.07 (21.27)
        1:05.20 (22.13)     1:26.06 (20.86)
  3 WEN  'A'                      1:27.76    1:26.66         32  
     1) Madson, Benjamin 9            2) r:0.22 Grigsby, Benjamin 12  
     3) r:0.38 Broxson, Leif 12       4) r:0.10 Elwyn, Austin 11      
    r:+0.58  21.54        43.73 (22.19)
        1:05.41 (21.68)     1:26.66 (21.25)
  4 JACK  'A'                     1:28.08    1:28.40         30  
     1) Chen-Parks, Ethan 10          2) r:0.25 Elsemore, Jensen 12   
     3) r:0.46 Thompson, Braden 12    4) r:0.23 Georgiev, Ethan 10    
    r:+0.55  22.56        43.68 (21.12)
        1:05.98 (22.30)     1:28.40 (22.42)
  5 U  'A'                        1:29.02    1:29.28         28  
     1) Empey, Steven 9               2) r:0.14 Empey, Sam 10         
     3) r:0.37 Bui, Duc 11            4) r:0.28 Wahlman, Alexander 11 
    r:+0.63  22.74        43.85 (21.11)
        1:06.62 (22.77)     1:29.28 (22.66)
  6 ISSY  'A'                     1:31.35    1:29.93         26  
     1) Aaselund, Cameron 11          2) r:0.45 Zhang, Tuan 12        
     3) r:0.25 Zablocki, Owen 12      4) r:0.39 Yount, Karl 12        
    r:+0.64  22.70        46.12 (23.42)
        1:08.42 (22.30)     1:29.93 (21.51)
  7 RED  'A'                      1:32.10    1:31.79         24  
     1) Zheng, Allen 11               2) r:0.22 Padgett, Dane 10      
     3) r:0.51 Greenmun, Aidan 12     4) r:0.33 Misiuda, Igi 11       
    r:+0.60  23.04        45.71 (22.67)
        1:08.91 (23.20)     1:31.79 (22.88)
  8 ML  'A'                       1:32.89    1:32.11         22  
     1) Molitor, Luke 9               2) r:0.22 Patten, Issac 12      
     3) r:0.28 Moore, Nicholas 11     4) r:0.11 McKean, Ashton 11     
    r:+0.76  23.24        46.52 (23.28)
        1:09.88 (23.36)     1:32.11 (22.23)



Event 410  Men 100 Yard Backstroke
=========================================================================
  Meet Record: ! 48.10  2/22/2014 Thomas Anderson, Federal Way
 State Record:   48.10  2/22/2014 Thomas Anderson, Federal Way
                 49.38  AAA
                 50.37  AAC
    Name           Year School            Prelims     Finals       Points 
=========================================================================
                            === A - Final ===                            
 
  1 Ponomarev, Tony  12 OLY                 50.55      50.27 AAC     20  
    r:+0.66  24.46        50.27 (25.81)
  2 Gelston, Andy    11 HAN                 50.05      51.08         17  
    r:+0.62  24.69        51.08 (26.39)
  3 Madson, Benjami   9 WEN                 50.65      51.76         16  
    r:+0.52  24.63        51.76 (27.13)
  4 Springer, Jack   12 DEC                 52.38      52.74         15  
    r:+0.78  25.78        52.74 (26.96)
  5 Pak, Joshua      11 NC                  53.07      53.27         14  
    r:+0.63  25.78        53.27 (27.49)
  6 Chesley, Garret  11 LS                  52.92      53.50         13  
    r:+0.68  25.61        53.50 (27.89)
  7 Kwon, Logan      12 CURT                53.33      53.54         12  
    r:+0.65  25.82        53.54 (27.72)
 -- Kim, Nathan      11 CAM                 53.33         DQ        
    r:+0.61  25.71                     
 
                            === B - Final ===                            
 
  9 Idio, David      10 CURT                53.47      52.80          9  
    r:+0.61  25.16        52.80 (27.64)
 10 Xu, Nathan        9 NEW                 53.49      53.82          7  
    r:+0.61  26.11        53.82 (27.71)
 11 Wright, Easton   10 HAN                 53.38      54.00          6  
    r:+0.72  26.39        54.00 (27.61)
 12 Cowin, Cody       9 RICH                54.07      54.02          5  
    r:+0.60  26.25        54.02 (27.77)
 13 Taylor, Kaiu L   10 GP                  54.50      54.68          4  
    r:+0.81  26.55        54.68 (28.13)
 14 Da, Andrew       10 NC                  53.64      54.90          3  
    r:+0.62  26.86        54.90 (28.04)
 15 Lee, Terry        9 SKYL                54.64      55.02          2  
    r:+0.62  26.78        55.02 (28.24)
 16 Nishizawa, Shaw   9 TAH                 54.51      55.08          1  
    r:+0.59  27.09        55.08 (27.99)


Event 411  Men 100 Yard Breaststroke
=========================================================================
  Meet Record: ! 52.76  2/22/2020 Ethan Dang, Hazen
 State Record:   52.76  2/22/2020 Ethan Dang, Hazen
                 55.84  AAA
                 56.98  AAC
    Name           Year School            Prelims     Finals       Points 
=========================================================================
                            === A - Final ===                            
 
  1 Louie, Chris K   12 KCATH               56.73      56.04 AAC     20  
    r:+0.62  25.95        56.04 (30.09)
  2 Koh, Christian   11 NEW                 57.31      57.09         17  
    r:+0.59  26.40        57.09 (30.69)
  3 Lee, Charles     10 SKYL                57.96      57.32         16  
    r:+0.49  26.90        57.32 (30.42)
  4 Jones, Andrew    11 HAN                 58.74      57.98         15  
    r:+0.62  27.20        57.98 (30.78)
  5 Medvinsky, Jona   9 RED                 58.51      58.39         14  
    r:+0.60  27.05        58.39 (31.34)
  6 Joshi, Amey      10 NC                  58.75      58.93         13  
    r:+0.62  27.59        58.93 (31.34)
  7 Ling, Dylan      12 NEW                 58.77      59.90         12  
    r:+0.61  27.62        59.90 (32.28)
  8 Wilson, Tanner   10 SUMN                59.32    1:00.07         11  
    r:+0.67  28.15      1:00.07 (31.92)
Event 412  Men 400 Yard Freestyle Relay
====================================================================
  Meet Record: ! 3:07.06  1983      Wilson, Wilson
 State Record:   3:03.95  2/16/2019 Bainbridge Island, Bainb
                          M Ingalls, A Witty, G Waite, J Wenker
                 3:06.28  AAA
                 3:09.26  AAC
    School                           Seed    Prelims              
====================================================================
                       === Preliminaries ===                        
 
  1 CURT  'A'                     3:08.86    3:07.86 AAC    
     1) Young, Tolu 10                2) r:0.16 Kwon, Logan 12        
     3) r:0.25 Kwon, Eric 12          4) r:0.36 Keough, Patrick 12    
     r:+0.53  21.81    45.91    22.55    47.85
       23.06    48.44    21.59    45.66
  2 JACK  'A'                     3:20.65    3:10.43        
     1) Thompson, Braden 12           2) r:0.30 Elsemore, Jensen 12   
     3) r:0.21 Georgiev, Ethan 10     4) r:0.27 Georgiev, Alex 12     
     r:+0.62  23.67    49.06    22.03    46.76
       23.35    49.30    21.03    45.31
  3 NEW  'A'                      3:13.39    3:11.52        
     1) Campbell, Liam 11             2) r:0.51 Xu, Nathan 9          
     3) r:0.27 Hou, Neo 11            4) r:0.20 Ping, Evan 11         
     r:+0.64  21.73    45.63    23.29    48.77
       23.33    49.86    22.47    47.26
  4 HAN  'A'                      3:18.91    3:15.44        
     1) Jones, Andrew 11              2) r:0.20 Pool, Maddox 10       
     3) r:0.37 Wright, Easton 10      4) r:0.26 Gelston, Andy 11      
     r:+0.60  23.46    48.81    23.58    50.34
       23.05    48.52    22.50    47.77
  5 WEN  'A'                      3:16.67    3:16.42        
     1) Elwyn, Austin 11              2) r:0.34 Broxson, Leif 12      
     3) r:0.36 Madson, Benjamin 9     4) r:0.33 Grigsby, Benjamin 12  
     r:+0.57  23.19    48.53    23.09    49.04
       23.65    49.63    23.39    49.22
  6 RED  'A'                      3:19.21    3:18.59        
     1) Zheng, Allen 11               2) r:0.34 Sreenivasan, Jaiden 9 
     3) r:0.40 Kannam, Suhas 12       4) r:0.35 Medvinsky, Jonah 9    
     r:+0.62  23.59    48.94    23.82    50.10
       23.84    50.41    23.40    49.14
  7 SKYL  'A'                     3:19.08    3:19.85        
     1) Brooks, Jackson 11            2) r:0.48 Lewis, Kyle 12        
     3) r:0.52 Lee, Terry 9           4) r:0.26 Lee, Charles 10       
     r:+0.66  23.99    50.63    23.08    49.38
       24.46    50.97    23.15    48.87
  8 U  'A'                        3:20.59    3:20.48        
     1) Robertson, Owen 9             2) r:0.31 Bui, Duc 11           
     3) r:0.30 Wahlman, Alexander 11  4) r:0.20 Empey, Steven 9       
     r:+0.59  24.21    51.09    24.04    51.01
       22.71    47.98    24.18    50.40
Event 413  Men 50 Yard Freestyle Adaptive
=========================================================================
  Meet Record: ! 26.82  2/16/2019 Henry Nguyen, Cascade
 State Record:   19.81  2/22/2020 Matt King, Glacier Peak
                 20.54  AAA
                 20.91  AAC
    Name           Year School               Seed     Finals       Points 
=========================================================================
  1 Filkowski, Alex  12 RICH                31.29      31.56        
  2 Thurman, Danny   10 ML                  33.56      32.20        
          r:+0.99                             
  3 Hernke, Joshua   12 EASTM               35.29      35.05        
  4 Cole, Kaden      12 SK                  35.72      36.30        
  5 George, Danny    12 WEN                 40.29      38.74        
  6 Rivera, Julian   11 DAVIS               39.47      40.06
Event 414  Men 50 Yard Backstroke Adaptive
=========================================================================
  Meet Record: ! 32.86  2/16/2019 Ben Stanton, Kentwood
    Name           Year School               Seed     Finals       Points 
=========================================================================
  1 Cole, Kaden      12 SK                  38.79      39.03        
         r:+0.68                       
  2 Filkowski, Alex  12 RICH                47.24      41.23        
         r:+0.70                       
  3 Thurman, Danny   10 ML                  41.98      41.95        
         r:+0.77                       
  4 Hernke, Joshua   12 EASTM               51.73      52.88        
         r:+0.94                       
  5 George, Danny    12 WEN               1:07.21    1:14.18        
  6 Rivera, Julian   11 DAVIS             1:39.78    1:33.83        
         r:+0.81                       

Photo Gallery
(Please feel free to copy pictures for personal use.)
www.elisportsnetwork.com