1/26/2022
Gig Harbor 49, Capital 33
Tides     15  16    7  11  49
Cougs     4  11  12    6  33
(Olympia, WA) The Gig Harbor Tides came into this game against the Cougars with a 9-1 South Sound Conference record and tied for 1st with Timberline. The Tides and Blazers also have split during the season so every game is critical for each team in the race for 1st place. The Cougars would be the last team the Tides had to play in league this season with a winning record.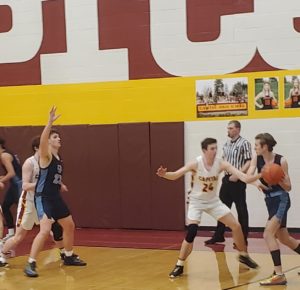 Meanwhile, Capital came in dead even with Central Kitsap both at 6-4 and tied for 3rd. The Cougars still have a 2nd round with Timberline and Central Kitsap on their schedule so finding a way to pull out a win over Gig Harbor would have been a huge help.
The game was a little rough as both teams struggled on offense more than they were successful but a 15-4 lead after the 1st 8 minutes put Gig Harbor in great position. Capital would make a couple of runs at the Tides and got the deficit to just 4 in the 2nd quarter but then a late run from Gig Harbor led by some offense, defense and rebounding from Ryan Pickles off the bench pushed their lead at the break to 31-15. 
Ryan Pickles with the pick and score
The Tides' Luke Browne led all scorers and finished with 16 hitting 9 in the 1st half and a couple of big 3 balls in the 2nd half. The Cougars again cut the lead to single digits in the 3rd down to 9 also led with an off the bench player in JaBrayan Richburg who had 4 in the 1st half and finished with 13. But the Tides just wouldn't allow Capital to get back in it during the 4th with a smothering defense that kept the Cougs off balance including a press that forced Capital to work hard just to get into front court.
Luke Browne drains a 3
Carl Schreck from behind the arc with the assist to JaBrayan Richburg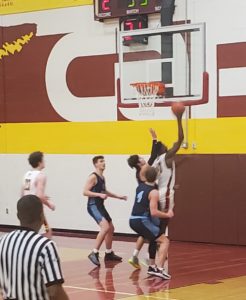 Gig Harbor is now 10-1 in SSC play and 15-1 overall and will next play at North Thurston on Friday. Capital drops to 6-5 in league play and 8-7 overall. The Cougs drop into 4th place after Central Kitsap defeated River Ridge last night and Gig Harbor takes over 1st place by a half game as Timberline did not play.
Our visiting team MVP went to Gig Harbor's Ryan Pickles and the home team award went to JaBrayan Richburg.
Scoring
Gig Harbor: Luke Browne 16, Parker Born 9, Ryan Pickles 8, Asher Raquiza 7, Christian Parrish 7, Will Landram 2
Capital: JaBrayan Richburg 13, Wesley Bjornsgard 6, Cooper Carlson 6, Carl Schreck 5, Isaiah Oakland 2
Post Game Show
www.elisportsnetwork.com