1/20/2022
(Tenino, WA) The Eatonville Cruisers came into this game with a 3-0 EVCO 1A record and were looking to steal a win from a talented but very young Tenino Beaver squad. Beaver Coach Joe Chirhart starts 1 senior and 4 freshmen and trailed by just 1 at halftime.
But a critical 18-7 run in the 3rd quarter led by the inside game of the bigger and more experienced Cruiser squad broke open the tight contest. After Senior guard Reilly McIlraith kept the Cruisers in the game in the 1st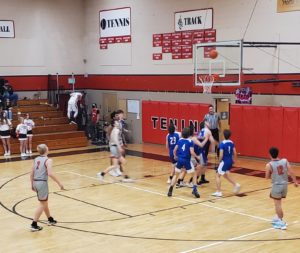 half scoring 12 of his 16, after the break big Jake Wood and Kyle Cox took over in the paint. The duo scored 16 of the team's 18 3rd quarter points and pushed their lead to a dozen points. 
Foul trouble for the Beavers two big guys, Takari Hickle and Jack Burkhardt kept Burkhardt out of the 3rd quarter on the bench with 4 fouls and Hickle had to be careful with 3 fouls. Wood and Cox took full advantage of dominating the inside with a couple of mid-range swish shots.
Four Cruisers hit double figs led by McIlraith with 16, Jake Wood finished with 14, Kyle Cox had 13 and Shay Brannon finished with 10. Jakob Lucht off the bench knocked down 7 and Waylan Mettler had 3. The Cruisers could have had a larger lead at halftime and bigger win margin but were just 11-28 from the free-throw line.
Noah Schow led the Beavers with 20 hitting 4 3-balls, Will Feltus scored 11 with 3 long balls and 2-2 at the line. Jack Burkhardt put in 6, Takari Hickle 4 while Toby Suess and Brody Noonan each had 2.
Our visiting team Pacific Sports Spa MVP went to Reilly McIlraith and our Thorbeckes home team MVP went to Will Feltus. Eatonville is now 4-0 in EVCO 1A league play and 8-2 overall. Tenino drops to 1-3 in league play and 5-7 overall.
The ESN crew with the Post Game show re-capping the game
Reilly McIlraith drains a 3 for Eatonville
Jake Wood hits part of his dominating 3rd quarter
Tenino's Will Festus with a long ball
www.elisportsnetwork.com