1/16/2022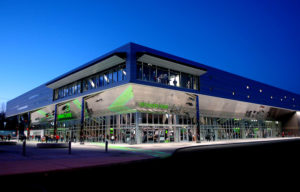 The annual King Showcase will tip-off on Monday in the ShoWare Center in Kent with 8 games set to be played. 3 girls and 5 boys match-ups will begin at 9am on MLK Day. This Preps Showcase is a a steal for sports fans at just $10 for adults and $5 for kids with ASB cards and Seniors. That's $1.37 per game for adults and 62-cents per game for the $5 admissions.
There are several great match-ups, on the girls side the 9-0 undefeated Tahoma Bears face the 10-1 Lake Stevens Vikings and that game tips off at 3:30pm. The boys will be highlighted with the 10-0 Mt Si Wildcats battling the 9-3 Seattle Prep Panthers. 
Here is the full schedule:
9am Boys Kentlake vs Auburn Riverside
10:30am Girls Kentwood vs Glacier Peak
12pm Boys Sumner vs Glacier Peak
2pm Girls Rogers vs Auburn
3:30pm Girls Lake Stevens vs Tahoma
5pm Boys King's vs Tahoma
7pm Boys Mount Si vs Seattle Prep
8:30pm Boys Lakes vs Kentwood
The Eli Sports Network will be there for all 8 games with a live video stream. So if you can't get to the games you can watch or listen on our subscription network with the NFHS network. The cost is just $10.99 and that's for 30 days, it is NOT a pay-per-view and you may cancel at any time, no long term commitment.
Click here and it will take you to our broadcast schedule page and from there click on the watch live to get to our landing page on the NFHS network site where you will find your game or games to watch and is also the place to subscribe.
www.elisportsnetwork.com