12/13/2021
Adna 87, Wahkiakum 47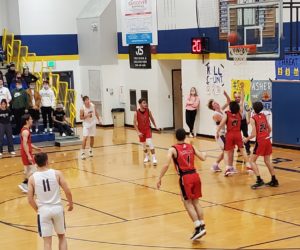 (Adna, WA) The Adna Pirates exploded for 52 1st half points to win going away over the visiting Wahkiakum Mules to improve to 5-1 on the young season. The Pirates' Chase Collins came out burning up the 3-point line hitting 3 straight to give Adna a quick 9-0 lead. Collins would finish with 28 with 8 3-pointers. 
The Mules fell behind 12-0 but came roaring back to pull within 16-11 led by 2 from behind the arc from Zakkary Carlson from off the bench. Carlson would finish with 15 points to lead the Mules, all 3-point shots. Brodie Avalon had a solid 1st half with 11 and finished with 14 for Wahkiakum. The Mules fell to 2-3 for the year.
The Mules trailed at the half 52-30 but came out firing in the 3rd quarter cutting the deficit to 12 after scoring 10 straight. But the Mules could only manage 2 more points in the quarter while the Pirates recovered with 16. Adna then burst out quickly in the 4th to put the game away.
Adna had a balanced attack behind the 28 for Collins with Lane Johnson dumping in 16 and Braeden Salme with 15. Meantime, Eli Smith added 9, Aaron Aselton 7 and Seth Meister with 5. between the 2 teams 10 players hit 3-point shots for a total of 21 3-pointers.
Our Thorbeckes home team MVP went to Chase Collins and the Pacific Sports Spa visiting team MVP was Zakkary Carlson. Our full video of the Awards West Printwares post-game show is below along with Collins draining 3-point shots #2 and #3.
Chase Collins drilling 2 of his 8 3-point shots
The ESN crew with the Awards West Printwares Post-Game Show
www.elisportsnetwork.com