12/9/2021
The 2021 Football season came to an end this last weekend and although not quite totally "normal" it was sure good to get back to a regular routine. Congratulations to all and especially those teams who got to the Finals. We have named our "All-Star Football Finals" team based on only the Championships games. You will see that more offensive players are on the winning teams as that is where the scoring and stats came from while defensively many individual performances stuck out on the losing teams due to the number of opportunities to make plays. This may not make sense for a team who won with a lopsided score but generally in that case the team defense is spread evenly and they simply aren't on the field long enough to rack up plays and stats.
Just keep in mind this is a 1-game only snapshot. Additionally, we only allowed a player to be on either the offense or defense All-Star team but left the door open to doubling up special teams. We know there will be many opinions and this was difficult to keep to the outline we created. We celebrate everyone's efforts in these games and all should be proud of the seasons each team just completed. With that being said here are our selections:
Offense:
1 teams offensive line (To difficult to break down each position for the O-line so we are going with the best O-Line overall)
1 Quarterback
3 Running Backs
3 Wide Receivers
1 Tight End
Defense:
4 Linemen
4 Linebackers
4 Defensive Backs
Special Teams:
1 Kicker
1 Punter
1 Returner
Other Awards:
1 MVP
1 Coach of he Finals
MVP
Avery Ellis 1A Royal Knights
Two-way starter Avery Ellis did it all for the Royal Knights on Saturday scoring 5 touchdowns, 3 on the ground from 21, 2 and 14 yards. Ellis caught an 11-yard TD pass from QB Derek Bergeson and scored on defense scooping up a fumble and returning it 13-yards. He finished with 175 rushing yards on 22 carries, caught 3 passes for 37 and finished with 2 tackles and the fumble recovery and return. Ellis was the clear MVP of the State Football Finals. Ellis propelled the Knights to their 10th State Championship in school history.
All-Star Finals Offense
Offensive Line
Graham-Kapowsin 4A Eagles 
Vega Ioane, Austin Siitia, Justin Holder, Curtis Hill, Hunter Hill
There were several impressive performances by the big guys up front. Bellevue, Royal and A-C-H were considered but there was no denying the destruction the Graham-Kapowsin Eagles created on Saturday night. The Eagles ran the ball 60 times racking up 25 1st downs and rolling up an eye-popping 524 total yards, averaging more than 8 yards per carry with 6 touchdowns. 
Quarterback
Derek Bergeson 1A Royal
Out of the 12 starting QB's only 5 threw for more than 100 yards and 2 were in the B-8 game which traditionally will result in large passing numbers but even this year the B-8's were more run dependent with only a combined 18 pass attempts and 11 completions. Jackson Esary from Kalama led all QB's with 216 yards but threw a pick 6 and was sacked 7 times. Kennewick's Dayton Davis had 146 yards and a TD but was picked 3 times. G-K's Josh Wood may have made a run if the Eagles were forced to throw more but he only passed for 39 yards but ran for 173.
We nearly went with Esary as we looked at Bergeson's passing numbers but moreover we were looking at his defensive stats where he led the Knights in tackles with 14. But his 168 passing yards with a TD plus his 121 rushing yards with another TD was clearly the best overall QB performance of the day and Derek Bergeson is our pick for All-Finals Quarterback.
Running Backs
William Wang 3A Bellevue
33 carries for 243 yards and 2 touchdowns was the groundwork laid for the Wolverines to bring home the State Championship. Wang led all running backs on Saturday in yardage.
Zack Lee 4A Graham-Kapowsin
Lee was the major benefactor of our All-Finals Offensive line and ran for 190 yards on 20 carries for a 9.5 average and scored twice with runs of 5 and 49.
Parker Roberts 1B Almira-Coulee-Hartline
Roberts only ran the ball 5 times but boy was he effective rushing for 157 for a 31 yard average and scored twice with runs of 68 and 62 yards plus added a 25-yard TD catch. 
Receivers
Nate Meyer 2B Kalama
Meyer hauled in 6 catches for the Chinooks for a total of 99 yards and scored a 21-yard touchdown. Meyer's 99 yards was the 2nd most yards caught in all of the Championship games.
Grady Murray 1B Almira-Coulee-Hartline
Murray was the only receiver to top 100 yards in all 6 Championship games with 137 total yards and 2 touchdowns of 27 and 81 plus he added a 69-yard punt return for a total of 3 touchdowns and also threw a 20-yard pass completion.
Myles Mayovsky 3A Kennewick
Mayovsky racked up 73 yards in receiving yards including a 67-yard bomb to pull the Lions within 4 points. Mayovsky also scored the other Kennewick TD with a 2 yard TD run. Mayovsky could have also made our defensive team with 13 tackles.
Tight End
Gunnar Anderson 1A Royal
Anderson was the only Tight End with multiple catches grabbing 4 passes for 40 yards with a long catch of 17 yards. He added a 5th catch on defense with an interception.
All Finals Defense
Defensive Line
Ashton Johnson 1B Quilcene
Johnson finished with 9 tackles including 2 for losses of 14 yards and 6 solo tackles. 8-man football it is even more difficult to rack up this number of solo tackles.
Reece Isaak 1B Almira-Coulee-Hartline
Isaak finished with 8 tackles and 3 solo's plus 2 for losses and a sack. A great afternoon of work from the trenches.
Mario Lara 2B Napavine
Lara struck on many chords with 4 tackles, half a sack, another tackle for a loss, 2 QB hurries but the big one an interception returned for a Touchdown, a lineman's dream!
Caleb Santi 2B Kalama
Santi led the Chinooks with solo tackles of 5 and had 6 stops overall from his tackle position. He also had a tackle for loss to lead a solid front line as the Kalama defense only gave up 7 points in this one.
Linebackers
Taivin VanDalen 2A Lynden
VanDalan was key in slowing down the vaunted Tumwater running attack with 11 tackles with 4 solo tackles and he pulled in an interception.
George Kruger 3A Bellevue
Kruger was at the heart of the Wolverine defense that held he Kennewick offense to half of their scoring average and finished with 10 tackles.
Gavin Parker 2B Napavine
Parker was a busy man on defense with 11 tackles, 4 for losses totaling 32 yards, 2 sacks and a forced and recovered fumble.
Bennett Ferris 2A Tumwater
Ferris was a beast inside for the T-Birds tallying 13 tackles and 2 for losses. 
Defensive Backs
Max Cox 2B Kalama
Cox didn't make many tackles with just 1 but he finished with 3 interceptions including the one that clinched the Championship for the Chinooks with just 1:01 to play on the Kalama 15.
Drew Carter 4A Lake Stevens
Carter racked up 14 tackles and 1 for a loss against the run-heavy Graham-Kapowsin Eagles. Carter saved many additional scoring chances by the Eagles.
Ryan Orr 2A Tumwater
Orr was busy helping stop the run and keeping the T-Birds in the game against Lynden and finished with 12 tackles and an interception.
Colin Miller 3A Bellevue
Miller had 2 tackles from his DB position but more importantly came up with 2 interceptions including the game clinching one as Kennewick was driving but Miller picked off the pass and Bellevue ran out the clock for the Title.
Special Teams
Kicker
Wiley Bryant 3A Bellevue
Bryant made each one of his "must" kicks hitting both extra points and going 1 for 2 in field goals hitting a 21-yard kcik and missing a 46-yard attempt. His 5 points were the difference in their 17-13 win. Bryant also kicked off 3 times booming them for a combined 162 yards or a 54-yard average.
Punter
Troy Petz 2A Lynden
Petz was spectacular and one of the Lions best defensive players booting the ball 5 times for 214 yards or a 43 yard average and dropping 3 of them inside the 230. 
Kick/Punt Returner
Grady Murray 1B Almira-Coulee-Hartline
Murray is our only "double" winner and had the return of the day a 69-yard punt return up the near sideline. He returned a total of 107 yards in kick and punt returns plus the Touchdown. 
Coach
Blake VanDalen 2A Lynden
This was a tough one to decide but VanDalan brought the State Title trophy back against their longtime play-off rival Tumwater despite no one outside of the Lynden area believing they could knock off the T-Birds. Talking with VanDalan prior to the game he told us they would need to be patient offensively and on defense they needed to force Tumwater into throwing more than they usually do. Then he said the Lions would have to play a clean game and get a break or two and they would have a chance at knocking off the T-Birds. That game plan was virtually how the game played out and Lynden stunned the T-Birds with a huge win.
Bellevue's Coach Michael Kneipe was right there leading the Wolverines out of a rough time for the program and back to the top of the 3A. Another great game plan worked out perfectly to hold off a fierce competitor in Kennewick.
Then there's Graham-Kapowsin's Eric Kurle getting the Eagles 1st State Title in school history after knocking on the door for several years G-K blew it down this time with a dominant win in the 4A.
Wiley Allred at 1A Royal, Sean McDonald at 2B Kalama and 1B's Brandon Walsh of Almire-Coulee-Hartline are also all worthy but are also a victim of their success. Just over the past 5 years these 3 teams have combined for 8 Championships and 2 2nd place finishes. All worthy, no doubt but this year there was just a little something more that separated VanDalan and the Lions win that pushed us to give the nod to VanDalan.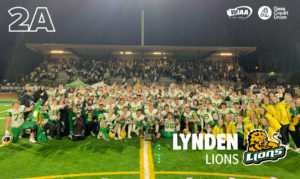 www.elisportsnetwork.com