10/26/2021
Puyallup 1, Curtis 0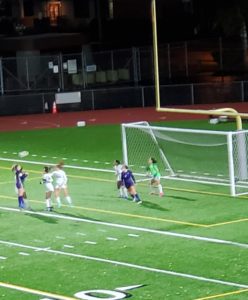 The battle between the Vikings once again was physical, close and came down to a single opportunity to decide the match. Both teams defenses and keepers are shut down and it looked as if we were on our way to a scoreless finish. But in the 63rd minute off a corner kick the Puyallup Vikings found the right combination when Brielle Huetten lined up a corner kick and delivered a perfect forehead high crossing pass into the box where Callie Lowney got a clear shot into the net with a perfect header. Curtis 2nd half keeper Shaliyah Dupar didn't have a chance to stop the shot and that is all it would take for Puyallup to return a 1-0 loss that they experienced at Curtis a couple of weeks ago.
Puyallup now has control of their own destiny and to claim the Championship on Wednesday when they play at South Kitsap. Puyallup is now 9-1-2 while the Wolves are 2-9-1. Curtis drops to 8-1-3 and will host Olympia on Wednesday looking to clinch 2nd place and maybe 1st if South K can pull an upset over Puyallup. But the Bears will not be easy and come in tied for 4th with Rogers at 8-3-1.
Our MVP's of the night went to Puyallup's Callie Lowney and from Curtis it went to Jayden Jones.
Awards West Printwares Post-Game Show
Video Highlight Puyallup's match winning goal
www.elisportsnetwork.com