10/21/2021
Wednesday Night
Kalama 1, Toldeo 0 (4-3 shoot-out)
The Kalama Chinooks and Toledo Riverhawks have now had 2 intense battles and the Chinooks have come out on top each time with a 2-1 win on October 4th and then beating Toledo in a shoot-out Wednesday night 4-3. The Chinooks are now 8-0 in Central 2B play and 11-1 for the season. They will wrap up league play with games against Stevenson and Onalaska.
The Riverhawks dropped to 4-2 in league play and 10-3 overall. Toledo is in a battle with Onalaska, both sitting at 4-2 and will meet each other on Monday night at Onalaska. Toledo will wrap up their league play hosting Toutle Lake. Our ESN crew has a complete wrap-up and scoring summary in the Post-Game show link below.
Our Thorbeckes home team MVP went to Ava Beck and the Pacific Sports Spa visiting team MVP was Daphnie Bybee.
Awards West Post-Game Show
Video Highlights
#1
Tuesday Night
Lakes 6, Silas 0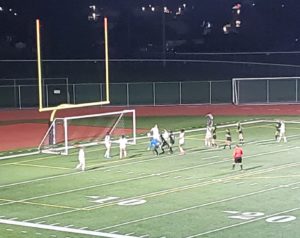 The Lancers scored early on in the match and then added 2 more just before the half including literally as time ran out. Lakes remains undefeated and pushed their league record to 9-0-1 and 11-01 overall. The Lancers added 3 more goals in the 2nd half for the final score. Lakes plays at Lincoln on Thursday night then wraps up their league season at Spanaway Lake. 
Silas drops to 5-6 for the season and will wrap up their league games at home next Tuesday against Lincoln. Our ESN crew has a complete rundown of the match below in the Post-Game show. Our home team MVP went to Aly Bryan of Lakes and the visiting team MVP for the Rams went to Angelina Keister.
Awards West Post-Game Show
Video Highlights
#1
#2
www.elisportsnetwork.com