10/17/2021
It was a big weekend of football on the Eli Sports Network below are the scores and links to our post game shows with full re-caps and video highlights.
Friday Night Games
Eastside Catholic 28, Rainier Beach 27
The Crusaders escaped with the win and are now 4-0 in Metro League play and 5-0 overall while the Vikings drop to 2-2 in league and 3-3 overall. E-C will host Ballard next Friday and Rainier Beach is at home next Saturday against Seattle Prep.
Awards West Printwares Post-Game Show
Video Highlights
#1
#2
Camas 28, Tumwater 26
Camas took a big lead and then held on intercepting the ball in the endzone to deny the T-Birds from tying the game late in a non-league match-up. Camas improves to 3-4 on the year and will get back to GSHL 4A league play next week hosting Skyview. Tumwater drops to 4-2 and will face Black Hills next week in a cross town showdown. The Pacific Sports Spa visiting MVP went to Mark Thorkelson and the Thorbeckes home team MVP was Alex Overbay.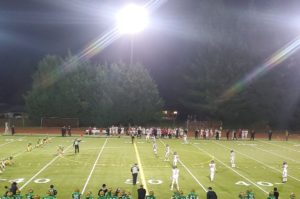 Awards West Printwares Post-Game Show
Video Highlights
#1
#2
Tenino 32, Montesano 26
The Tenino Beavers knocked off perennial powerhouse Montesano in somewhat surprising fashion by racing out to a 32-12 halftime lead. It should be no surprise that the Bulldogs would make a run and boy did they holding the Beavers to their halftime score and closing the gap but ran out of time. The Beavers are now 2-1 in the EVCO 1A and 6-1 overall with their lone loss to 1sgt place Eatonville. The Beavers will travel to Elma next week. Montesano drops to 0-2 in league play and 3-3 on the year. They will try to turn things around next week when they host Hoquiam on Friday night. Our Thorbeckes home team MVP went to Takari Hickle and the Pacific Sports Spa visiting team MVP was Isaiah Pierce.
Awards West Printwares Post-Game Show
Video Highlights
#1
#2
Timberline 37, River Ridge 32
The Timberline Blazers overcame a 12-0 deficit to pull out to a big lead but then had to hold on as River Ridge nearly made a remarkable comeback but fell just short. It was an important win for the Blazers who have now tightened their hold on 3rd place in the SSC and improved to 3-2 in league play and 5-2 overall. River Ridge battled hard but falls to 1-3 and 2-4. Timberline will host Gig Harbor next Friday and River Ridge is at home against Capital. Our home team MVP for the Blazers was Jackson Brown and the visiting team MVP for the Hawks was Dontae Robinson.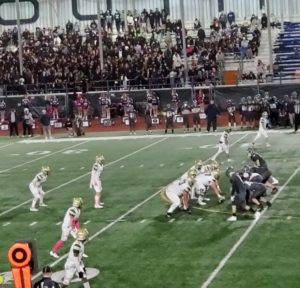 Awards West Printwares Post-Game Show
Video Highlights
#1
#2
Saturday Games
Graham-Kapowsin 41, Sumner 14
A battle of unbeatens both came in at 6-0 but the Graham-Kapowsin Eagles flexed their muscles and pulled away from the Spartans for decisive win. The Eagles are now 7-0 and will be at Sparks Stadium next Thursday taking on Emerald Ridge. Sumner drops to 6-1 and will look to get back in the win column next week at home against Bellarmine Prep. Our visiting team MVP went to the Eagles was Josh Wood and our visiting team MVP went to Sumner's Eric Buck.
Awards West Printwares Post-Game Show
Video Highlights
Kennedy Catholic 59, Kentridge 14
The Lancers started Freshman Devon Forehand for the first time this year and he simply went out and set the school record for most TD passes in a game with 5 as a Frosh, breaking just graduated and current U-W Husky Sam Huard's record. The game was actually tied at 7-7 when K-C went on a 52-0 run to put the game away and cruise to the win. The Lancers are now 3-0 in NPSL league play and 5-2 overall. They are now tied with Kentwood and will travel to French Field next week for the Division Championship. Kentridge drops to 0-3 and 1-5 and will host Tahoma next Thursday.
Awards West Printwares Post-Game Show
Video Highlights
www.elisportsnetwork.com