10/8/2021
ESN had 4 broadcasts on the air last night starting with Girls Soccer 2 matches where the winner took over sole possession of 1st place in the SPSL 4A between Curtis and Puyallup and the PCL 3A between Lakes and Bonney Lake. In football out of the SSC 3A Peninsula keeps on rolling with a big win at North Thurston and in Central 2B Volleyball a showdown in Kalama with the Chinooks and Adna. Our coverage is all below.
Girls Soccer
Curtis 1, Puyallup 0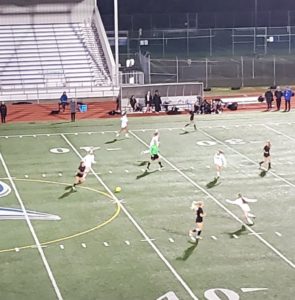 This was a battle between the 2 Viking squads and it came down to one single play that led to the only goal scored in the game. Both defenses were shut down and it was clear it likely would be one small mistake or one perfect opportunity would be the difference in this game and it appears it was one perfect opportunity that Curtis got in the 50th minute that determined this one. Off a free-kick by Sophia Mayne who lobbed in a perfect ball that bounced right to KV Miller who blasted the shot dead on for the lone score.
Curtis improves to 6-0-1 in league play and 7-1-2 overall and will next play at bethel next Tuesday. Puyallup gave up just the 2nd goal of the season but took their 1st loss and fell to 5-1-1 in league play and are also 7-1-2 for the season. Puyallup will host South Kitsap next Tuesday. Our home team MVPs went to the Keeper team of Bella Cunningham (1st half) and Shaliyah Dupar (2nd half) for the shut out and the visiting team MVP was Callie Lowney who was a force all over the field. 
For a complete run-down of the match check out the post-game show.
Awards West Post-Game Show
Video Highlights
#1
#2
Lakes 2, Bonney Lake 1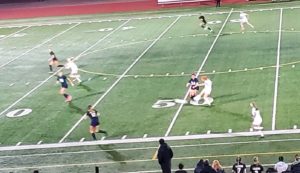 Lakes and Bonney Lake came into this match with identical 5-0-1 league records and a win would give either team sole possession of 1st place. Bonney Lake struck first when Audrey Sillenpaa followed up a shot that was blocked by the Lancers keeper but bounced out in front and Sillenpaa popped it in for a 1-0 score. Lakes would counter scoring not once but twice in the 1st half with both goals coming from Grace Hanna. That would be all they needed as neither team could either find the equalizer or an insurance goal in the 2nd half.
Lakes is not 6-0-1 in PCL league play and 8-0-1 overall while the Panthers dropped to 5-1-1 and 6-1-1 overall. Up next for Lakes is a match at Stadium next Tuesday while the Panthers travel to Spanaway Lake next Monday. Our Home team MVP went to the Lancer's Grace Hanna and the Visiting team MVP to Bonney Lake's Tanah Huffines. For a full re-cap check out our Post-Game show below. 
Awards West Post-Game Show
Video Highlights
#1
#2
Football
Peninsula 48, North Thurston 6
The 4-1 Seahawks with their only loss to Bellevue were the prohibitive favorite over the winless Rams in this Thursday night contest and they simply overwhelmed North Thurston on their way to a big win. Peninsula Head Coach Ross Filkins made sure his team didn't take this game for granted and came out strong in the 1st half putting up 5 touchdowns and 34-0 lead at the break. Any thoughts of trying to get back in the game for the Rams were ended 14-seconds into the 2nd half when the Seahawks Ethan Hogan returned the kick-off 85-yards for the touchdown and a 41-0 lead. 
Eli Anglin did score for the Rams with about 6 minutes to play in the game to avoid the shut-out. Peninsula is now 4-0 in SSC league play tied with Yelm who beat Gig Harbor last night 29-14 and 5-1 overall. The Rams fell to 0-4 and 0-6. The Seahawks look to have a bye next week, and would be back in action on October 22 at Yelm likely for the Championship. North Thurston will have another tough one next week hosting the unbeaten Tornados. Our home team MVP for the Rams went to Eli Anglin and the visiting team MVP was Peninsula's Josh Hinkel. For a full rundown of the game check our crew's post-game show below.
Awards West Post-Game Show
Video Highlights
#1
#2
V
olleyball
Kalama 3, Adna 0 (25-17, 25-17, 25-15)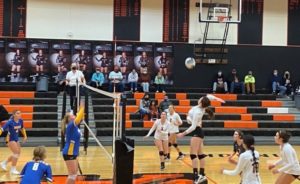 Kalama remains the team to beat in the Central 2B Volleyball chase as they are the lone unbeaten in league play after handing the Adna Pirates a straight sets loss, the Pirates 1st league loss. The Chinooks remained in control in all 3 sets breaking free each time with a run that Adna could not recover. The win pushes the Chinooks to 4-0 in league play and 9-2 overall. The loss drops Adna to 4-1 and creates a logjam just behind Kalama. Adna, Toutle Lake and Wahkiakum are all 4-1 in league play and Onalaska just behind at 3-1. 
The Pirates fell to 7-3 overall and will try to bounce back next Tuesday with a big home match against the Mules of Wahkiakum. Kalama looks to extend their league win streak next Tuesday at Napavine. Our Thorbeckes home team MVP went to Kendal Collins and our visiting Pacific Sports Spa MVP was Adna's Kendall Humphrey. For a full re-cap catch the Post-Game show below. 
Awards West Post-Game Show
Video Highlights
#1
#2
www.elisportsnetwork.com