10/7/2021
We had 2 broadcasts up last night and it was a physical and tight match in Toledo where the Riverhawks bounced back after dropping their lone win of the season and the Garfield Bulldogs rolled to a 3-0 straight set win over Chief Sealth in Volleyball. Let's get to the games!
Girls Soccer
Toledo 2, Onalaska 1
This was a great match and the fireworks started from the beginning as both teams battled hard in a physical showdown and part of a very tight top end of the Central 2B girls soccer league. Currently there are 2 undefeated teams, Adna and Kalama are both 3-0 with Kalama edging Toledo on Monday, 1-0. Onalaska and Napavine and Toledo are all 3-1. The Riverhawks had begun the season 7-0 before dropping to Kalama.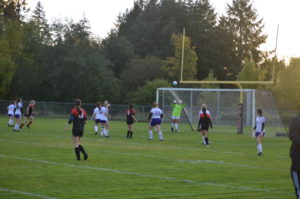 This match was at first controlled by Toledo but they could not capitalize. Onalaska got some offensive attacks underway and knocked in a would-be goal but the flag was up on the sideline for an offsides and the goal was taken down. It would be a few minutes and there was a foul called on the Loggers setting up a free kick for Toledo's Rose Dillan who lined it up and sent it on frame looping it in just under the bar and over the top of the keeper's fingers for a 1-0 in the 21st minute.
The scoring was not done here in the 1st half as Onalaska knocked in a goal that did count when Brooklyn Sandridge fired a shot from the 10-yard line across the goal to the left side of the net for the equalizer in the 33rd. But just 2 minutes later Rose Dillan cleaned up a scrum in the box to pop the ball in for a 2-1 lead and that's how it would go to the break.
That would also be the final score but that doesn't mean there wasn't a lot of action and in fact it came down to stoppage time when a hand ball was called in the box setting up a dramatic penalty kick for Onalaska. Sandridge lined it up and was facing Daphne Bybee. Bybee guessed correctly and dove to her right exactly where Sandridge had aimed and knocked the ball away denying the tying goal and Toledo was able to preserve the win. 
Toledo is now 3-1 in league and 8-1 overall while the Loggers fell to 3-1 and 8-1. Up next for Ony they will host a big one against unbeaten Kalama while Toledo travels to Toutle Lake. Our Thorbeckes home team MVP went to Daphne Bybee and the Pacific Sports Spa visiting team MVP was Brooklyn Sandridge.
Awards West Printwares Post-Game Show
Video Highlights
#1
#2
#3
#4
Volleyball
Garfield 3, Chief Sealth 0 (25-20, 25-18, 25-16)
The Garfield Bulldogs and Chief Sealth Seahawks battled in all 3 sets but the Bulldogs always found a point to go on a streak that the Seahawks could not recover from and the Bulldogs would go on for the 3-0 sweep. Garfield improves to 4-2 in Metro league play and 4-4 overall while Chief Sealth dropped to 2-4 in league play and 4-5 for the season. Garfield will next play at Lincoln (Seattle) and Cheif Sealth is at Franklin both on Monday night.
Awards West Printwares Post-Game Show
Video Highlights
#1
#2
#3
www.elisportsnetwork.com