10/6/2021
Volleyball
WF West 3, Shelton 2 (25-21, 25-19, 19-25, 11-25, 16-14)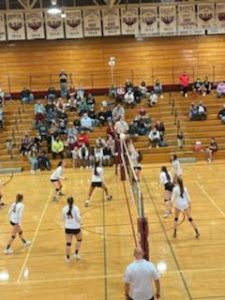 The Bearcats began this match on fire rolling to a quick 2-0 lead and looked like this would be a quick night. But the Shelton Highclimbers had other ideas and came roaring back in the 3rd set flipping the 25-19 score they lost the 2nd set by to their 1st set win and trailed 2-1. In the 4th set the Climbers used that momentum and rolled to a big 14 point win setting up a 5th and final set.
Shelton came out firing in the 5th set jetting to a 10-4 lead over the Bearcats who were struggling to regain a rhythm but they eventually did with a key rally pulling the Bearcats within 4. Shelton could not withstand the furious comeback by the Cats as WF West West outscored Shelton 12-4 and fell in extra time 16-14.
WF West improves to 3-4 on the season and 2-2 in conference play. Shelton drops we think to 2-2. The Bearcats will next host Centralia on Tuesday while Shelton will play at Black Hills on Thursday. Our Thorbeckes home team MVP went to Maggie Busse and the Pacific Sports Spa visiting team MVP was Taylia Budge.
Video Highlights
#1
#2
#3
Girls Soccer
Tenino 5, Seton Catholic 0
The Tenino Beavers snapped a frustrating 2 game league losing streak dropping to both Montesano and Elma 1-0 with a 5-0 non-league win over the Seton Catholic Cougars. Abby Severse got things going in the 15th minutes cleaning up kind of a messy gathering right in front of the Cougar goal popping it in to the right side of the net for the 1-0 lead.
Seton's defense would then step up and hold it to a 1-0 game all the way to the 57th minute when Severse again scored this time heading in the goal off a long lead in pass and it was 2-0. That was more than enough to secure the win but the Beavers did go on a scoring flurry in the final 3 minutes scoring 3 more goals to make the final 5-0.
Tenino improves to 7-2 overall and will get back in action on Thursday at Hoquiam. Seton Catholic drops to 2-3 and will host Castle Rock on Thursday. Our Thorbeckes home team MVP went to Tenino's Abby Severse and the Pacific Sports Spa visitors MVP was Jessica Barrett.
Awards West Printwares Post Game Show
Video Highlights
#1
#2
#3
www.elisportsnetwork.com