10/2/2021
We had 3 football games get on the air last night, unfortunately the 2 games originally scheduled but we could not get on, Kentwood vs Kentridge due to an illness and Eastside Catholic at Garfield wifi issues, were the best games to watch. Kentwood held off Kentridge 14-7 and Eastside Catholic squeezed out a 16-14 win over the Bulldogs. But we did get 3 on the air and the 3 winners left little doubt in their victories.
Lakes 62, Stadium 0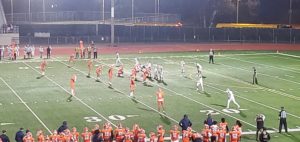 The Lancers blew out the Tigers early and cruised to the lopsided win. Lakes took a 28-0 lead after 1 and a 49-0 lead at halftime and the game was secured before the break. Lakes improves to 3-1 for the season and 3-0 in PCL action. They will travel to play Juanita next week in a non-league contest, while Stadium battles Silas High School. Our MVP's of the game went to Stadium's Sophomore RB Lawrenzo Defilippis and for Lakes, Lakes Junior RB\LB Leo Pulalasi. Below is our Post-game show with a complete run down of the game and a couple of video highlights.
Awards West Printwares Post-Game Show with Tony Davila and Wade Schwartz
Video Highlights
#1
#2
Onalaska 36, Toledo 6
The Onalaska Loggers were off to a slower start than they have been used to but are now starting to put it all together and no doubt will be a force for the rest of the regular season. The Loggers used special teams to give themselves a big early lead with a blocked punt and a punt return for a TD for a 14-0 lead over the Riverhawks of Toledo. Ony then pushed that lead to 20-0 at halftime and eventually 28-6 in the 2nd half before ic9ing it with a late score for the 36-6 final.
Onalaska is now 2-2 overall and 2-1 in Central B play while Toledo took their 1st loss of the season dropping to 4-1 and also 2-1 in league play. The Riverhawks will look to bounce back next week with a non-league match-up with King's Way Christian while the Loggers look to keep this momentum going with a big clash at Kalama next Saturday afternoon. Our Pacific Sports Spa visiting team MVP went to Toledo's Wyatt Nef and the Thorbeckes home team MVP was Ony's Marshall Haight.
Awards West Printwares Post-Game Show with Matthew King and Jeff Mattarocci
Video Highlights
#1
#2
#3
Peninsula 35, River Ridge 6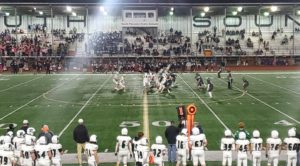 Peninsula jumped on the Hawks in the 1st quarter taking a 14-0 lead with long sustained drives. River Ridge would get back into it in the 2nd cutting the lead to a one score game 14-6. But the Seahawks dominated the line of scrimmage and were just too much for the Hawks as Peninsula just kept adding yardage and points to their stat sheets. The Seahawks improved to 4-1 for the year and 3-0 in SSC action. They will again travel to South Sound Stadium next Thursday to face North Thurston. River Ridge took their 2nd straight loss after starting the year 2-1 to drop to 2-3 on the season and 1-2 in league play and will travel to Central Kitsap next week. Our MVP's for Peninsula went to Ethan Logan and for River Ridge they split it with Cameron Schletzbaum and Dontae Robinson.
Awards West Printwares Post-Game Show with Josh Kaiser and Keith Clark
Video Highlights
#1
#2
#3
www.elisportsnetwork.com