9/19/2021
Friday night on ESN it was a Football feast! An OT, a game decided on the last play and 2 other highly competitive games and in the matinee on Saturday a bit of a 1-sided affair. Check out our game coverage below with links to each of our post-game shows, re-caps, pictures and video highlights.
Friday Night Games
Sumner 26, Puyallup 21
The annual matchup between these two cross town rivals never disappoints and Friday was no exception. The Vikings and Spartans battled it out in front of a packed house at Carl Sparks Stadium and it came all the way down to the final ticks on the clock.
Puyallup hit pay dirt on their opening drive of the game when Jacob Velasco took the jet sweep hand off for 13-yards. Sumner quickly responded by going on a 14-0 scoring run thanks to touchdowns by Isiah Watkins and Jay Mentink. The Spartans would take a narrow 17-14 lead into the halftime break.
Much like the first, Puyallup would score first in the second on an explosive 30-yard hookup between Micah Balzarini and Dane Parker giving them the 4-point edge. Unfortunately for the home team, the rest of the scoring would come from Sumner as they closed it out with 12 unanswered and a huge interception by linebacker Peyton Wing. Puyallup would have a chance with 6-seconds remaining in the game, but the toss to the endzone fell short.
Sumner joins Graham-Kapowsin and Bellarmine Prep as the only undefeated teams left in the SPSL 4A. The Spartans and G-K are both 3-0 and Prep is 2-0 all in league play. The Vikings drop to 2-1 but are 1-1 in league play. Both teams will play on Thursday with Puyallup at Graham-Kapowsin for a 4pm kick-off and Sumner at South Kitsap at 7pm.
Awards West Printwares Post-Game Show
Video Highlights
#1
#2
#3
Central Catholic (Ore) 42, Tumwater 35 (OT)
The T-Birds are the defending 2A Champions and the title certainly will run through Sid Otton field. The Aberdeen Bobcats were set to host the Tumwater but Covid issues arose and the 2-0 Bobcats had to cancel this sent the T-Birds out looking for an opponent. Central Catholic, one of the more prolific 6A programs in Oregon, was also looking for a replacement game and so the late change was made setting up what turned out to be an epic classic.
Now on paper its a 6A team vs a 2A team but remember Washington may be the only if not one of the very few that have any B's. Both Washington and Oregon have 6 classifications so it is a 4A vs 2A in Washington terms and a 6A vs a 4A in Oregon classifications.
The T-Birds took the ball to start the game and wasted no time in sending a message to the Rams that they were in for a battle as they drove 80 yards capped off with a 39 yard run from Payton Hoyt. The Central Catholic Rams would answer and came storming back. This would continue throughout the entire game and it ended up in overtime.
The Rams would get the ball first and punch it in with a great play-action pass over the middle to go up 42-35. The Rams then held and ended the game on a 4th down pass interception. It was an incredible game that only came to be do to a cancellation.
The T-Birds are now 2-1 overall and will host WF West on Friday.
Awards West Printwares Post-Game Show
Video Highlights
#1
#2
#3
#4
WF West 38, Evergreen (Van) 28
The Bearcat offense was rolling all night on Friday when they weren't hurting themselves. The Bearcats had three promising drives all end when they fumbled and allowed Evergreen's defense to get off the field. The Plainsmen would capitalize on the legs of Kyle Norton. Norton would run for a TD and would set up a great nine yard touchdown catch by Jonathan Landry to turn the 6-0 Bearcat lead into a 14-6 lead for Evergreen. Then Gavin Fugate would take over with a 59 yard bomb to Cameron Amoroso to even things up at 14-14. Fugate would throw another touchdown to Charlie Mallonee to give the Bearcats the lead but Evergreen would answer with a drive lasting 1:02. Landry would take a direct snap for a 20 yard touchdown to even things up at 21-21 at halftime. The Bearcat defense came out of halftime and dominated allowing only seven points in the 2nd half. Fugate would throw for one more touchdown and Jacob Fuller rushed for one to put the finishing touches on a Bearcat victory.
Our Pacific Sports Spa visiting team MVP went to Kyle Norton for the Plainsmen and our Thorbeckes home team MVP went to Gavin Fugate of WF West. The Bearcats moved to 2-1 behind a defense allowing just 14 points per game. WF West is set to travel to Tumwater in a massive league game on Friday. Evergreen drops their first game of the season to move to 2-1. The Plainsmen look to bounce back on Friday when they host the Battle Ground Tigers on Friday.
Awards West Printwares Post-Game Show
Video Highlights
#1
#2
#3
Lakes 26,  Mount Tahoma 12
The Mount Tahoma T-Birds have struggled for many years but head Coach Leon Hatch has worked for several season now to bring the T-Birds back and they look like they are turning the corner. Lakes a perennial power under Head Coach Dave Miller and are always a team to contend with.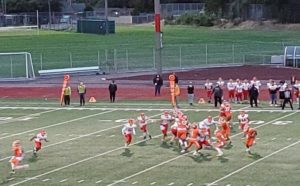 This game would not be decided until the 4th quarter but Lakes got things started on a 58 yard-6 minute drive capped off with a 2 yard blast up the middle with Howard Golden scoring. Kicker Daniel Kalysbekov blasted a 41-yard field goal with the help of a stiff back wind the kick looked like it would have been good from 60.
Mt Tahoma would score early in the 2nd quarter when QB Derrik McKinney would run it in himself from the 8 yard line an d it was 10-6. Lakes would then block a punt out of the endzone for a safety and score late in the half for a 20-6 lead. Mt Tahoma made it interesting in the 2nd half as the drove 80 yards on the opening drive and McKinnery scored again this time from 6 yards out and took 7 minutes off the clock and the T-Birds were back in the game trailing 20-12.
But that would be as close as they could get and Lakes would add 10-yard touchdown run from QB Leo Pulalasi to finish the scoring and the final score 26-12. Lakes improved to 2-1 over all and Mount Tahoma fell to 1-2. Our home team MVP went to Leo Pulalasi and our our visiting team MVP was Derrik McKinney.
Lakes will play at Bonney Lake on Friday night while Mount Tahoma will host the Silas Rams on Saturday afternoon at 1pm.
Awards West Printwares Post-Game Show
Video Highlights
#1
#2
Saturday Football
Adna 38, Morton-White Pass 6
A game that was thrown together this week capped of ESN's coverage this week. The Timberwolves came into a Saturday showdown with Adna undefeated and looked to keep that zero in the loss column. The Pirates however were fired up and ready to go. A blocked punt by Kody Christen led to a six yard touchdown run by Tristen Ridley that got the ball rolling for Adna. Ridley would run for over 100 yards and finished with a couple of touchdowns. Aaron Aselton ran a punt back 70 yards for a touchdown to put the finishing touches on a Pirate win. Morton-White Pass would score a defensive touchdown on a fumble recovery by Brecken Pelletier to avoid the shutout.
The Thorbeckes home team MVP went to the Adna's Tristen Ridley and the Pacific Sports Spa visiting player of the game went to the MWP's Layten Collete. Adna moves to 2-1 and heads into a big matchup at #1 Kalama on Friday. Morton-White Pass drops to 2-1 and will return home to host Ilwaco on Friday.
Awards West Printwares Post-Game Show
Video Highlights
#1
#2
www.elisportsnetwork.com