9/12/2021
We had 6 games get played over Friday night and Saturday afternoon. Below all games are covered with re-caps, links to the actual post-game shows, pictures and video highlights.
Napavine 34, Onalaska 20
The Loggers got off to a rough start with mistakes costing them mightily. Fumbles, an interception and penalties kept the Loggeres on their side of the 50 for the first 17 minutes of the game During that time the Tigers took advantage of those chances jumping out to a 21-0 lead. The Loggers showed some life late in the 1st half scoring with 2+ minutes left in the half to make it 21-6 but Napavine scored again to push their lead to 22. Ony would cut the lead to a 2 score game twice in the 2nd half but could never get closer.
Our Pacific Sports Spa visiting team MVP went to Ashton Demarest of the Tigers and our Thorbeckes home team MVP went to Kolby Mozingo for the Loggers. Napavine is now 2-0 having outscored both Ony and Adna by a combined 78-20. Napavine is set to host North Beach on Friday. Onalaska drops to 0-1 after having their opener scrubbed due to Covid issues on their opponents team and the lack of an opener appeared to play into their game with the Tigers. They will try to get things cleaned up and get back to winning but will have to travel to the always difficult Wahkiakum Mules.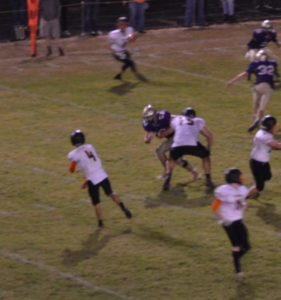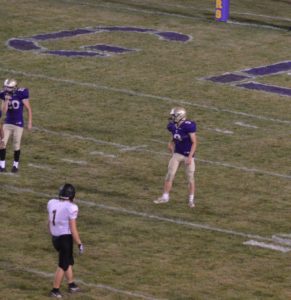 Awards West Post Game Show with a full Re-Cap of the Napavine win at Onalaska
Highlights
#1
#2
#3
Toledo 39, Raymond/South Bend 8
After a scoring frenzy in the opening week with Rainier and pulling out a 48-42 win, the Toledo Riverhawks defense got on track limiting the Raymond/South Bend Ravens to just 8 points. Toledo used a big first half leading 20-0. The Riverhawks stretched that lead to 39-0 before the Ravens would get on the board late avoiding the shut-out.
The Thorbeckes home team MVP went to the Riverhawks Wyatt Nef and the Pacific Sports Spa visiting player of the game went to the Ravens Ty Reidinger. Toledo is now 2-0 and will travel to Stevenson next week while Raymond/South Bend drops to 0-2 and will host Willapa Valley/Pe Ell on Friday.
Awards West Post-Game Show with a full re-cap of the Toledo win over the Ravens
Highlights
#1
#2
#3
Tenino 64, North Beach 0
The Tenino offense is firing on all cylinders early in the season scoring a total 120 points in their 1st two games. Tenino was supposed to host Rainier who was coming off a 48-42 loss to a tough Toledo squad and a shoot-out was expected by many in this rivalry game when bad news was delivered to Tenino AD Joe Chirhart on Thursday that Rainier was in the Covid protocol and had to cancel. Chirhart scrambled to find a gams and did so with North Beach.
The Hyaks came to town hoping to put up a battle but it ended in a one-sided affair as Tenino came out red hot and rolled up a 52-0 halftime lead. The Beavers pulled their starters in the 1st half rolling to the win. The Beavers are now 2-0 and will travel to Seton Catholic next week. North Beach drops to 0-1 and goes from a Tenino squad who has score 120 points in 2 game to traveling to Napavine who have score 78 points in the 1st 2 weeks.
The Thorbeckes home team MVP for Tenino went to the offensive line for their combined dominant performance and the Pacific Sports Spa visiting MVP went to the Hyak's Jonathan Jerome.
Awards West Printwares Post Game Show with a full re-cap of the Beavers win
Highlights
#1
#2
Washington 42, Black Hills 24
The Black Hills Wolves were looking to bounce back after a season opening loss under brand new Head Coach Garrett Baldwin and although they did not win they did score for the first time this season and they led for the first time this season, a couple of steps in the right direction for the new staff and young team. Meantime the Washington Patriots were coming off a close 22-20 win over 3A North Thurston and weren't ready to end the win streak. Zavier Nixon set the tone for the Pats scoring 3 times including an amazing 90-sprint (highlight below) while QB Luke Elliott and receiver Omari Boston connected twice for scores with a spectacular 76-yard bomb and clinched it on a 22-yard strike.
Black Hills took the lead in the 2nd quarter when Max Johnson picked off an Elliott pass and returned it 55 yards to give the Wolves their first lead of the season 12-7. The Wolves played better but the Patriots looked strong from then on racking up another 35 points leading 35-12 before BH put up 2 late scores with a run from Johnnie Stallings and TD pass from Jaxsen Beck to Braiden Bond. Our Thorbeckes home team MVP went to Jaxsen Beck and our Pacific Sports Spa visiting MVP was the Patriots Zavier Nixon.
Washington is now 2-0 and will travel to Enumclaw on Thursday while Black Hills drops to 0-2 and will look for win #1 next week when they host Rochester.
Awards West Printwares Post Game Show with a full re-cap of Washington's 2nd win of the season
Highlights
#1
#2
#3
Liberty 41, Kentlake 14
This featured a matchup between two schools that were not originally supposed to be meeting on this day. But due to COVID situations, Liberty and Kentlake were able to quickly schedule a Friday night meeting at French Field.
The first half was a back-and-forth affair that showcased the Patriots' versatile but punishing run game and the Falcons more spread air-raid. Liberty was the first to strike thanks to a big 28-yard run for Jaxson Thoresen. Kentlake quickly struck back the following drive as their running back, Will Hardy, was able to punch the ball in from 3-yards out.
The Liberty offense seemed to be unstoppable, except for the fact that they continually put the ball on the turf. In all, they fumbled five times but only lost possession twice. One of those two times came in the red-zone late in the first. Kentlake did not squander the opportunity and capped off the ensuing drive with a 10-yard TD from QB Nate Beck to TE Mason Alcocer.
With the Falcons scoring 14 unanswered, the Patriots went on quite the run of their own. Over the next three quarters Liberty would go on an impressive 27-0 run, with the capper being Jaxson Thoresen picking the Falcons off and returning it to the house for 65-yards. It was Thoresen's third touchdown of the game and put Liberty up 34-14 with only 7:19 left to play in the 4th.
Liberty would punch it in one more time with a 4-yard Mason Carr run, as they would go on to win this one on the road with a final score of 41-14. Jaxson Thoresen was our player of the game for the Pats after his three-score effort. Nate Beck was the standout for Kentlake in the loss.
Highlights
#1
#2
#3
Bellevue 31, Kentwood 0
The Bellevue famous Wing-T ground game is back and although they sputtered on the opening drive the Wolverines simply wore down the host team Kentwood Conquerers with an unending run attack with several different runners. The offensive line got in synch and began blowing open big holes at key times. It would look like the Kentwood defense were about to hold Bellevue when they would come up with a 3rd and 10 or 15 or longer play to extend drives.
The Wolverines also took advantage of many Kentwood mistakes from untimely penalties to fumbles, a shanked punt a blocked punt and Bellevue did not waste those chances. They hit the scoreboard on their 2nd drive taking over on the Conks 25 and William Wang would push it in from 6 yards out. Wiley Bryant added the PAT. They would get the ball again in great field position on their own 43 and Ishaan Daniels swept in from 39 yards out and then Blake Teets ran off tackle for a 6 yard TD but it was called back on a hold and so on 2nd and goal from the 11 Teets ran the same play to the other side and in for a 21-0.  Bryant would boot a 24-yard field goal to end the 1st half scoring at 24-0. The 2nd half was played very even and Bellevue popped in a late TD for the final score.
The Bellevue MVP went to defensive lineman Tom Nash who was in the Kentwood backfield all game long and had at least 2 sacks. Our Kentwood MVP went Zekiel Seulmaio who was difficult to contain inside on defense. Bellevue is now 2-0 and will next take on Lincoln of Tacoma next Friday while the 0-2 Conks will try to score their 1st win at Bothell next Saturday night.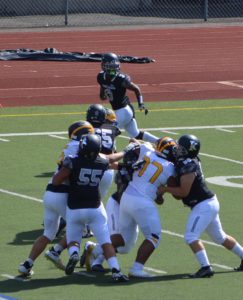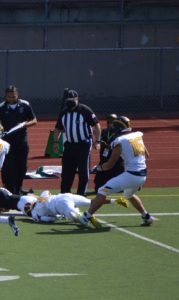 Awards West Printwares Post Game Show with a full re-cap of Bellevue's win at Kentwood
Highlights
#1
#2
More Photos
www.elisportsnetwork.com