8/26/2021
The High School sports season is fast approaching and there is re-newed excitement of getting back to "normal". Yes there will be some on-going precautions such as fans for Volleyball will have to wear masks inside but players at this time will not have to wear masks and the outdoor sports are welcoming fans back to the stadiums and asking for everyone to use your judgement in social distancing and wearing masks but players competing outside will not have to wear masks either. Now regulations may differ greatly from school district to school district as local school boards ultimately have the final say on the rules to participate and attend sports and other extra-curricular activities and you will need to know those rules from your home schools.
Setting the Scene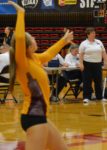 However, there are dark storm clouds gathering that could and in fact will impact High School sports far more than having to wear a mask or if fans are allowed to attend and that is a massive officials shortage. The Seattle Times did a story by Evan Webeck in 2019, pre-pandemic, on how the Washington Officials Association had seen a decline of more than 1,500 officials from 2009-2019 from 7,583 to 6,153. At that time sportsmanship was cited by several officials as the largest issue as to why officials were leaving the sport.
We all know what happened in March of 2020 when sports and schools were shut down and did not return to play until February of 2021 leaving an 11-month hole of no High School sports. The decline of officials has now accelerated warp speed in officials not wanting to come back and lack of interest for new and especially younger officials. Let's get to some of the eye-popping numbers that local officials associations are dealing with but first let's give you some basic facts of how the Officials are organized.
Some folks believe there is just 1 Officials Association the Washington Officials Association but hat is not true. The WOA is the overseeing organization of the 152…yes 152 separate Officials Associations throughout the State of Washington. The WOA operates similarly as the WIAA who oversees High School sports and is responsible for running the state tournaments and overseeing rules and standard procedures of High School sports but just like the WIAA who has little to no power how individual schools, leagues and districts operate the WOA also has very little power over how each individual association runs their day-to-day operations.
Officials Associations Number per WOA website
Here is the breakdown of the number of associations per sport. Now the numbers could be different and for instance Dance, Cheer and Gymnastics each had 6 and were all the same so we are not sure if they are separate or combined, however the number is well above the century mark by any measure.
Here are the number of independent Officials Associations in each sport by season:
Fall
Boys/Girls Soccer 13 (includes boys spring soccer)
Football 19
Volleyball 20
Slowpitch Numbers included in the Spring season under Softball
Total Fall: 52
Winter
Boys/Girls Basketball 24
Cheer 6
Dance/Drill 6
Gymnastics 6
Wrestling 14
Total Winter: 56
Spring
Baseball 22
Boys Soccer Numbers included in Fall numbers under Boys/Girls Soccer
Softball 22 (includes slowpitch in the Fall)
Total Spring: 44
Grand Total: 152
Number of Officials Plummet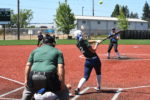 Reflecting back on the Seattle Times story from 2019 detailing an alarming decrease in officials from 7,583 to 6,153 or 19% that filled these 152 associations that number in last 17 months has dropped to 2,909! This number was verified by WOA Executive Director Todd Stordahl. This is a 62% drop from 2009 and a 53% drop from just prior to the pandemic in 2019.
ESN has talked directly over the past 7-months with at least 50 different officials from all sports. Some are assignors others hold board positions of their associations and others are just regular officials. We've talked with officials from the Seattle to Vancouver and in-between. We talked with Eastern Washington Officials, pretty much someone from each area. We are not going to identify any of those we talked with as we want to focus on the very serious issue of a shortage that has been hyper-escalated in 17 short months.
We gathered information on several Football associations for a closer look at what is happening to these associations and what numbers they are dealing with to give you a better perspective of what officials assignors face on a day-to-day basis. The Western Washington Association in Pierce county has dropped from 140 football officials (pre-covid) to now 61, that's a 57% drop in the number of bodies to officiate football in much of Pierce County. They were already asking for help from other associations to cover games prior to this dramatic drop.
Jeff Graham of the Kitsap Sun recently wrote a story on the Peninsula Association where their numbers have fallen from 41-26. That's 3 full crews or a 37% drop. The South Sound Association that covers all of Thurston County along with Mason and Grays Harbor all the way out to the Quinault Reservation has dropped their totals 38% from 70 to 44. Lewis County is down 30% from 40 to 28.
In Eastern Washington, Yakima Valley is so low that the association sent an e-mail to all their schools that on Sept 17 there are 10 games scheduled and to cover each game if no games are moved off that Friday night they would have to go 3-man crews. The assignor there has asked for volunteers to move games but as of Wednesday have had zero calls or e-mails. He says he won't put his guys in a position of using 3-man crews but will then draw games out of a hat to determine who will and won't get officials and those without will have to figure out what to do on their own.  The Wenatchee area and Moses Lake are running short and many times have asked for help from the Seattle association but the Seattle group is already short and any extras would likely go to Pierce County or other closer games.
This is a close look at just one sport. Is it the same in other sports the answer is yes. We did talk with a soccer official from the Thurston County who told us they actually have increased their membership by 17 but all of them are 18 or younger and can not work most High School contests. In the end the Thurston County Association is down in center officials and scheduling is going to remain an issue even with the youth movement. Another interesting fact this official revealed in their association is that of the 30 officials they have only 5 are in the ages of 21-40 everyone else is either older than 50 or younger than 20. 
Part of this is on the officials associations and for many years a so-called "good ol' boys" click would control the association and give the higher level games to the same officials year after year even when other younger officials proved they were as good or better than some slated in front of them. This simply has to disappear, the old way of doing things from top to bottom has to change if this disaster is going to be fixed.
Covid and Politics could further impact numbers
The current population of 2,909 could easily drop even more depending on the State Health department mandates and guidelines and what schools demand of officials working at their facilities. If proof of vaccination or the requirement to wear masks is invoked we found  that there wasn't an association we talked with that wouldn't lose another 5-10 officials who refuse the vaccination or to wear a mask. This is not a judgement on personal decisions this is a statement of fact of what officials associations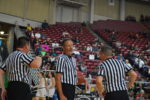 will be facing if such mandates are put into effect.
There is already one issue assignors are having to deal with when it comes to individuals that do not want to be vaccinated or wear a mask and that is what the other officials with that person are comfortable with. Some do not want to officiate or would refuse to officiate with an unvaccinated or maskless colleague if it was being required and or if an individual school district has invoked a policy of masks and/or vaccinations the assignor must know all the different policies of each school district so they can assign officials who would be allowed to work those games.
Think of what is now being asked of those in charge of scheduling officiating crews to cover not just varsity but all the way down to 7th grade. They have to have enough bodies to begin with then they need to know which officials are or would be vaccinated if required, wear masks if required and if not which officials don't want to work with other officials not wanting to wear a mask or vaccinated. The assignors feel uncomfortable asking but as they pass on to their association it's not that they are looking for personal information b ut we need to know who will and won't work with each other and outside of that they don't care. Then they need to know the state policy and then if the individual counties are different and then the individual school districts. All could have more restrictive rules than the others and the one assignor has to know all of this while trying to cover more games than he already has people to fill those spots.
How did we get here?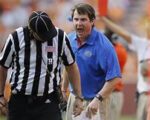 What has caused such a drastic drop in interest from people to officiate? First, the pay is low for the hours and commitment you need to put forth to be a top level official and yes the great officials have a passion for the sport they are covering and many love keeping in touch with the sports and high schools they grew up with but those reasons and motivations are wearing thin in these current times.
The biggest reason for officials leaving is a combination of nasty fans, screaming coaches, back-talking players and low pay. The calculation is quickly made that "I make $56 officiating a varsity basketball game, I am supposed to be here 90-minutes prior to the game. Games take 70-90 minutes and by the time I get cleaned up and travel time I am invested in a single basketball game of 4 hours or more and paid $56. And when I am actually working I am screamed at from start to finish about how awful I am, how incompetent or corrupt being accused of cheating for a team over the other." Hmmm….you could this for $56 or you can literally work part time at McDonald's and earn $60 for the same time commitment of that single day. 
Oh this doesn't take into account that you have to buy your own uniform, take time off of your regular job to be trained and pay for additional certifications just for the privilege of getting yelled at by some rube who thinks their purchase of a $7 admission ticket is a ticket to be a complete jackass and take personal and despicable personal attacks on those simply trying to officiate a GAME.
Really is there even a question of how we got here and now the stakes are higher than ever because this run-away train is heading one direction with no slow down in sight and soon your football league may have to play varsity games on any one of 6 nights a week. You will beholden to who is willing to put the whistle on and show up to call your games and on their schdule. If in 2019 the Seattle Times is truly correct that a drop of 1,500 officials over a 10-year span is indeed alarming then what do you call a drop of 3,244 in 17-months? A trainwreck? A disaster? Sad? Pathetic? The answer is yes.
How do we fix it?
This is easy. The answers are simple more pay and fans, coaches and players shut your mouths and cheer for your team and play through tough calls.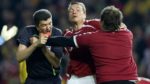 Now the difficult part of this solution is the implementation of the plan. Let's start with money first. We have heard that Washington state lags well behind most states in compensating officials. Are there things that can be done to increase the pay or net gain for officials? First, a pay increase is a must and that has to come from somewhere. You hate to put things back on the athletes but there are more than 225,000 kids that turn out for sports, does an extra $2 or $3 charge per student to play per sport need to be collected? A $3 charge would raise near $700,000 that could be re-distributed back to officials pay. Should admissions include an officials fee of $1 per ticket? Is there room in school budgets to add? Can a fixed amount be added through the legislative process? Whatever the answer is wages must go up period. Trying to convince people to give up so much of their time and own money to be a great official is no longer feasible, it just isn't.
The other thing to do is find ways to lesson the amount of money needed to get started in officiating. Baseball umpires need their uniforms, chest protectors, shin guards, mask and helmet to begin with down to soccer officials who need multiple colored officials shirts so they are different than the teams on the field and stick out, numerous shorts, socks shoes and so it goes for all officials. Can there be a program that can reduce or eliminate some of the fees that new officials must pay before they see one penny come back to them?
The 2nd piece should be the easier of the two to fix and this is going to lean hard on home school district supervisors and there should be more than one at each game. There should be a clear warning blasted by the P-A announcer that no longer will personal attacks be acceptable at any level. The mundane just play fair script that is mumbled through at every game is not helping nor is anyone listening. The best way to get out this message is just after the announcer says Ladies and Gentlemen please rise for the playing of our national anthem. And before introducing the band or singer when it is the one time it is quiet in a gym or stadium it's announced, "before we get to the National Anthem let us remind you any personal insults, verbal or physical contact with any official you will be asked to leave. The 2nd occurrence you will be banned for the season, now we're pleased to present the Tiger Pep Band under the direction of Bob Smith with our National Anthem." The point is something different and drastic needs to be done. Each school needs to have enough supervisors at each home game that matches the crowd and be clearly marked. It is time to embarrass fans no matter who they are that if they are going to sit there and scream nasty personal insults at officials that they are going to be booted out, period.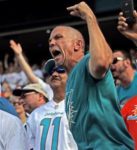 No one is asking fans not to boo a call against your team, in fact officials will tell you they expect that and they understand that is part of the experience but what is not ok are things being shouted at them like "Hey Ref You're a piece of ****!" or literally we heard at one of our basketball broadcasts was a fan telling an official they hoped he would die. The literal quote was, "Hey ref I hope you die!". We heard it from across the gym and yet the official had to go find an administrator to go talk with the fan and was allowed to stay.
Officials hesitate to stop a game or match and call out a fan because that usually increases the negative comments and puts an even larger target on their backs. This where a near zero tolerance policy must sweep our high school games when it comes to nasty fans.
On the field or court of play there are already penalties for players and coaches but maybe that needs to be cranked up even more. Maybe there needs to be a quicker trigger by the refs to make a statement loud and clear. Maybe coaches need to make sure they pull their players who open their mouths and draw a penalty and maybe they need to have them sit for awhile until they are ready to maintain their composure. Most of all maybe parents can admit their kid may have made a mistake and paid his dues within the team rules and stay out of it and allow the coach to coach and not run to protect little Johnny.
Are these problems more than the good that comes from sports? No, but they are getting louder and louder and ruining it for everyone else. Let us re-state the facts about High School athletes, less than 7% of all high school athletes will go on to play ANY kind of sport in college. That means 93% of all kids that participate or in terms of annual participation 210,000 of the 215,000 will never play organized sports again when they graduate outside of city leagues, bowling, golf and corn hole. Can we root on the 15,000 for their opportunity to get play at another level while also celebrating the 210,000 that won't play at another level?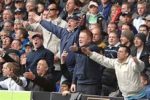 Last year all we heard was a call from the parents, we don't care if we can go to the games, we don't care who officiates or coaches we just want our kids to have a chance to play. That was echoed all over the state and then when they were allowed back it lasted like 2 weeks and then the bitching began and only got worse as the strange year ticked along. AD's yelled out by the ungrateful and the self-righteous. 
This story is not about shaming people, begging people to change or judging any politics, religious or personal beliefs. It is a REALITY CHECK!! We lost 57% of all of our state officials in less than 17 months and if behaviors at a minimum don't change and change NOW well then you get what you get, likely less games played on all kinds of nights, not just Friday nights, no more regular schedules and likely sports will simply begin to disappear. The future is in everyone's hands and the future is now to make dramatic changes and allow coaches to coach, officials to officiate and most importantly kids to play.
If you would like to be part of the solution and would like more information on how to become an official the WOA and all 152 associations are looking for help in football, volleyball, soccer, basketball, wrestling, baseball and fastpitch. Click on this website and fill out a very short form and indicate which sports you would be interested in and someone from the WOA will get in touch with you in short order. The website is http://washingtonofficials.com/
You can also contact your local association and if you don't know who to contact then call local High school athletic director who no doubt can help connect you. 
www.elisportsnetwork.com