7/6/2021
17-year-old Caleb Wanaka died on June 29th from injuries suffered in a truck accident. Wanaka had just finished his junior year at Peninsula High School and was a two-sport athlete excelling in both basketball and baseball. The full story is linked here by Chase Hutchinson from the News Tribune and Gateway News. 
A celebration of life for Caleb will be on Friday, June 9th at the Peninsula High School baseball field and all are invited to attend. A scholarship has been established in Caleb's name and here is the information for those who would like to donate to the fund. Below is the brief description of the scholarship fund and here is the link to the page where you may make a donation or get the information to mail in a donation.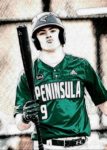 The Wanaka Family would like to thank everyone for the overwhelming amount of love, kindness and support. We are all needing some way of contributing, to help the family, and a path within our community to heal. The Wanaka Family has decided to start a Scholarship in Caleb's name. This will be a separate Scholarship from the current PHS Baseball Boosters Scholarship, and will be available each year in Caleb's Name. All of your contributions through this site will go directly to: The Caleb Wanaka Scholarship Fund.
If you would like to help in any other way please contact the PHS Baseball Boosters at phsbaseballboosters21@yahoo.com or check back here for any updates.
www.elisportsnetwork.com