5/24/2021
We had two games on the air Monday night and two games that went down to the final second literally. Our re-caps and video highlights below.
EVCO 2A Girls
WF West 49, Tumwater 46
(Chehalis, WA) Both teams were undefeated in conference play when this one began and it was expected to be a nail-biter and those who predicted that were not disappointed. The T-Birds took the lead on the first possession of the game and would not let go of that lead until the 4th quarter. Tumwater led by 3 after the 1st quarter and then threatened to open up a big lead but WF West battled and stuck close trailing at the break 24-18.
Sumrok led the T-Bird offense at the break with 8 points but 6 total T-Birds would contribute so the scoring was well spread out. Kyla McCallum matched Sumrok with 8 for the Bearcats with a 2 and 3 pointer and going 3 for 4 at the line. Madi Mencke hit for 6 of her 11 in the 1st half.
When the 2nd half began Drea Brumfield nails a big 3 ball to cut the lead in half but Tumwater would respond and at one point led 31-26 but it would be a tenuous lead to say the least. After 3 quarters the T-Birds still led 33-29 but the Bearcats had served notice and were coming. WF West took their first lead with 6:50 to go in the game when Brumfield hit another 3-ball but the lead was short lived when Aly Waltermeyer responded with a slashing move to the bucket on the return trip and Tumwater led 35-34 at that point. 
WF West would respond by running off 6 straight including a tremendous play when Madi Mencke tapped the ball away and Carlie Deskins dove for a ball like a fumble on the football field and dished it to McCallum who found Lexi Roberts for an easy lay-in giving the lead back to the Bearcats 36-35. Brumfield would then give the Cats their largest lead with a floater in the lane to make it 38-35 and then Mencke and Roberts added to the lead off a steal and a give and go with Roberts laying it in for a 5 point lead. Add a free-throw and with less than 3 minutes to play and all the momentum it looked like the Bearcats would cruise to the win with a 41-35 lead.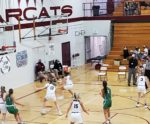 But the T-Birds weren't done yet by a longshot and began to dig into that deficit when Aubrey Amendala drained a 3 pointer to make it 41-38. The Cats would add 2 more free throwns for a 43-38 lead when Sumrok made a tremendous save on the baseline to Aly Waltermeyer who laid it in to make it 43-40. Mencke counters dropping in both ends of a 1 and 1 to push their lead back to 5, 45-40.
Amendala answered with yet another 3 to cut the lead to just 2. The clock would tick down to 30-seconds to play when the Bearcats called a time-out with only 7 seconds on the shot clock. Out of the time-out McCallum drove the lane and was fouled and would sink just 1 of 2 to make it a 46-43, still one possession game. Tumwater would call a time out after getting the ball to halfcourt and 20 seconds on the clock. The T-Birds would try to score a quick 2 but the Waltermeyer 12-foot jumper would bounce off and Sumrok would again save it from going out of bounds flinging it behind her and was again headed out of bounds when the Bearcats Lexi Roberts saved into the hands of a T-Bird who kicked it out to Isabella Lund who then drained a long 3 point tying shot.
Chehalis quickly called time-out and still had 8.5 seconds to work with. On the throw in Madi Mencke got it Brumfield who dished it right back and Mencke sprinted into front court and attacked the key. The T-Bird defense then converged on Mencke who dished a sweet pass to Carlie Deskins who laid it up for the winning bucket, was fouled and hit the +one with just 1.4 seconds to go and that would do it.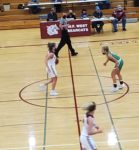 The only true disappointment to this game was that it is the only time these two teams will face off in the regular season. Apparently with 7 schools there had to be byes included but the decision to make one of the byes between these 2 teams well frankly was a mistake. There is a planned league and district tournament so hopefully they will get a chance at a re-match.
WF West is now 6-0 in conference play and Tumwater falls to 6-1. Our Pacific Sports Spa visiting team player of the game went to Isabella Lund and our Thorbeckes home team player of the game was Madi Mencke.
Video Highlights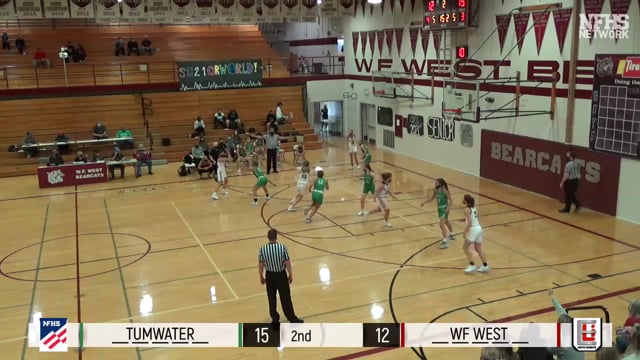 Steal and score for T-Birds Sumrok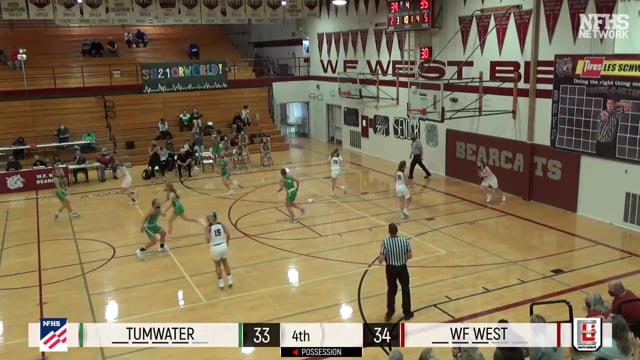 Brumfield gives WF West the lead, Waltermeyer answers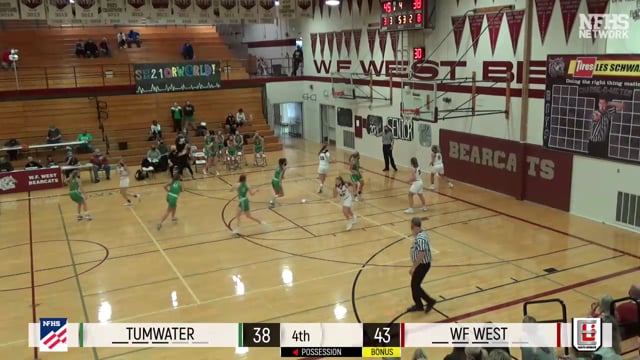 Sumrok saves and T-Birds within 3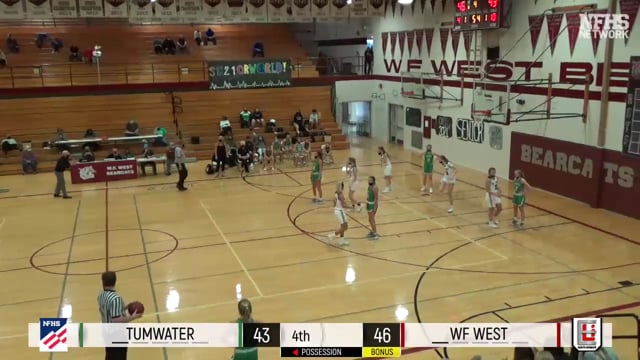 Isabella Lund drains the tying 3-point shot with 8-seconds to play
8 seconds was enough time for the Bearcats to respond
Steal and score for T-Birds Sumrok

Brumfield gives WF West the lead, Waltermeyer answers

Sumrok saves and T-Birds within 3

Isabella Lund drains the tying 3-point shot with 8-seconds to play

8 seconds was enough time for the Bearcats to respond
SPSL 2A
Clover Park 60, Steilacoom 59
(Lakewood, WA) Both teams came in hungry for their first win of the year and they did not disappoint their fans with their effort as this game came down to the finbal seconds. The Warriors would pull out the win and improve to 1-2 while the Sentinels dropped to 0-3. Video highlights of the game are below.
Video Highlights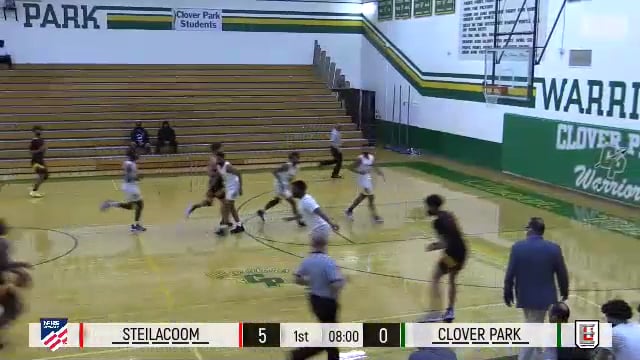 Steilacoom jumps out to an 8-0 lead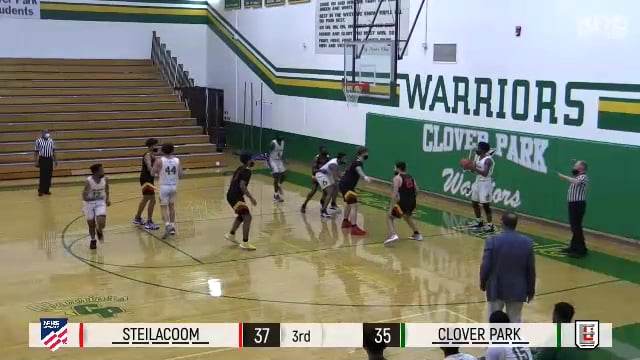 A big 3-ball from the corner gives Clover Park their 1st lead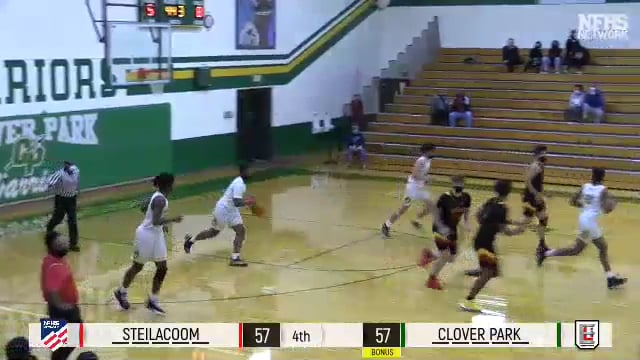 Clover Park drains a trey to take a 3 point lead
Steilacoom jumps out to an 8-0 lead

A big 3-ball from the corner gives Clover Park their 1st lead

Clover Park drains a trey to take a 3 point lead
www.elisportsnetwork.com