5/14/2021
On Thursday Governor Jay Inslee announced that all Counties will be back in Phase 3 next Tuesday and he hopes to have the state open 100% by June 30th. (Story and video of Governor's speech from KOMO TV 4) This announcement sent a lot of rumbling about the implication on the "Hoop the Puyallup" event at the Puyallup Fairgrounds. A lot of work went into turning this dirt floor horse arena into a playable basketball facility.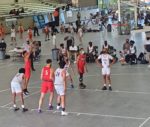 SPSL 4A officials told ESN in their meeting today they discussed several options including continuing to play at the Fairgrounds, play through next week or go back to school gyms as soon as allowed. The other idea was to go back to school gyms for the rest of the regular season and then go back to the Fairgrounds for the League Tournament to give it that tournament feel.
Ultimately the SPSL 4A chose to go back to their home gyms as soon as allowed and will stop playing at the Fairgrounds after Saturday's games. The scheduled Monday games will be postponed and re-scheduled as schools begin playing on their regular days of Tuesday, Thursday and Saturday.
The league officials couldn't thank all the volunteers and donations enough. Sumner District Athletic Director Tim Thomsen said a huge thanks to all those that helped and of course had they known they could be back in the gyms next Tuesday they likely would have either waited or figured out how to use gyms or facilities in phase 3 counties to get in as many games as possible before getting back to their own gyms. The SPSL League Tournament will be held at the higher seeded home gyms.
The Pierce County League also met on Friday and has been a partner with the SPSL 4A in making this happen. They also decided to go back to their school gyms next week. One AD told me as much as they are excited to get back to their home courts there is a ton of work to get done re-scheduling the games, securing referees and transportation.
In another note, the SPSL 2A who have been playing at the Hub facility in Centralia will also go back to playing in their courts as well.
So in the end was this a worthwhile endeavor? The organizers and volunteers will tell absolutely yes. ESN talked with Dane Looker who owns Looker Asphalt and is a Puyallup High school graduate who went on to play at the University of Washington and the NFL for most of his 8-year professional career with the Rams. Looker is not at all disappointed in stepping up and offering to asphalt the entire horse arena floor. His company began prepping the floor last Sunday, they paved it on Monday. Looker and his crew then spread the donated Visqueen from the HD Fowler Company, 24,000 square feet of it so the portable floor could be laid down. Bartelson Transport donated the transportation, to and from Portland of the court floors which are then laid down like a jigsaw puzzle.
Looker was there until 4am Wednesday morning helping put on the finishing touches of laying down the out of bounds lines, the key and other floor markings with tape. This was a painstakingly long process of making sure the tape was laid down perfectly straight.
Looker is not disappointed more games won't be played on those floors and has zero regrets about doing the work and donating time and money to make it happen. Looker said, "it was about giving hope to the kids that they were not going to be left out while the rest of the state got to play." He said, "it has been a rollercoaster of ups and downs going through this past year and no one has been hit as hard as kids in schools, especially Seniors who only get one chance at a Senior year, so if this gave them hope and even confidence that they get to play it was well worth it whether it was a single day to all 28 days as originally planned."
As tired as some of the Athletic Directors were from getting this idea off the ground to completion it was important to many of those we talked with to show kids that when challenged you come together, you come up with a plan and you execute it. Looker said, "for those who don't believe sports are an important part of the High School experience that's just wrong. Sure it's not for everyone but the qualities you learn from being involved in sports played out before everyone's eyes when we turned this dirt floor open air facility into a 3 court basketball gym in less than a week. Frankly, it's an accomplishment that should show other agencies or organizations that we can accomplish the impossible if it is approached with a team effort. Those principals are taught in sports and I couldn't be more proud to have worked with all these folks in simply providing a chance for kids to experience a little bit of normalcy in this very strange year."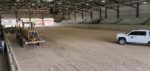 The Fair was happy as well they had been wanting to pave that arena and was in the plans so they could use that facility for more than just a horse arena. They will still use it as a horse arena but will bring dirt in for those events like they do for rodeo's and other dirt track events in other facilities like the Domes and larger arenas. Between the Fair's cost for the asphalt and their regular rental fee to the leagues, Looker's donated labor and the League volunteers everyone got everything at a greatly reduced price and it was truly a win, win, win solution.
The biggest win is that kids will get to play in their home gyms and that comes with no discount but worth every penny.
www.elisportsnetwork.com