5/5/2021
Tumwater 10, Aberdeen 0
Only one broadcast on ESN Wednesday and an important one with a trip to the District 4 2A Baseball final 4 on the line. Aberdeen came into this game with Tumwater fresh off an impressive 7-0 pounding of Centralia on Tuesday. Tumwater was coming off a big 18-0 win over Black Hills as both teams advanced to the quarterfinals.
Tumwater had lost only 2 games this season, one to shared league champion WF West 2-1 and one to 4A Olympia in a non-league game 5-4 and they were not about to overlook the 5-9 Bobcats.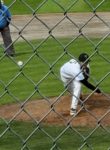 Tumwater ace Ryan Orr got the start but wasn't expected to go too long so he can be ready to pitch on Friday if they advanced. Tumwater Coach Lyle Overbay in the end limited Orr and all his pitchers to just one inning. They combined for a 1-hit shut out and interestingly it was Orr who gave up the lone hit in the top of the 1st. 
After Kyle Miller lined out to 1st basemen Alex Overbay, Orr then got a strikeout when Luca Pisani ripped a single to get on board and advanced to 2nd but got stranded and that was as close as the Bobcats would get to scoring a run. 
In the bottom of the 1st the T-Birds put up plenty of offense to seal the win with 5 runs. With 1 out Cody Whalen got on by error and was followed by a base hit from Camden Oram. Connor Bourbon then ripped a double down the right field line and off the wall scoring both runners on base to make it 2-0. 
Grady Finney then added 2 more by hammering a line shot into the right-center gap all the way to the wall again scoring Bourbon and he just kept going all the way around the bases and slid into home for an inside the park home run. The T-Birds added a 5th run when Brayden Oram sac flied in Jack Jones who was a courtesy runner for Ore.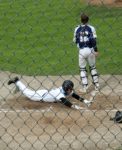 In the 2nd inning Nate Kassler led off with a base hit and Jack Jones would come in to run for Kassler and worked his way over to 3rd and Bourbon drove him in with a sac fly. Tumwater would then add 4 in the bottom of the 3rd with a lead-off walk then after a ground-out and RBI single from Brayden Oram. Austin Duncan then singled and Whalen knocked in 2 more with a base hit and would score on a wild pitch to make it 10-0.
Tumwater's pitching line-up Orr, Blake Smith, Camden Oram, Austin Sheldon and Chico Wilson combined for no runs, 1 hit, 10 strike-outs and 2 walks. The T-Birds improve to 15-2 and now will travel to Ridgefield on Friday to face Washougal in the semi-finals. The other semi-final features WF West and Columbia River. The two semi-final winners will then play for the District Championship and the two losing semi-finalists will play for 3rd.
Our Pacific Sports Spa visiting player of the game went to Luca Pisani and our Thorbeckes home team player of the game went to Connor Bourbon.
Photo Gallery
Video Highlights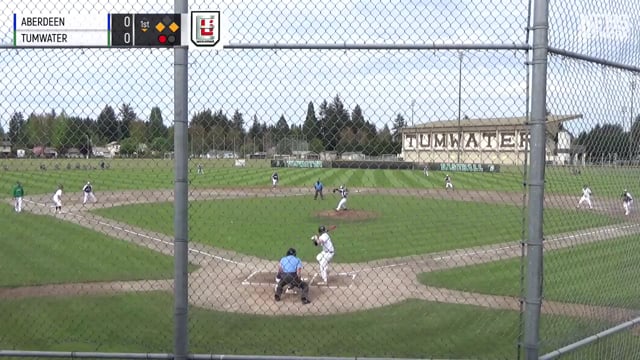 Connor Bourbon rips a 2 run double to start the Tumwater scoring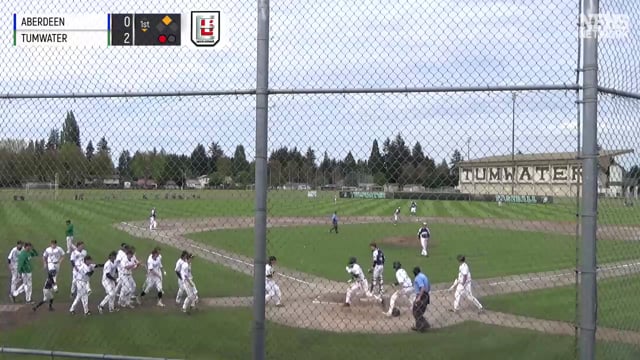 Tumwater's Grady Finney drills one to center and he just keeps going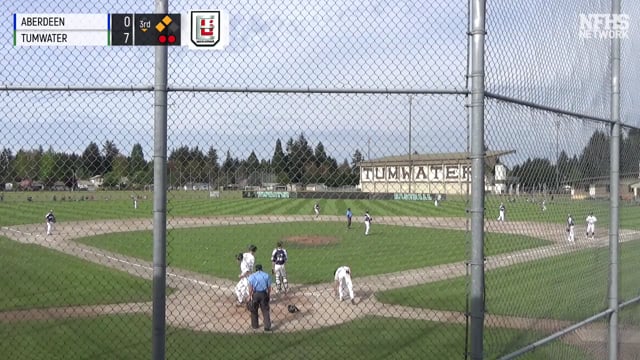 Cody Whalen with a 2 run single to right
Connor Bourbon rips a 2 run double to start the Tumwater scoring

Tumwater's Grady Finney drills one to center and he just keeps going

Cody Whalen with a 2 run single to right
www.elisportsnetwork.com