4/22/2021
Only 1 broadcast on the air Thursday night and it was a cross town rivalry on the soccer field with Lakes at Clover Park. Out re-cap story, pictures and highlight videos are all below.
Soccer
Clover Park 2, Lakes 2
(Lakewood, WA) It was a perfect night for a cross town rivalry showdown and both the Lakes Lancers and Clover Park Warriors were set to send the other home with a loss. Both halves played out nearly identically.
In the first half, both teams made significant runs but solid defense and keeper play denied both sides. Lakes did break through relatively early in the 11th minute when Matthew Knoll knocked in the ball after a deep throw in from Benjamin Howell-Burke that went off the head of Clover Park's Joel Diaz-Orozco right to the foot of Knoll and it was 1-0 Lancers.
The Warriors evened the match in the 20th minute when C-P was attacking and Gabriel Gonzalez Valera dished the ball to Yahir Chavez Pineda who split defenders and popped the ball up and in for the 1-1 score which held up until halftime.
In the 2nd half it was again the Lancers striking first but this time off a corner kick. Jesse Wells lined up the kick and lofted it brilliantly right in front of the keeper in the middle of the goal, C-P's keeper Engelber Piza just missed grabbing the ball and as it came down Ayden Murry tapped it to the right and in for the score to give Lakes the lead in the 50th minute.
Clover Park would make several runs trying to score the equalizer and the Lancers did not slow down trying to get that insurance goal. During this run both keepers, Piza for the Warriors and Jonathan Bieber for the Lancers both made remarkable saves.
However, in the 70th Clover Park would score again and once again it was Chavez Pineda with a laser shot into the net for the 2-2 tie. Neither team could break the tie again and it ended in a 2-2 draw.
Players that had solid games for Lakes included Ricardo Jauregui, Ayush Phuyal, Ethan Jones, Chase Beyler and Quinn Bieber. Players for Clover Park who stuck out to us included Juan Carlos Juarez, Dejen Pritchard, Kevin Rodriguez, Brian Morales Martinez and Johnathan Jaime.
Clover Park is now 3-2-1 for the season and Lakes is now 2-3-3. Lakes will wrap up their season next Tuesday at Spanaway Lake while C-P plays again Friday night against Foss.
Our Players went to Lakes Ayush Phuyal and Clover Park's Yahir Chavez Pineda.
Picture Gallery
Video Highlights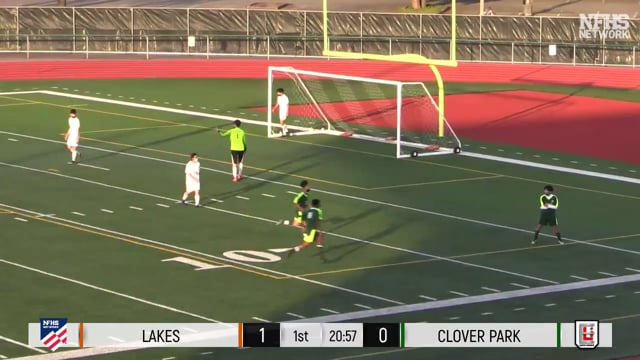 Clover Park ties up the match on a great give and go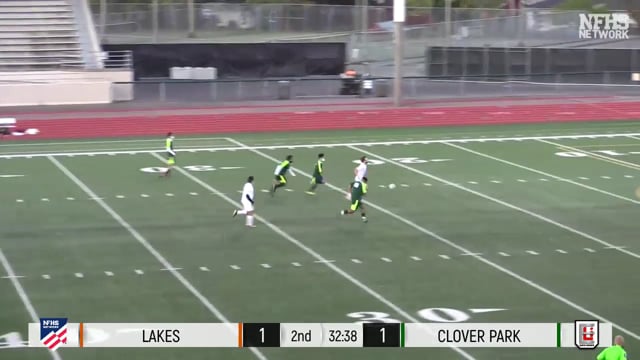 Clover Park's keeper Engelber Piza with a great save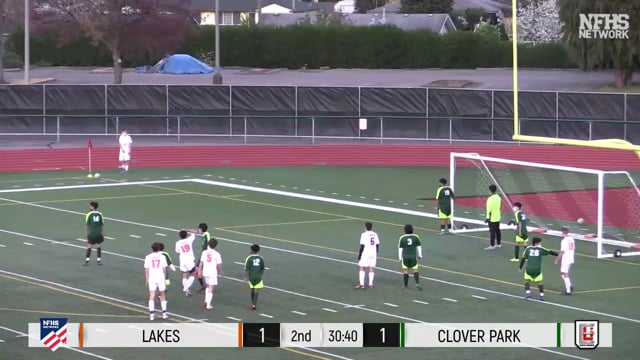 Lakes takes the lead on a corner kick
Lakes Keeper Jonathan Bieber slides in with a save just in time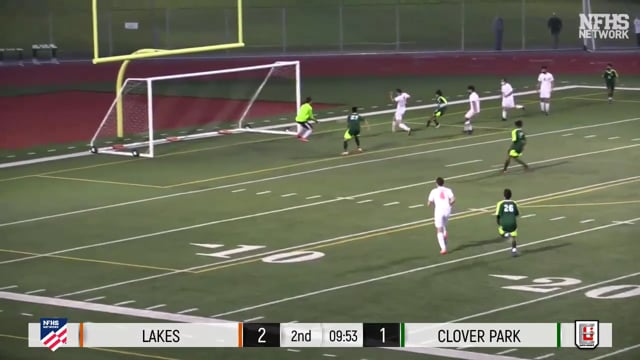 The Warriors get the equalizer in the 70th minute
Clover Park ties up the match on a great give and go

Clover Park's keeper Engelber Piza with a great save

Lakes takes the lead on a corner kick

Lakes Keeper Jonathan Bieber slides in with a save just in time

The Warriors get the equalizer in the 70th minute
www.elisportsnetwork.com