4/19/2021
Two baseball broadcasts on the air Monday afternoon and they could not have  been more opposite if we tried. One game saw great pitching, defense and a single timely hit as the difference in the game while the other had virtually everything possible, 19 hits, a home-run, 12 errors, balks, catcher and umpire interference and more. Check out our re-caps, pictures and video highlights below.
Baseball
Centralia 12, Shelton 11/
(Centralia, WA) Coming into this game it appeared this was a well matched game on paper with Centralia at 5-3 and Shelton 4-4 in Evco 2A league play. This is one of those times what it looked like on paper played out on the field but in a very weird way.
This game had all of the following, a base runner hit by a ground ball on his way to 2nd, catcher's interference, umpire interference, balk, warning to one dug out, warning to the other coaching staff, a home run, a triple, doubles, 19 total hits and 13 errors.
It began right from the beginning with Evan McCullough being walked by starting pitcher Noah Aliff. Kevin Snodgrass then hit a hard grounder between 1st and 2nd and was headed to right field and the speedy McCullough likely on his way to 3rd. But before getting to 2nd base McCullough could not avoid the ball and it hit him which is an out and a dead ball situation giving the Highclimbers their first out and Snodgrass on 1st with a base hit.
Centralia then caught the error bug with an error on the left fielder dropping a fly ball, a grounder getting past the 2nd baseman followed by a fly out to center for the 2nd out. That was followed by a catcher's interference sending the batter to 1st, and error by the short stop, an error by the 3rd baseman and in the end Shelton led 4-0 on 1 hit and 5 errors on the Tigers.
Centralia did score 1 in the bottom of the inning after a lead-off hit from Bayden Teitzel and advanced to 3rd on 2 overthrows. Aliff then grounded to short scoring Teitzel to make it 4-1.
Shelton came back with another 3 spot in the top of the 2nd with a lead-off walk to McCullough, Snodgrass hit  by a pitch the an RBI base hit from Brendan Wagner followed by an RBI sac fly scoring Snodgrass from Cole Schlender and on an over throw to try and get Wagner at 3rd he came home to make it 7-1. Shelton added another run in the top of 3 after chasing Aliff for an 8-1 lead. Reliever Landen Kaut came in to get the final outs.
Centralia could have easily thrown in the towel but despite the rough start kept grinding away and began in the bottom of the 3rd. Aliff led off with a single then after 2 strike-outs Zack Rone was walked followed by an RBI single from Benito Valncia. That was followed by a walk and an error that allowed 2 more to come in and would chase Canon Hutson after 2 and 2/3's innings. Tobyn Dudley came in and got the final out and it was now 8-4.
Shelton would score 1 in the top of the top of the 4th on a walk an error and an RBI single from Anthony Smith for a still comfortable 9-4 lead.Centralia would bust things open in the bottom of the 5th beginning with a Zack Rone lead off base hit, followed by a fly out, then a hit by pitch, a walk to load the bases and then a strike-out and the Highclimbers Dudley was 1 out away from escaping the inning with no damage.
Back to the top of the order where Teitzel came through with a big 2 RBI single followed by a crushing double from Aliff that would have scored 2 but got caught up in the fence making the ball dead allowing just 1 to come in and it was suddenly 9-7 and that would be it for Dudley. The Tigers weren't finished yet as they face Brendan Wagner. Cam Erickson then walked to load the bases. A wild pitch would score Teitzel to make 9-8 Paris Chaves grounded a chopper to 3rd but an errant throw would score 2 and the Tigers took the lead 10-9.
In the top of the 6th Shelton trying to find a way to stem the momentum would scramble for the tying run. Joey Unger was now in to finish the game for Centralia and quickly got 2 outs. Kobe Vind then stepped up for the Highclimbers and ripped a triple to left field followed by an error on the short stop off a ground ball by Wyatt Wagner and the game was again even at 10-10.
In the bottom of 6 Centralia did not back down and scored twice. They began with a 1-out single from Landen Jenkins who was then forced out on a 4-6 play off a ground ball from Kyrrus Mano who beat out the throw for a double play. Moshie Eport then came through in the #9 position with an RBI single to give the Tigers a 1 run lead. Teitzel then stepped up with a huge base hit scoring Eport for a critical 2 run lead heading into the top of the 7th,
That run would ultimately prove to be the difference as Brendan Wagner led off the Highclimber 7th with a massive blast straight away to centerfield over the fence for a lead-off solo shot home run and it was 12-11 with no outs. Unger then got a fly out for the first out of the inning. The tying run, Tyler Anderson got on base on yet another Centralia error. Unger then got a strike out for the 2nd out. Cole Tinsley came through with a critical 2 out single and now the go ahead run was also on base. But Unger came through with a strikeout of Vind who had tripled off Unger in the previous inning.
Shelton drops to 4-5 in league play and Centralia is now 6-3. The Highclimbers will next play at Aberdeen on Wednesday while the Tigers will host Black Hills. Our Pacific Sports Spa visiting player of the game went to Brendan Wagner and our Thorbeckes home player of the game was Bayden Teitzel.
Photo Gallery
Video Gallery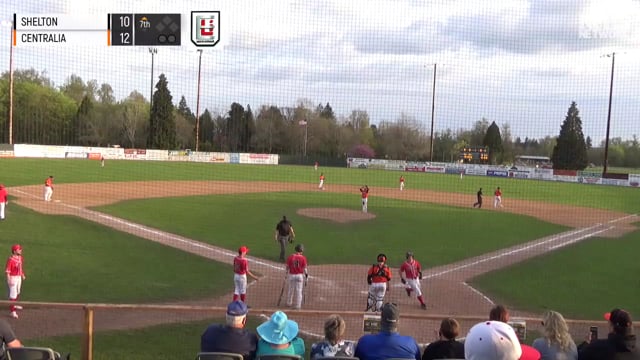 Brendan Wagner uncorks a deep shot over the centerfield fence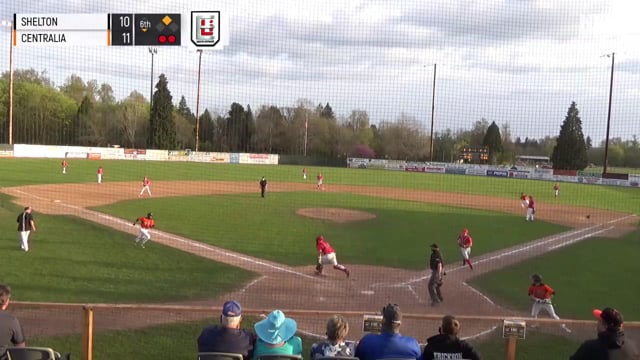 Bayden Teitzel knocks in the biggest run of the game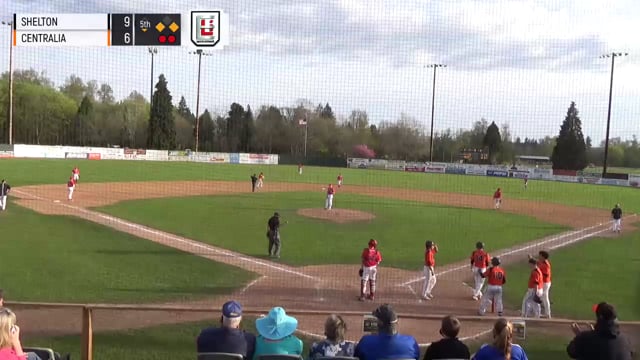 Noah Aliff rips a key RBI double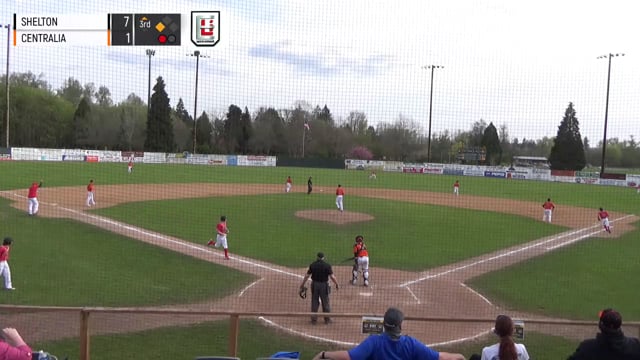 Wyatt Wagner knocks in a run to make it 8-1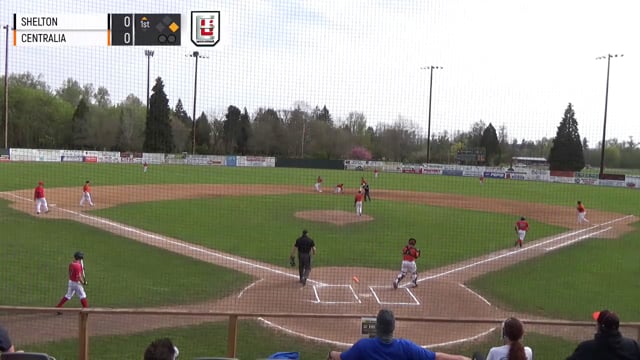 Top of 1st and Shelton's lead-off batter with an odd out
Brendan Wagner uncorks a deep shot over the centerfield fence

Bayden Teitzel knocks in the biggest run of the game

Noah Aliff rips a key RBI double

Wyatt Wagner knocks in a run to make it 8-1

Top of 1st and Shelton's lead-off batter with an odd out
Baseball
Toutle Lake 1, Toledo 0
(Toledo, WA) Undefeated at 10-0 Toutle Lake traveled to Toledo on Monday to face the 4-5 Indians. If the Ducks thought they would cruise to win #11 they were in for a surprise.
A pitcher's duel between two Freshman phenoms broke out in Toledo on Monday afternoon.  Zach Swanson pitched 5 innings of scoreless baseball to lead Toutle Lake to a 1-0 win over Toledo in @B Boys Baseball action.  Toledo pitcher Caiden Schultz matched Swanson inning for inning until the 5th where Toutle struck for the lone run of the game. 
Fraidenberg led off the 5th with a pinch hit double and then scored on an RBI single by Jackson Cox to get the win for the Ducks.  Swanson went 5 innings allowing 3 hits and striking out 8.  Connor Cox got the last 6 outs to pick up the save.  Schultz pitched 5 innings for Toledo allowing 1 run on 4 hits and striking out 10 batters.
Toutle Lake improved to 11-0 for the season and will host Forks on Tuesday in back to back games, Toledo drops to 4-6 and plays at Stevenson on Thursday. Zach Swanson was our Pacific Sports Spa visiting player of the game and Caiden Schultz was our Thorbeckes home team player of the game.
Toutle 1  4  0
Toledo  0  5  2
Video Highlight (JB Ewers)
www.elisportsnetwork.com