4/17/2021
Two broadcasts on ESN Friday included our final football broadcast of the year between crosstown rivals Kentwood and Kentridge and a baseball game that saw WF West continue their EVCO 2A league win streak. Re-caps, pictures and highlight videos below.
Football
Kentwood 38, Kentridge 33
(Kent WA) The crosstown rivalry coupled with the final game of this strange year and a fight for 2nd place in the NPSL 4A division made this a very intriguing game to begin with. Kentridge woulkd start with the ball on their 45 and drove down inside the 10 yard line after converting a 4th and 2. Chargers QB Chance Guadiz would find Dorian Thomas on a 7-yard slant for the score, Brandon Thomas added the PAT to take a 7-0 lead.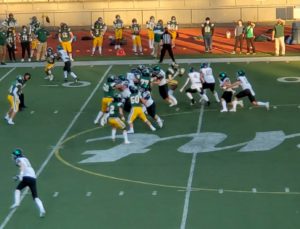 After an exchange of possessions Kentwood got the ball on their own 46 and were moving in chunks down the field and running back Lole Tapasa was rolling when Charger DB Jordan Mallory somehow stripped the ball out of his hands and Kentridge got the ball back on their own 22.
On a 3rd and long Guadiz dropped back to pass when he was sacked on his blindside by Deandre Gill Jr. As he was hit the ball came out and Moe Leiataua picked it up and kind of looked at the official who hadn't blown the play dead. Leiataua's team mates quickly pushed him toward the end zone and the arms went up for a touchdown. Thomas Allam came on for the kick and we were tied 7-7 with just seconds to go in the 1st quarter.
The Conquerors would then take the lead with about 4-minutes to play in the half. After forcing the Chargers to punt from their own end zone they took over in great field position on the K-R 34. QB Jackson Proctor wasted little time hitting his tight end Palamveer Dhaliwal on a 32-yard hook-up down to the 2. Two plays later Tapasa rolled in to the end zone off left tackle Dominic Kremer and the Conks went up 14-7.
But with 4:07 to play still time for the Chargers to answer and they did. Beginning on their own 32 the big play on the drive was a 39-yard scamper from Jayden Smith. Guadiz would then hit Alex Conner on another slant pass and he would work his way in for the score over the middle and with just 24-seconds left it appeared the game would go to the half deadlocked at 14, but it didn't.
Kentwood would get a good kick return of about 25 yards from Jalen Church to their own 39. Picking up good pieces of real estate they found themselves on the K-R 25 with 3-seconds to play and Coach Michael Bush sent out kicker Thomas Allam who then blistered the kick, long enough straight enough and high enough for the 3 points as time expired and the Conks went to the break leading 17-14.
In the 2nd half it was a tale of two quarters. Kentwood dominated the 3rd quarter scoring 21-unanswered points to take a commanding 38-14 lead. Procter would scramble in from 8 yards out to score first capping a 6 play, 58-yard drive to make it 24-14. The Conks would force a 3 and out and take over on their own 45. It took 16-seconds for Proctor to find Kendrick Smith on a short out, Smith then finished the job weaving in and out of traffic and taking it 55 yards for score and now a 31-14 lead.
After forcing the Chargers to turn it over on downs the Conks took over on their own 9. A very methodical drive got them into Charger territory when tempers flared and their was some punching and fighting between the two rivals. Flags littered the field and as the officials discussed what happened after both coaching staffs came on to the field to corral and calm down their players, Kentridge Coach Brett Ogata summoned the head official. In a long conversation the head official then brought Kentwood coach Michael Bush in on the discussion and then something we have never seen in a game was allowed by the officials.
Each coach called both teams onto the field and both coaches took their turn expressing to both sides that this was not ok and not acceptable and no more will be tolerated. Both coaches talked for quite some time, likely reminding them to play hard but remember it is a game. After the chewing out the game resumed. The officials did eject one Kentwood player for throwing a punch but there were no problems after the on-field meeting.
Kentwood would finish this drive with Proctor again connecting with Kendrick Smith, this time on a 27-yard scoring play to push the Conks lead to 38-14 late in the 3rd quarter.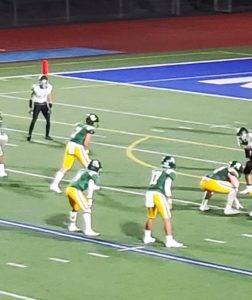 As the 4th quarter began it did not look good for Kentridge as Guadiz got banged up and had to leave the game pushing Tyson Brown in at QB. Brown a 6'1, 220 pound Freshman started at outside linebacker but now was under center. On his first drive he threw an interception and Kentwood took over on the K-R 37. Using a pounding run game with Isaac Aselin they moved inside the 20 ready to score again. K-W put in their sophomore back-up QB James Morgan who fumbled the ball on the 16 and the Chargers Dorian Thomas scooped it up and was gone 84 yards for the Touchdown to pull within 38-21.
After forcing the Conks to punt K-R took over on their own 42 where Brown dropped back to throw and launched a 58 yard bomb to Alex Conner and dropped it right in to Conner perfectly but Conner could not hold on to the ball but he was interfered with so they got the 15-yard penalty. Brown then scrambled a couple of times for big yardage down to the 20 where he found Jayden Smith for a 20-yard TD but the PAT missed and it was now an 11 point game 38-27.
Kicker Brandon Smith then hit a perfect on-side kick and the Chargers recovered. They would pull within 5 points with still 3-minute to play when Brown hit Jordan Mallory on an 8-yard pass. K-R tried for 2 to pull within 3 but the Conks held and it remained a 5-point spread but it was down to 1 score.
Although the next on-side kick did bounce around a little bit K-W took possession on their own 32. Kentridge had 2 time-outs but Proctor and the running game came up with plays to pick up 1st downs. The Chargers did finally force a 4th down but there were only 4 seconds to play. The ball down inside the Charger 35, Proctor took the 4th down snap and followed coach Bush's instructions he simply turned and ran the other way toward the Kentridge end zone and the end of the stadium where the game clock is and was told to run until he saw the clock tick down to 0 and then take a knee which he did perfectly and ended the game not giving Brown and the Chargers one last chance with the ball.
Kentwood finished the season at 5-1 and Kentridge dropped to 3-3. Our Players of the Game went to Kentwood's Jackson Proctor who finished going 11/17 for 202 yards and 2 TD's and rushed for 55 yards and another TD. He actually had two longer runs and a TD taken off the board due to holding penalties. For Kentridge, Dorian Thomas was our Player of the Game he had 5 catches for 26 yards and TD and the 84-yard TD fumble return for a 2nd TD.
Photo Gallery
Video Highlights




Baseball
WF West 11, Rochester 1
(Chehalis, WA) The Bearcats have now run their league wining streak to 49 straight games and they did it with solid pitching and a bruising offense. The Bearcat bats punched out 13 hits in 6 innings with 8 different Bearcat players getting at least 1 hit. Tanner Vaughn led the offense going 3-3 scoring the 1st run of the game and picking up an RBI. The Bearcats also got solid plate production from Brock Bunker and Brit Lusk each going 2-3, Gavin Fugate 1-2 but drove in 3 runs and Logan Moore with an RBI base hit knocking in Vaughn for the 1st run of the game.
Moore got the start and cruised through the first two innings but then got into trouble in the top of the 3rd with 1-out he walked two, gave up a bunt base hit to Cody Morton loading the bases with 1 out. Moore then walked Tony Groninger forcing in a run giving Groninger the RBI.
That would be it for Moore and Tanner Vaughn came in to relieve with the bases juiced and one out. Vaughn then gets Rochester to ground a hard shot to Bunker who flips it to Andrew Stafford on over to Fugate for the 6-4-3 double play ending the inning and the Warriors best chance to add some runs.
The Bearcats then put up a five spot in the bottom of the 3rd to push the score to 6-1, added another 3 in the bottom of 4 and finished it in the bottom of 5 scoring 2 runs capped off by a 2 a double from Fugate.
WF West is now 8-0 on the season and will next play at Tumwater on Wednesday. Tumwater is 8-1 with their only loss a 2-1 defeat at WF West. Rochester falls to 4-5 and will play Monday hosting Tumwater. Our Pacific Sports Spa visiting team Player of the Game went to Tony Groninger and our Thorbeckes home team Player of the Game went to Gavin Fugate.
Video High Lights (Matthew King)



Boys Soccer
Bonney Lake 2, Lakes 2
(Lakewood, WA) In the PCL boys soccer league it is Wilson and then everyone else. Wilson is 6-0-1 with their only blemish a tie against Stadium 0-0. After the Rams it is Stadium at 3-0-2 and then there are 3 other teams all within a game and half of each other and the Tigers.
This included both Lakes and Bonney Lake. Both teams anxious to pick up an important win and it was the Panthers who were most ready. It took less than 30-seconds for Connor Goff to take a long lead pass split defenders and fire a shot to the left of Lakes keeper Jonathan Bieber for a very quick 1-0 lead. 
The Panthers would push that lead to 2-0 when the Lancer defense fouled Bonney Lake in the box setting up a penalty kick. Goff lined up the shot and fired it into the upper right where Bieber had no chance of knocking it down and it was Bonney Lake leading 2-0.
The insurance goal may have allowed the Panthers to relax just a bit and Lakes took advantage of that opportunity and scored in less than a minute later to get it back to a 1 goal lead. The Lancers Danny Kalysbekov took a long lead in pass across the field and lined up a shot from the right side of the goal and fired across for the score getting it past Angel Talancon. That's how the first half would end with Bonney Lake leading Lakes 2-1.
It appeared the Panther defense would be enough in the 2nd half as they continued to deny the Lancers but Kalysbekov of as they call him Danny K woiuld have one last trick up his sleeve and it came from about 40-yards out with a spectacular laser shot from deep to tie the game in stoppage time. Time would run out and Lakes would be thrilled with the stalemate while the Panthers no doubt likely felt they let one get away. 
Lakes is now 2-2-2 while Bonney Lake is just behind at 2-3-2. Our Players of the game went to both scorer's, each had 2 for their team for the Lancers Danny Kalysbekov and for the Panthers Connor Goff. Bonney Lake will have their hanbds full on Tuesday with a game at Wilson while Lakes can make a move toward the top of the standings hosting Stadium on Tuesday.
Video Highlights (John Wittig)




www.elisportsnetwork.com