3/30/2021
Our Tuesday Rundown of the games on the Eli Network included both boys and girls soccer and an afternoon baseball game. 
Girls Soccer
Seattle Prep 4, Eastside Catholic 0
(Sammamish, WA)  Seattle Prep went on the road and got a huge 4-0 win over Metro League rival Eastside Catholic. The Panthers came out with the higher intensity from kickoff and it showed on the shots chart. 
Seattle Prep dominated possession and any counter that the Crusaders tried to put on was quickly shit down by a swarming back line. Riley Floyd opened up the score book when she knocked one into the back of the net mid way through the first half. Maya Shields added one just a few moments later to go up 2-0. A headed goal before the half made the Prep lead 3-0. 
Eastside Catholic put up a great effort in the second half but just couldn't convert on big chances. A nail in the coffin goal by Chloe O'Meara sealed the deal as the Panthers left Sammamish with the win. 
Seattle Prep improves to 4-1 on the year and will next face Bishop Blanchet on Thursday. They remain a game behind 5-0 Holy Names. The Crusaders are now 2-3 on the year and their game with Rainier Beach on Thursday was cancelled as the Vikings were not able to field a team.
Boys Soccer
WF West 3, Aberdeen 1
(Chehalis, WA) The two Evco 2A opponents got off to a defensive battle with neither able to find the back of the net in the first half and they went to the break scoreless.
It did not take long for the Bearcats to break through not just once but twice. In less than 30-seconds. Anthony Leal fired a shot and the ball bounced back right in front of Cody Pennington who booted it past the keeper for the first goal.
About 30-seconds later Pennington laid up a perfect pass to Angel Hernandez who got into a one-on-one with the keeper and floated it past for a lightning quick 2-0 lead. Leal added a goal off a corner kick to push the Bearcat lead to 3-0 and Aberdeen would score late to get on the board.
WF West is 1-0 and travels to Shelton on Friday. Aberdeen drops to 0-1 and will host Tumwater on Friday. Our Pacific Sports Spa visiting team player of the game was Miguel Martinez and our Thorbeckes home team player of the game was Carlos Hernandez.
Baseball
River Ridge 11, Yelm 8
(Lacey, WA) The River Ridge Hawks were coming into their game with Yelm looking for their first win after dropping 2 one-run losses. Head Coach Chad Arko says his team is split with a few veterans but mostly young inexperienced players. Yelm also came in looking for their first win and were even hit harder with a short roster due to players still becoming eligible.
Surprisingly this game from the start and through the first 4 and half innings was a pitchers duel. Ke'Ane Niputi got the start for the Hawks and blew through the first 4 innings facing only 2 over the minimum giving up just 3 scattered hits while striking out 5 of the 14 batters he faced. In the 5th inning he came out strong and got a ground-out and his 6th strike-out but then wobbled a little bit walking 2 an error and the bases were loaded but Niputi then coaxed a ground out and his shut out was intact through 5.
Meantime, Kyle Olmsted got the start for Yelm and he also was very frugal with allowing base runners. Olmsted did it with a mix bag of grounders, pop-ups and 3 strike-outs. Through 4 he retired the Hawks 1-2-3 except for the 3rd inning where he allowed 5 batters giving up a base hit and a walk. In the bottom of the 1st Ke'ane Niputi did get on by error and worked his way over to 3rd. With 2 out and Zavien Brewer at bat a pitch down in the dirt got by catcher Collin Gifford but the backstop is not far back and Gifford played it perfectly off the bounce while Niputi tried to score and Gifford easily tagged him out to deny the early run. (See Video below)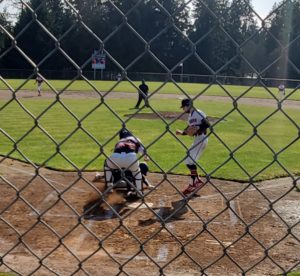 It was the 5th inning when the Hawks hit the board and they did it in a big way. Olmsted started to tire and gave up a lead off single to Keyland Niputi then 2 walks to load the bases with no outs. Yelm brought in Jesse Madigan who also struggle with control and walked the next 2 batters for a River Ridge 2-0 lead. Ke'ane Niputi then slapped a fielders choice RBI followed by an RBI sac fly from Brewer followed by a walk to re-load the bases and Alex Zamora came on to pitch. Zamora would walk in a run give up an RBI single another walk and a hit batsman all leading to Hawks runs and an 8-0 lead after 5.
The Tornados then battled back and refused to give in and finally got on the board in the 6th. With 1 out Abe Fowler singled followed by a stand up double for Gifford. Both would then score on back to back errors along with a 3rd run Camden Gubser who was aboard by error. This cut the lead to 8-3. Niputi was done and replaced by his brother Keyland.
The Hawks didn't know they may need some additional insurance runs but they didn't hurt in the end. Zamora got 2 quick outs in the bottom of 6. Chanz Doughty then stepped up and unloaded a deep shot over the left field fence for a solo home run and a 9-3 lead. (Video below)
The Hawks weren't done, Tyler Chisa then singled followed by a walk to Keyland Niputi to put runners on 1st and 2nd. Garrett Whittley then stepped a hammered a 2-run double to right field and Ridge took back the 3 runs they gave up in the top of the inning to lead 11-3. (Video below)
In the top of the 7th Yelm would make this interesting. With one out, Aden Schaler would get hit and get on 1st. Dylan Burnett followed with a single then Abe Fowler knocked in 2 runs with a double to make 11-5. Gifford then singled in Fowler and it was 11-6. Coby Henry singled and then  a pop-up for the 2nd out. Dawson Schnetz then was hit by a pitch that brought up Jeremy Reimers, the 9th batter to come to the plate.
Reimers walked to load the bases for Zamora with Olmsted the tying run on deck. Zamora ripped a single scoring Henry to make it 11-7 and Schnetz was on his way home to score when Reimers tried to go from 1st to 3rd and got thrown out at 3rd for the final out. The out was ruled prior to Schnetz scoring making the final score 11-7.
The Hawks are now 1-3 and will go on the road to Capital on Saturday, Yelm will continue to look for their first win. Our visiting player of the game went to Yelm's Collin Gifford and our home player of the game went to Ke'ane Niputi.
www.elisportsnetwork.com