3/27/2021
We had a pair of afternoon football games in the Saturday sunshine and both ended up being one-sided affairs. Game re-caps, pictures and Video clips below.
Kelso 52, Prairie 18
(Battle Ground, WA) The Hi-landers were looking for a big win after a couple of close losses and Prairie was hoping to finish their season with their first win on their Senior day.
It appeared this game may be in for a shoot out as both teams scored on their opening drives. Kelso kicked off and a bad bounce led to a scramble for the ball and Kelso recovered deep in Prairie territory. The Hilanders would make it pay-off just a few plays later when Connor Noah ran off right tackle for an 8 yard TD scamper to take a 7-0 lead.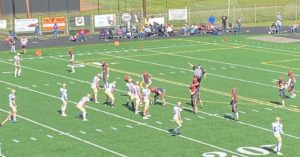 It would not take the Falcons long on their first possession they would take over on the 25 and after a 10-yard gain, Dustin Shelby then took a pitch to the left side and jetted 65 yards up the visiting sideline into the endzone for the touchdown. The 2-point conversion failed and Kelso held a 7-6 lead.
Kelso came right back and from the 49 of Prairie Hunter Letteer dropped back and uncorked a perfect pass to Zeke Smith in stride who cruised into the endzone for a 14-6 lead. After a 3 and out the Hilanders were on yet another drive and got down to the 8 and Letteer then plowed in for a touchdown giving Kelso a 21-6 lead.
On the ensuing kick-off kicker Mason Smith hit a low line-drive that bounced off one of the Prairie players and Kelso re-covered on their own 49. Kelso then dug into their bag of tricks and came up with the double pass as Letteer hit Kolby Cooper in the flat who laid up an easy pass to a wide open Togan Connors for the easy 6 and Kelso had everything going their way and led 28-6.
Prairie then turned the ball over on downs on their own 30. The Hilanders then struck again set up by a long pass play from Latteer to Cooper to the 3 yard line. Judah Calixte ran through a big hole over the left side for the score and it was 35-6 and still in the 1st quarter. Letteer would sneak in yet another TD to push their lead to 42-6 with just a few minutes to go in the half.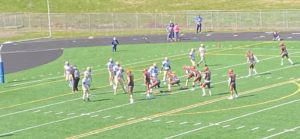 Prairie would find an answer set up with a big run from Shelby down to the Kelso 36. Alexander Ford then surged inside the 10 setting up their 2nd touchdown.  The Falcons would score when Brandon Baum dropped back to pass and found Ian Davis on an underneath swing pass and Davis ran it in to end the scoring flurry in the 1st half that saw Kelso lead 42-12.
In the 2nd half the Hilanders would add 10 points and led 52-12 late but Prairie would score with less than a minute to play for the final 52-18 score. Kelso is now 3-2 and they have one game left to play next weekend at Evergreen (Vancouver) while Prairie had their season come to an end at 0-5.
Our Thorbecke's Home Player of the Game went to Dustin Shelby and our Pacific Sports Spa Visiting Player of the Game was Hunter Letteer.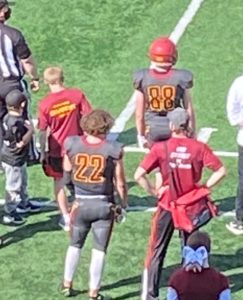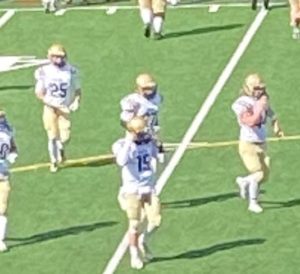 Rainier Beach 43, Roosevelt 0
(Seattle, WA) The game got started late due to Roosevelt getting stuck in traffic. Rainier Beach may have been over warmed up and took them a bit to get rolling but once they did it snowballed into a big win. 
Elijah Hollaway got things going on a 4th and goal from the 2 powered in over the left side of the Beach offensive line to take and early 7-0 lead. Hollaway would add another powerful run and extend the Vikings lead to 14-0. 
The next touchdown was set up by a spectacular interception by Beach's Mohammad Jobe deep in the Roughrider territory. Two plays later Scott Tre' Humphrey burst into the endzone and the Vikings rolled out to a 21-0 lead that would more than enough. Beach added another score before the half and led 27-0 at the break.
In the 2nd half the Vikings scored to make it 34-0, the defense stepped up for a safety 36-0 and with about 5 minutes to play in the game would cap their scoring and completed the 43-0 shut out win. Rainier Beach evened their record at 2-2 and can finish with a winning season if they can beat Chief Sealth in their finale. 
Roosevelt after starting off on fire with a 3-0 record fell hard in their lone defeat but remain 3-1 for the year. The Roughriders will finish their season next week hosting Ingraham.
Our Players of the Game went to Rainier Beach's Mohammad Jobe and Roosevelt's Joey Vila.
www.elisportsnetwork.com