3/26/2021
Forks 2, Tenino 1
(Tenino, WA) The Tenino Beavers boys team is coming off a rough 7-0 loss in their opening match against Elma while visiting Forks was coming in with plenty of confidence after shutting out Montesano 3-0. Although playing with just 11, the Spartans tight knit team were ready to flex their early season muscles as they faced a much larger roster at Tenino.
Tenino's Head Coach Kevin Schultz has fueled excitement into his program attracting a big number of athletes to turn out. Schultz admitted he has athletes and now is working to turn them into soccer players. 
The process is underway if the first half is any indication. Tenino used a steady wind at their back to apply tons of pressure on the Spartans defense but were unable to penetrate the backline and keeper Hector Dominguez. Tenino finally broke through with literally seconds to play in stoppage time just before the half.
The scoring combination began with a throw in from Zach Byer to Chris Ramez who then laid up a beautiful crossing pass where Tristan Whitaker headed in a perfect shot for the first Beavers goal and lead of the season.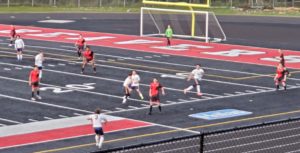 In the 2nd half the teams switched sides and now Forks had the wind at their back and turned up the heat on the Tenino defense dominating the 2nd half time of possession. Tenino keeper Alex Reichelderfer was brilliant snatching direct shots out of the air, laying out and punching away attacks and kept the Forks onslaught at bay. 
The Spartans incessant attacks would finally pay off in the 69th minute off a free kick from Arturo Dominguez who floated the shot up in front of the goal and Tony Hernandez-Flores back-headed and re-directed the ball into the net for the equalizer. The Spartans continued that momentum and surged past the Beavers just 2 minutes later.
Aristeo Ayala-Weed launched a long lay-up pass to Hernandez-Flores. As the ball came down at the top of the box Reichelderfer raced out to get it while Byer tried to run the ball down when both got caught in no-man's land and Hernandez-Flores stepped through to knock in the winning goal.
With the win Forks improved to 2-0 while Tenino dropped to 0-2. The Pacific Sports Spa visiting player of the game went to Tony Hernandez-Flores and the Thorbeckes home player of the game was Chris Ramez.
www.elisportsnetwork.com