1/7/2021
(Renton, WA) It's confusing and frustrating! The WIAA made a mess of this! I gave up on trying to figure out the WIAA! Why doesn't the WIAA let our kids play?!
These are just a few of the comments available on a social media platform near you. Is it confusing? Yes but you're not the only one. Let's get this fact out once and for all and regardless of your issue with the WIAA please understand this, the WIAA does not set nor do they have any impact or special way of controlling what the State Department of Health and the Governor's office does when it comes to COVID restrictions.
This includes classifying sports into categories of low, medium and high risk. The answer is YES, the NFHS and other states classify basketball as a medium risk sport. The answer is NO! that the WIAA classified basketball as a high risk sport in Washington, the State Department of Health did. Oddly, in this state, the organization in charge of handling High School sports is not in charge of determining state health guidelines even in a pandemic.
The WIAA Executive Board usually meets 5 or 6 times a year. Since last March they have met now more than 40 times. They have shifted the template of trying to re-start sports with every single change from state officials. The claim is all Fall sports were cancelled but that was not true either. Cross Country, Tennis, Golf and Slowpitch remained open for schools to compete if they chose to do so and no schools chose to do so. 
The confusing part of all of this has been not only dealing with the Governor's office but also the State Department of Health, each of the 39 county Health Departments or Authorities then of course each and every school district where every single school board gets to make their own decisions on what they will allow their students to participate in. School boards then have other issues to consider when making these individual decisions such as liability if a student were to get sick or spread it to someone from a sanctioned school event.
To be honest, not only does the WIAA have zero authority to force any school or league to participate in anything neither does the State Superintendent of Public Instruction. Both entities are charged with gathering all the information, creating templates or pathways for school districts to determine what and how they want to participate. For example, not all schools do all sports, they choose which sports they are going to offer in their district based on their own data.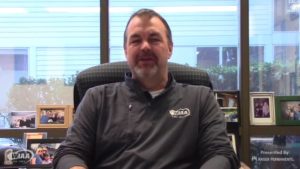 The OSPI office advises school districts on what and how they can spend money coming from the State and Federal government covering a host of educational programs and expenses but it is up to the school district to determine which of those options is best for their district. 
WIAA Executive Director Mick Hoffman and Board President Tim Thomsen have been very generous with their time sharing all the latest updates with us on our "Eli's High School Report" podcast. Many times they jump on an interview with us right after their long Board meetings late at night in an attempt to get out all the latest information they have to base their decisions. We have also asked and he accommodated us to an interview with the Superintendent of Public Instruction, Chris Reykdal. To further understand as much as possible of what all of the players involved from the WIAA to school boards we also interviewed former State Attorney General Rob McKenna on liability issues that these organizations face and must consider. 
There is no perfect organization but the WIAA and the Executive Board who by the way volunteer their time to serve on the board and are not compensated by the WIAA or their school district, do it because of their passion for high school sports and activities and their commitment to trying to find a pathway through these unprecedented times to allow kids to find a slice of normalcy. 
Below we have linked the latest WIAA update with Tim Thomsen and links to our earlier interview with State Superintendent Chris Reykdal and with former State Attorney General Rob McKenna. If you have not seen these interviews it will give you a chance to understand the complexity of all the decisions the WIAA has to take on. The latest Governor's plan certainly shifted the order of sports the WIAA had proposed but reducing the number of County Health agencies from 39 down to the 8 regions all run through the State Department of Health certainly helps their efforts to simply get kids back on the fields of play. 
The WIAA exists only to create opportunities for kids to compete or participate proposing frameworks of possibilities to their more than 800 member association allowing for each and every member to choose what is best for them, their school and community. This is a big job that the meager 12 person staff including Hoffman take on and are thankful for the chance to work in these positions. Educate yourself, educate your coaches, players and parents with answers not innuendo and rumor. 
See what you can do to help by being part of the solutions and not a complainer or blamer. This is already an impossible job of trying to make everyone happy which will never happen but intent is important. The intent of these folks is to be as fair as possible and yes mistakes will be made but we're talking about sports. So let's keep this in perspective and start supporting the WIAA efforts to be as fair as possible, support and volunteer to help your local Athletic Director in putting on events, support your coaches by allowing them to coach and lay off the officials or better yet become one. 
This is all about trying anything and everything to allow kids, especially Seniors who have already had their Senior years disrupted beyond recognition a chance to compete and participate. Now is not the time for nit-pick little complaints and understand there are a whole lot of people trying to figure this ever-changing puzzle out to get kids back on the fields. Just remember, it's ok to say thank-you or I appreciate your effort or better yet ask what can I do to help? Those things would be really great right now.
Our interview with WIAA Executive Board President Tim Thomsen from 1/6/2021
Our interview with State Superintendent Chris Reykdal
Our interview with former State Attorney General Rob McKenna
www.elisportsnetwork.com