11/2/2020
(Centralia, WA) We haven't done a lot of preview stories on an episode of our podcast, "Eli's High School Report" and maybe we should but we wanted to alert you to a very special episode. This week the Chronicle's (Centralia) Sports Editor Eric Trent talks with us about the struggles he battled with drugs.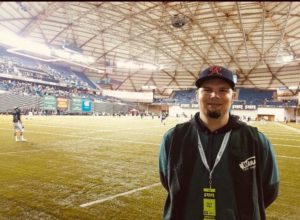 He talks openly about his struggles and his experiences. We talk about what are some of the reasons he got himself into such a struggle. Eric is exceptionally honest and no subject was off limits. He hopes that by telling his story, detailing his struggle and how he rose out of rock bottom to becoming Sports Editor of the Chronicle. 
His story is humbling and inspirational and for everyone that may have issues with drugs and even more those who have a loved one struggling with this issue and you just aren't sure what to do Eric's story may be able to help you further understand why and how people from all aspects of our society sometimes turn to drugs for relief. 
We invite you to watch on our ESN/NFHS channel that normally requires a subscription but the podcast is a free view. We thank Eric for his willingness to share his very personal story and we hope you will give it a view. The show airs live at 12-noon on Tuesday, November 3 our regular time but you can watch it from the on-demand section of the ESN/NFHS web page.
Here is the link to our ESN/NFHS page
www.elisportsnetwork.com