10/14/2020
Suddenly, after playing 4 years for UCLA as an All-American, played 13 years as a linebacker in the NFL for Dallas and San Francisco and is the only player in NFL history to win a Super Bowl ring in 3 straight seasons Ken Norton now has no idea about defense. He then went on to coach for Pete Carroll at USC and then came to Seattle with Carroll as the Linebackers coach. He was the linebackers coach for the Seahawks through 2014 and won his 4th Super Bowl ring. But now he has no idea what defense is. At least that is the claim the knee jerk Seahawks fans want me to believe.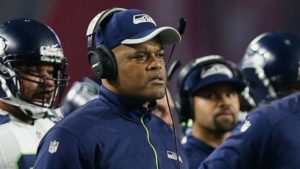 Let's take a look at this closer and why people, some who I respect but certainly in my view I must now question their football acumen. Dan Quinn is their savior over the current defense that is struggling compared ONLY to former Seahawk defenses. I actually read a tweet that the Seahawks MUST go bring Dan Quinn back to "fix" the Seahawk defense. What a load of crap.
Pete and John Schneider have more than earned the right to make any decision they want in my view if they think they can make it work. The other fallacy we need to extinguish now is this belief you can have a dominant offense and defense. It is not possible in the NFL. Is it a coincidence when the defense for Seattle was at it's peak the Seahawks ran the ball and ran the ball more including a young QB named Russell Wilson. Wilson was there to not lose the game and the Legion Boom was there to win the game.
You say this is unique, ok how about the Ray Lewis Ravens with Trent Dilfer as their "don't lose it" QB. Tampa Bay's Warren Sapp defense with who?? BRAD JOHNSON as QB? The 70's Pittsburgh Steelers dominated defensively with the Steel curtain and Terry Bradshaw with his talented receivers and Franco Harris were more than enough offense for the dominating "Curtain". New England for how many years were the comments made about how Tom Brady has had to have lesser talent round him so they could beef up their defense?
The flip side is teams with tons of offense and no defense. Dan Marino comes to mind with the Dolphins, Kansas City when Andrew Luck ran them down time and again in the play-offs, the New Orleans Saints as defending Super Bowl Champs could not beat a 7-9 Seahawks team in the opening round of the play-offs. In the NFL you have a choice to be great one one side or the other and then you try to be good enough on the other side.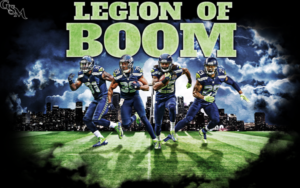 Is it any coincidence that during the heyday of the LOB that offensive line coach Tom Cable was asked to convert not one but several former defensive linemen into offensive linemen? Many times players don't pan out remember the back to back picks in 2011 of James Alexander and John Moffit? They were going to be the anchor to the offensive line for years and Moffit kinda melted down and Alexander was a pretty average O-lineman but far from an anchor. 
There's a reason Russell Wilson is cooking now look at his line-up and look at how he now understands scrambling outside his protection was not a good idea. He still holds the ball too long sometimes which is great that he is trusting his line more now and he'd rather take a sack than turn the ball over. Duane Brown, Mike Iupati, Damien Lewis, Ethan Pocic and Brandon Shell have the chance to be the best O-L in Seahawk history and if not certainly in the top 3. DK was a steal in the draft and is turning into a new beast mode. Lockett, David Moore, Chris Carson, Homer, Olsen, Issley, Williams and Hollister just might be the deepest TE position in the NFL. No there isn't a Gronk at his prime probably but these are all valuable weapons.  This investment in the offense had to come from somewhere and it came from the defense.
After the Legion of Boom got paid what they had earned and Russell Wilson got his money all earned by NFL standards that puts the team in a quandary in obtaining talent and you have to be very good in the draft and lucky. Most of all you MUST stay healthy, period. The NFL is unforgiving since you are not allowed to have on your roster enough players to continually develop. You are 2 deep in 98% of the positions.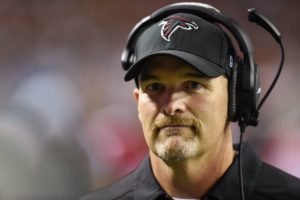 That being said let's really make the case for Quinn and Norton and see where this lands. First thing is Dan Quinn took over as defensive coordinator in 2013 for Gus Bradley who took the Head job at Jacksonville. Quinn was with the Hawks during the 2009-2010 seasons then took a job as the Def coordinator for the University of Florida. He came back in 2013 to Seattle so he had no hand, no input at all in building the 2013-14 defense. Here is the starting line-up that Quinn had to "coach up".
Richard Sherman, Earl Thomas, Kam Chancellor, Byron Maxwell, Bobby Wagner, KJ Wright, Bruce Irvin, Cliff Avril, Michael Bennett, Brandon Mebane and Tony McDaniel. Sherman, Chancellor, Thomas and Wagner were All-Pros that season as well. 
Norton was with the Seahawks from 2010-2014 and likely had significant input on building the Legion of Boom defense, certainly the linebackers. He then left for Oakland as the D coordinator and was fired in 2017 and it didn't work out for him there. He came back to Seattle in 2018 taking over for Kris Richard who went to Dallas only to be fired last year and is now out of coaching for this season. Norton arrived and here were the starters for 2018:
Tedric Thompson, Bradley McDougal, Tre Flowers Shaquill Griffen, Bobby Wagner, KJ Wright, Barkevious Mingo, Frank Clark, Jarran Reed, Shamar Stephens and Quinton Jefferson. Wagner was the only All-Pro.
In 2020 the starters are Jamal Adams, Quandre Diggs, Quinton Dunbar, Shaquill Griffen, Bobby Wagner, KJ Wright, Cody Barton, LJ Collier, Poona Ford, Jarran Reed and Benson Mayowa.
That being said not only is the high profile and looks like very impactful Jamal Adams has been out for several weeks. Diggs was ejected in another game, Dunbar has been hurt and not only that but Jordyn Brooks LB, Lano Hill SS, Anthony Rush DT, Bruce Irvin LB, Neiko Thorpe CB, Rasheem Green DE, Marquise Blair SS and Branden Jackson DE have all been hurt. These are the back-ups to some of the back-ups.
The next level of this stupid want to bring Quinn back begins when he was the Seattle D-Coordinator for 2 years and yes their 2 Super Bowl appearances. In the first Super Bowl Larry the SportsCat the Eli Sports mascot could have been the defensive coordinator and it wouldn't have made a difference that's how dominant they were. In year 2 they get back again to the Super Bowl and what we see is frankly a foreshadowing of what Quinn does in the 4th quarters of Super Bowls.
The Hawks led New England 24-14 going into the 4th quarter.  Julien Edelman had 9 catches in this game, 4 in the 4th quarter and the go ahead and winning touchdown. In 2016 Quinn took the Atlanta Falcons to the Super Bowl in just his 2nd year so again most of his players were already in place. His team led 28-3 with 8:31 left to play in the 3rd quarter and still led 28-9 heading into the 4th quarter. His defense gave up 19 4th quarter points and then 6 more in overtime for a total of 25 points in 19 minutes. 
Quinn got his team back to the play-offs in 2017 but were knocked out early. Since then he went 7-9, 7-9 and 0-5. Plus in those 7-9 seasons in 2018 they were 4-9 and out of the play-offs when they won 3 in a row to make their record look much better than it actually was and in 2019 they began 1-7 and then won 8 of their final 10 in a it doesn't matter run to a mediocre record. 
Let's now compare directly between the guru from Atlanta and Seattle's D Coordinator since Norton took over in 2018. This is a comparison of each teams last 39 regular season games or 2 seasons and 5 games and some career comparisons:
Quinn (at Atlanta)
(Points)
2018 Defense gave up 423 points or 25 per game 
2019 Defense gave up 399 points or 23.5 per game
2020 (thru 5 games) Defense gave up 161 points or 32 per game
Combined total of last 39 regular season games was Defense gave up 923 points or 25 points per game
Record
2018 7-9
2019 7-9
2020 0-5
Total: 14-23 
Super Bowls
Coach 1-2
College and Pro Player
Played at D-3 Salisbury State University Athletic Hall of Fame
Team Captain
Represented Salisbury State at NCAA Track Championships in the Hammer Throw
Norton (at Seattle)
(Points)
2018 Defense gave up 347 points or 20.5 per game
2019 Defense gave up 398 points or 23.5 per game
2020 (thru 5 games) Defense gave up 135 points or 27 per game
Combined total of last 39 regular season games was Defense gave up 880 points or 22.5 points per game
Record
2018 10-6
2019 11-5
2020 5-0
Super Bowls
As a Player 3-0
Coach 1-1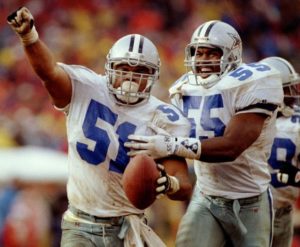 College and Pro Player
UCLA Athletic Hall of Fame, All-American Lb and Butkus Award Finalist
1st Team All-Pac-10
6 years with Dallas Cowboys
7 years with San Francisco 49ers 
3 time Pro Bowl
1st Team All Pro
2nd Team All Pro
So all you lunatics screaming to fix the defense that is missing at least 4 if not more starters that we need Dan Quinn to come in and "fix" the Hawks defense you are simply delusional.  You are caught up in a single moment of time that Quinn had very little to do with and that is he held the title of Defensive coordinator at the peak of the Legion of Boom. Had no input on building the LOB because he was in Florida. He was here to watch Kam and Wagner demolish Denver in the first ten minutes and the game was over. But when challenged the next year he fell apart and to prove that wasn't a fluke fell apart to a historic level in Atlanta. 
Additionally you think a coach who has given up literally more points than Norton over the past 39 games or 2 seasons and 5 games is the one to come fix our problems? Are we not giving up enough points? What in god's name are you looking at to think Quinn is a magical answer for injuries to so many of our defensive players.
Ken Norton has a better record than Quinn head-to-head, gives up fewer points and a ton more experience playing and coaching at the NFL level than Quinn. It is interesting when you think of the lone connection between Quinn and 2014 to now is that only Bobby Wagner and KJ Wright are still here and still performing at elite levels and who coached those two?? Oh yah, KEN NORTON!
This is not an attack on Dan Quinn, I can truly say when everything had been hand picked and set up perfectly for him he did not run it off the rails. But as soon as he faced some adversity he folded. The facts are the facts. Ken Norton did not come into this position with near the talent Quinn did in 2014 and now they sure seemed to have upgraded this past off season but with no pre-season, still a very young defense and the number of injuries you think Norton has to go?
The facts are yes they are giving up more points this year 27 instead of 22 but Quinn's defense is giving up 32 instead 24. In 5 games this season they are giving up 8 points more per game than the last 2 seasons combined and he is going to fix our problems?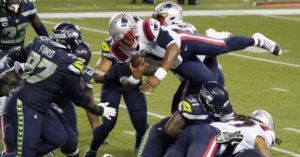 Here are the other facts of this season:
Week 1: Vs Atlanta they were up 14-12 at halftime and shut out the Falcons in the 3rd while Russ cooked for 14 points putting the game out of reach 28-9 at that point.
Week 2: New England's Cam Newton was 1 yard from winning the game when LB LJ Collier stuffed him for the Hawks win with 3 seconds to play.
Week 3: Dallas is on the Seattle 26 with 16-seconds to play when Ryan Neal picks Dak Prescott to secure the 38-31 win.
Week 4: In Miami they held the Dolphins out of the endzone 5 times and Miami had to settle for field goals the difference in the game.
Week 5: Again a Linebacker wins the game, Cody Barton on a 4th and 1 that if Minnesota gets they could then kneel for the win but Barton did his job and blew up the lead blocker and allowed his teammates to stuff Mattison giving the ball back to the offense for the Russ and DK show.
This defense is making plays when they have to and rising up in HUGE situations to secure 2 of the wins. Two 4th and 1's and twice Seattle stuffed that led to wins in the New England and Minnesota games. Norton has led them to a 5-0 record and doing it with 2nd, 3rd string and practice squad players to fill in the huge number of injuries they are dealing with.
Ken Norton and Pete Carroll know defense and they know how to fix it. This defense will not be the Legion of Boom and who knows if we will ever see such a defense ever again. But this defense will get better as they get healthy, as they get more time to play and work together and by the end of the season they will be much better than they are if they can stop the injury bug. 
Sorry, Dan Quinn may be a nice guy, he may add value back as a defensive line coach but in no way is he some big fix-it man, first of all he can't fix the injuries and second as proven in front of your eyes he doesn't compare to Norton in any measurement. So let go of the 2014 moment in time where the defense was as near perfect as you can get or remember that Norton was here to help build that defense and the only two left from that era are players he coached. 
Ken Norton has more than earned his position and in the end I am a Pete Carroll believer and if Pete is good so am I. Give me a consistent winner and Champion any day over someone who has not even come close in matching credentials.
www.elisportsnetwork.com