10/9/2020
(Auburn, WA) Days 31 and 32 were run this past Wednesday and Thursday of season 25 and we continue to race without the benefit of fans. The handle has surprised track officials as it has been exceptionally strong so much so that purses are being raised 10% for the final 6 days of racing. The average daily handle is more than 1.8 million up 67% but there are more hands in the cookie jar with all the betting services but still a significant increase. Our story on the increase is here.
That was the big headline of the week but now let's take a look at what happened on the track!
Marv' Returns to the Winner's Circle!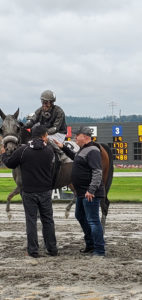 Todd and Shawn Hansen's 8-year-old "Oh Marvelous Me" defeated 4 others on Wednesday for his 10th career win and 8th victory at Emerald Downs. Marv' had been racing in Southern Cal where he picked up a win and a 4th at Santa Anita and a 3rd at Del Mar before trainer Blaine Wright sent home to Emerald.
In his 1st outing he ran an even 4th and then with that effort under him he ran a perfect race with leading jockey Alex Cruz where he sat just behind the front speed, never far back, skimmed the rail and opened up for a length win over 6-5 favorite Windribbon. Marv' went off as the 3rd choice at 3-1 but won like an odds-on choice.
Oh Marvelous Me's career mark is now 10-8-8 from 40 starts winning at a 25% clip. He also placed 3rd in the 2018 Longacres Mile less than 2 lengths behind the winner Barkley. Marv's career earnings are now more than $220,000.
Lolo Paniolo scores feature win on Thursday
Lolo got a patient ride and well timed from Javier Matias to score his 2nd win of the season. Both times he has been overlooked by the betting public winning for the first time back in July at 31-1 and then on Thursday at 8-1.
Lolo broke 4th and sat chilly in the mile race all the way down the backstretch and began to move on the turn. By the top of the stretch Matias burst away to take a length and a half lead and maintained that all the way to the finish line.
Lolo Paniolo races for Kama'aina Thoroughbreds and is trained by Kay Penney-Cooper. Lolo is a win or nothing type with a career record of 3-0-0 from 17 starts and 2 for 5 this season. He has now earned more than $33,000.
Jockeys
Top Jock Alex Cruz added to his lead with 6 wins this past week. He split the difference with 3 wins each day. Cruz began it with that win on Oh Marvelous Me at 3-1 in the 2nd on Wednesday and then scored on Pistol Power at 5-1 which was P-P's 3rd victory of the season and back-back. Pistol Power is trained by Rigoberto Velazquez and owned by Rancho Viejo. Cruz wrapped up the day winning the nightcap on Emma's a Beast at 7-5, the bettors finally caught up with Cruz.
On Thursday he got the head bob at 1-1 on Coastal Jazz in the 5th race. Cruz then piloted Constant Craving who was somewhat overlooked at 5-1 in the 8th race and then finished it off in the 9th on the 2nd choice at 5-2 Urban Diva and did it in style by nearly 7 lengths.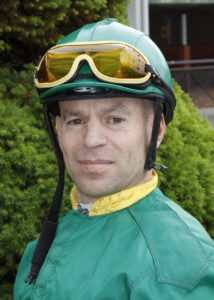 3 riders had solid weeks with 3 wins each. Juan Gutierrez doubled on Wednesday winning on the odds on choice Shifty Dancer in the 5th race and then guided Mixo to a rare win from an off the pace victory in the 8th at 7-2. Then on Thursday he won the 1st on the 7-5 favorite Sherm. Gutierrez recorded his 1,418th win at Emerald Downs and is now just one short of tying the all-time wins record held by Gallyn Mitchell.
Gary Wales kept pace with a triple winning once on Wednesday with Bishops of Compton at 3-1 and then doubled on Thursday beginning in the 3rd with She's Got the Power at 3-1 and then did not disappoint the bettors with an easy win on Baby Rocks in the 7th, kicking off the late Pick 4 at 7-5.
Leslie Mawing who arrived late after riding at Canterbury in Minnesota also had 3 wins and in a strange little twist Mawing won his first on Wednesday with the biggest favorite of the week. Mawing roared to an easy win on Club Royale in the 3rd by nearly 8 lengths and returned just $3.20. Mawing would go back to back capturing the 4th as well riding Purely Political to a 2 length win who was the 2nd choice and paid $5.60. On Thursday Mawing would wait until the finale and took the rail to roll to a come from behind 2-length win on Peppered Appeal at a fat 20-1 and rewarded bettors with a $42 pay-off. So Mawing won on the biggest favorite and longest shot of the week.
Other winners this week included Javiar Matias with two and picking up a win were Cerapio Figueroa and Jennifer Whitaker. Top ten jocks that got shut out this week were Eddie Martinez, Alex Anaya and Jose Zunino.
Jake Samuels was not riding this week it is believed his wife was expecting their first child in Oregon. Additionally, James Wooten and Patrick Henry moved their tack to ride at the Grants Pass meet.
Top 10 Jockeys
1 Alex Cruz 57
2 Juan Gutierrez 45
3 Gary Wales 43
4 Cerapio Figueroa 34
5 Eddie Martinez 31
6 Javier Matias 30
7 Jake Samuels 19
7 Alex Anaya 19
9 Jennifer Whitaker 15
10 Jose Zunino 13
Trainers
In another oddity, in the vein of Mawing with the lowest and highest pay-outs, leading trainer Frank Lucarelli won the 1st race on Wednesday with "Haveyoulostyourmind" and then waited 17 races to score his 2nd win which was the last race of the week the 20-1 Peppered Appeal.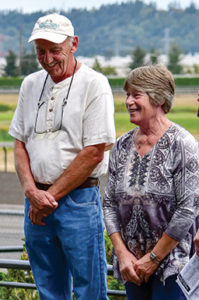 Manuel Ortiz, Sharon Ross and Rigoberto Velazquez also each had 2 wins this week. Ortiz got one each day in Wednesday's 4th race he sent out Purely Political and on Thursday had Baby Rocks in the 7th. Ross scored twice on Wednesday with Bishops of Compton in the 6th and took the 8th with Mixo. Velasquez  also got 2 on Wednesday with Shifty Dancer in the 5th and Pistol Power in the 7th and he and Sharon Ross traded wins from the 5th through the 8th races. 
Trainers with 1 win incuded Blaine Wright, Kay Penney-Cooper, Roddina Barrett, Alan Bozell, Steve Bullock, Howard Belvoir, Jose Navarro, Dan Markle, Doris Harwood and Terry Gillihan.
Top 10 Trainers
1 Frank Lucarelli 37
2 Jorge Rosales 24
3 Blaine Wright 19
4 Howard Belvoir 17
5 Joe Toye 16
6 Rigoberto Velazquez 14
7 Vince Gibson 11
8 Kay Cooper 10
8 Candace Cryderman 10
10 Chris Stenslie 9
The Betting Parlor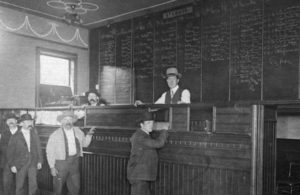 Wednesday was a day of favorites and resulted in a massive Jackpot 7 pay-out. The 20-cent Pick 7 bet paid out more than $26,500! The winning odds of the 7 were 3-5, 8-5, 4-5, 3-1, 5-1, 7-2 and 8-5.
The 50-cent Pick 5 on Wednesday despite no winner over 5-1 still paid handsomely at $860. The 50-cent Pick 4 was good for $355. The 9th race Superfecta also blew up even though the winner was 8-5 the place horse was 9-1, show 13-1 and the 4th place finisher a dandy 89-1 and the 10-cent combination of 5-7-4-3 paid $687!
Those pay-outs were all in the 9th race. Combined in the other 8 races there were just 3 pay-offs of more than $100 and none more than $171. The favorites dominated to the point of a $4.30 Exacta pay and a $4.90 Pick 3.
Thursday is why bettors all across the country have been attracted to the Emerald Downs cards. The first pick 4 were 8-5, 8-1, 3-1 and 5-2 paid a solid $306. The 6th race had a 5-1 shot win, 5-2 was 2nd, 22-1 3rd and 4-1 4th and triggered a $234 50-cent trifecta and a $213 10-cent superfecta.
The next 50-cent pick 4 began with a 1-1 then 5-1 the 3rd leg was 8-5 and the finisher was 5-1 and paid $221. The 9th race top 4 finishers were 5-2, 7-1, 25-1 and 29-1 and returned $150 on the 50-cent trifecta and $215 for the 10-cent superfecta.
The big pays were waiting for us in the 10th and final race of the day and week when  20-1 Peppered Appeal stormed through on the rail to pull away for the win returning $42 on the $2 win. Coupled with 6-1 French Coast was good for a $121 $1 Exacta. 3rd place went to 7-5 favorite Premier League for the $224 50-cent trifecta and 5-2 Coleinator finished 4th and the 10-cent superfecta paid $89.
The $1 DD paid $112 and was a 5-2 shot to the 20-1. The Pick 3 went 5-1, 5-2 and 20-1 and paid $462, the 50-cent Pick 4 was 8-5, 5-1, 5-2 and 20-1 paid $999 and the 50-cent Pick 5 was 5-1 with the 8-5, 5-1, 5-2 and 20-1 was good for an astounding $10,825!
There are 6 more days to go over the next 3 weeks and will remain on the Wednesday 2pm and Thursday 5pm post times.
www.elisportsnetwork.com