10/1/2020
(Auburn, WA) It's Cup Day at Emerald Downs, that's Washington Cup day and 3 $40,000 Stakes races are on tap. The Muckleshoot Tribal Classic for 3-year-olds and up will go as the 4th race, the 7th is the Washington Cup for fillies and mares 3 and up and the 8th is the Gottstein for 2-year-olds. Below is a brief preview of each Stakes race.
Meantime it looks like another great betting card with 11 races on tap and the Pick 5 was not hit yesterday so there is a $28,000 carry-over which will likely result in a pool of more than 200k. With big favorites in both the Washington Cup and the Gottstein it has a risk of being chalky but the flip side if the overwhelming favorites get upset even by the 2nd or 3rd favorites you'll likely see the pay-outs sky rocket. The low take-out Superfecta remains a popular bet and they have been paying well this year. 
Fans are still not allowed at the track so racing remains on the current Wednesday-Thursday schedule with post time on Wednesday at 2pm and tonight at 5pm. Don't forget to check out Larry the SportsCat Lucky picks as he makes selections in each race. You can find his selection on the web site.
The Muckleshoot Tribal Classic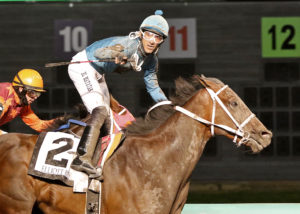 The M-T-C has a well matched field of 6 battling for the big check. There is plenty of speed in this race with Papa's Golden Boy and Gold Crusher. Plenty of closer's as well including the morning line favorite Elliott Bay and The Press. The question will be does anyone try to go with Papa's Golden Boy who had some dazzling wins at 5 1/2 and 6 furlongs but got caught in the Mt Rainier Stakes by Elliott Bay and then set the pace in the Longacres Mile but faded to 5th and now is being asked to last at a 1 1/16th.
Will Gold Crusher try to put some pressure on Papa's or lay just off and expect him to tire? Although he does not possess an eye catching closing move, The Press is in here and could be in mid-pack and has a very consistent closing style and certainly could run them down. The Press made a solid run in the Mile finishing 3rd. Elliott Bay will be the likely deep closer and was well back in the Mt Rainier before running down Papa's Golden Boy and then closed well to be 4th in the Longacres Mile but behind The Press. 
Unmachable is another that could certainly cause problems for this field. The Seattle Slew winner from early August then ran 2nd to Gold Crusher in the Derby and is coming off a win in an allowance. Makah Lane is the longshot at 8-1 and will have to turn things around with a 5th place finish in the Mt Rainier and a 6th in the Mile. One final interesting note Eddie Martinez had his choice of Gold Crusher or Elliott Bay and stuck with Elliott Bay.
Here is the Field:
1 Gold Crusher 4-1 Javier Matias up, trained by Frank Lucarelli
2 Elliott Bay 5-2 Eddie Martinez rides, trained by Lucarelli
3 Papa's Golden Boy 7-2 Gary Wales rides and trained by Vince Gibson
4 Unmachable 9-2 Leslie Mawing up, trained by Jack McCartney
5 Makah Lane 8-1 Juan Gutierrez rides, Bonnie Jenne trains
6 The Press 3-1 Jennifer Whitaker up, trained by Howard Belvoir
The Washington Cup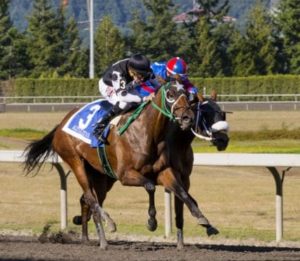 The field of 7 has all eyes on the morning line favorite Alittlelesstalk at 6-5. Alittlelesstalk is coming off a 2 and half length win in the Emerald Distaff with an eye catching win. She ran 2nd in the Boeing prior to that win and won an allowance. So who may be the one to upset "Talk? Don'tkissntell was just a head back in that allowance race  but has been far back in the next two so a big turn-around would need to happen. 
There are a couple of 3-year-olds that have been chasing Daffadil Sweet and Princess of Cairo that could make an impact. Windy Point won an allowance to start the year and then a 3rd and 4th in the Coca Cola and the Oaks while For You Only began with a 2nd in two allowance races then 2nd in the Coca Cola then 6th in the Oaks. There is another 3-year-old in Discreet Demons who would be a stunning upset if she took this race. Side note trainer Roddina Barrett has 2 in this race the favorite Alittlelesstalk and the longshot Discreet Demons and they are post positions 6 and 7. Just inside of her are two entries from Kay Penney-Cooper's barn Magical Spell and Fortune's Freude.
The other two are hard triers and have run decently in the claiming ranks but both were well back in the Boeing in their only Stakes attempt. Fortune's Freude and Magical Spell will both have to have their best effort and likely some racing luck to get the win.
Here is the Field:
1 Windy Point 8-1 Jockey is Jake Samuels and Trainer is Jose Navarro
2 For You Only 10-1 Jennifer Whitaker up, trained by Howard Belvoir
3 Dontkissntell 7-2 Alex Cruz rides, Trainer is Tom Wenzel
4 Magical Spell 6-1 Rider is Gary Wales and Kay Penney-Cooper the conditioner
5 Fortune's Freude 9-2 Javier Matias is up and Kay Penney-Cooper trains this one two
6 Alittlelesstalk 6-5 Juan Gutierrez aboard for Trainer Roddina Barrett
7 Discreet Demons 20-1 Jockey is Jose Zunino and Trained by Roddina Barrett
Gottstein Futurity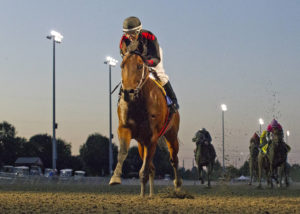 One word here it is Dutton. Dutton will make his 3rd career start for the Rising Star Stable who have had a great eye in picking tremendous Stakes horses and Dutton is their latest "rising star". Dutton has never trailed in either of his races. To be fair he was supposed to start a Maiden Special Weight in early August but he got riled up at the gate and was scratched. His first start then came in the Lads Stakes and he blew away the 9 horse field by 9 lengths at nearly 8-1. Dutton then destroyed an Allowance field winning by 14 at odds on. He comes in with Jennifer Whitaker aboard the winningest female rider at Emerald Downs and the only female to ever win the Longacres Mile when she did it on Wasserman. He is at 1-1 but don't be surprised if he is 2-5 or lower.
Who can beat the monster? Well first thing is young horses can be unreliable so Dutton must likely have to have an off night and if he does how about Coast Kid who was impressive in his only start winning by more than 3 with Alex cruz up and he was 18-1 in a MSW. Naval Escort at will launch from well back so if for some reason Dutton slows down he will be on the move in the stretch. He was beaten by Dutton this year by more than 10 lengths so a lot of stopping is gonna have to happen. 
Myuddermamasapaint has raced once and took 3rd but checked in the race with a large 11 horse field. He is a bigger horse and may be ready to step up for a big run. Easy Silence is an interesting entry a 2-year-old filly with a well back 4th place finish as her resume but she comes from the highly successful duo of owner Dr Mark Dedomenico and Trainer Mike Puhich. They don't start horses in races they don't believe they have a chance. The other in this one are out of maiden claiming and would need a big step up to have a shot.
Here is the Field:
1 Dutton 1-1 Jennifer Whitaker up and Howard Belvoir trains
2 Naval Escort 6-1 Jockey Jose Zunino and the Trainer is David Martinez
3 Ms Lynn 30-1 Leslie Mawing in the saddle and Roy Lumm trains
4 Coastal Kid 5-1 Rider is Alex Cruz and Jeff Metz conditions
5 Liberty's Finale 30-1 Cerapio Figueroa is up and trained by David Martinez
6 Easy Silence 12-1 in the irons is Gary Wales and Mike Puhich is the trainer
7 Great Gasby 15-1 Javier Matias rides and Glen Todd trains
8 Myuddermamasapaint 10-1 Juan Gutierrez gets the call and Jeff Metz trains
9 Whiskey Not Whine 20-1 Jockey is Eddie Martinez and our of the Frank Lucarelli barn
10 Perfect D 12-1 Jake Samuels rides and the Trainer is Jeff Metz
www.elisportsnetwork.com