9/29/2020
To begin this story we are first going to thank The Columbian's columnist Tim Martinez for spurring the idea on with a really thoughtful piece he wrote last week. (See Tim's Column here) The subject was simple why aren't we or can't play High School sports while other states are allowed. The one term that kept coming up is liability. Liability is one of those terms we all know but we really don't exactly know what it truly is.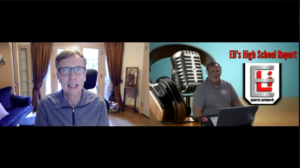 We wanted to know what is the actual liability issues here in Washington State and we reached out to former candidate for Governor and former Washington State Attorney General Rob McKenna and it turns out there are severe liability issues our schools and organizations such as the WIAA could face. McKenna was our guest on Tuesday's "Eli's High School Report" podcast. 
His main points were the State of Washington is either near or the absolute worst for state and local governments, school districts and other so called "deep pocket" entity. In a nut shell, in a civil trial if one party sues another for something that was not their fault and they can also claim a school district for example is also partly to blame the jury can assess the blame by percent. So in the most extreme cast that a jury found an individual responsible for 99% of say a Million dollar claim and the school district was responsible for just 1% then the school district is on the hook for just $10,000 of the Million. However, if the person responsible for 99% or $990,000 and can't pay it, then the school district is now responsible for paying it all. 
McKenna says this is why you see state, county and city governments always settling claims due to the potential loss based on things completely out of their control such as the ability of another party being able to pay their share of a judgement. McKenna added a lot of information as to what schools and the WIAA have to consider and with a road map to re-opening schools and sports.
Check our interview with McKenna below. 
We did exactly what McKenna suggested we do and have linked several other stories regarding liability for schools and sports.
From California Globe in a story written by Evan Symon: California Bill limits Covid liability
From Carrier Management Blog: Schools dogged by Unaddressed Covid-19 Insurance Liability 
Here is the actual text of the California Bill
www.elisportsnetwork.com