9/14/2020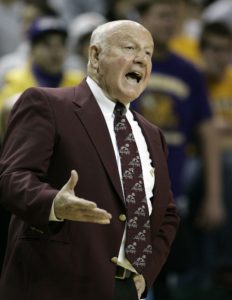 The state lost one of the greats today, when Ed Pepple passed away due to cancer. Pepple coached the Mercer Island High School basketball team for 42 years.
In his tremendous tenure at MIHS, Pepple accumulated 958 wins along with 4 state titles before retiring in 2009. His Championships came in 1985, 1993, 1997 and 1999. Pepple's 1981 team was his unofficial first and ultimately 5th state title as his Islanders wer half of the most disputed basketball outcome in state history. The game played in the Coliseum in Seattle, home of the Sonics at that time but there was an issue with the horn that sounds at the end of a quarter. So the time keeper had to blast an air horn into the microphone when time ran down.
In waning moments of the game Mercer Island and Shadle Park were tied with 6-seconds to play. Pepple's son Kyle went to the line where he missed the first shot and sank the second to give Mercer Island a 65-64 lead. The Highlanders worked the ball up the floor with defensive pressure from M-I. The ball got passed to Greg Schmidt on the right baseline and he barely touched it with a touch and re-directed shot basically when the horn blew. One official counted it and the other of the 2-man crew waved it off. They quickly got together and without talking with the score keeper or timer they counted the bucket and left the floor leaving a stunned Mercer Island team and fan base wondering what the heck happened while Shadle Park erupted in celebration. 
Many in attendance were convinced the shot was late including one humble sports announcer who was calling the game. Bob Robertson the voice of WSU Football and Basketball and also just recently passed away said this on his broadcast of that moment: 
"Full court pressure now by Mercer Island. Ball in … Five … four … three … two … one … Ray with the ball throws it under and it's over and they didn't get the shot…. Yes they did! Oh! Mercer Island got robbed! … They called it good! It wasn't good! The clock had run down before the shot from the right side and Mercer Island got robbed of the state championship!" 
Here is the final sequence from Kyle Pepple's free throws to the disputed basket by Schmidt. This clip is from a Shadle Park highlight video and so there is an ABBA tune playing and you can not hear the sound from the game. But the critical time is seeing an M-I defender raise his arms in victory at the same time it appears the shot is still in Schmidt's hands. It is very close so you can see why this has not been an easy game to get over if you are on the losing end.
[embedyt] https://www.youtube.com/watch?v=mIXMkkfcVBY[/embedyt]
Pepple had a hard time letting that one go and never did really get over it. His teams would go on to lose state title games 2 more times before winning the "finally" State Title in 1985.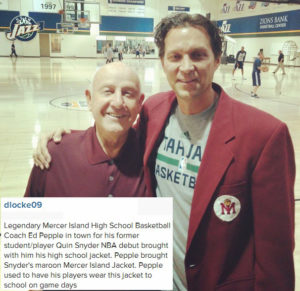 Among those that went on to college and beyond was current Utah Jazz head coach Quin Snyder. Snyder, who graduated in '85, had a tremendous run under his head coach. Pepple coached him up to being a 2-time state player of the year and a McDonald's All-American.  Not to mention achieving the No. 1 ranking in USA Today's high school rankings.
We couldn't possibly honor Coach Pepple with just a video of a heartbreaking loss. We found a highlight video of all 4 of his State Championships created by the Mercer Island Basketball team. His wins over Curtis in 1985, Ferris is 1993, Mount Vernon in 1997 and in 99 against O'Dea are just the tip of the iceberg of the "what if's". Coach Pepple's teams had the 4 titles but also 4 2nds and 4 3rds. He easily could have double the Championships losing by 1, 4, 3 points in 81, 82 and 85. 
He would finish with 4 State Titles, 4 2nds, 4 3rds, 3 4ths, 2 6ths, 1 7th and 1 8th place trophy. The only one he didn't win was a 5th place trophy at Mercer Island. He took the Islanders to the trophy round at State 19 times and 12 of those he finished in the top 3 meaning when Pepple had a team in the tournament they were very likely a team you didn't want to face.
Here is the highlight reel of Pepple's 4 State Championships.
[embedyt] https://www.youtube.com/watch?v=Oes_OogHjao[/embedyt]
Ed had himself a quite the individual career himself. A graduate of Lincoln High School, he would go on to play at Everett Community College and Utah, even reaching the NCAA tournament with the Utes. Much like his later coaching years, the 5-9 guard was known as a leader.
His coaching career started at Fife High School as he returned to the state of Washington. He was with the Trojans from 1958 to 1963. Pepple would then coach at Meadowdale (1964-66) and Mark Morris (1967-68) before finding his permanent home at Mercer Island. His run with the Islanders is something that isn't seen in modern times. The longevity and the winning that he did with MIHS will be something that is talked about in the state forever.
At the time of his retirement in '09, Pepple had a record of 952-306 which has him comfortably sitting in the top spot in state history. A spot that will not be reached anytime soon.
Ed passed away from cancer surrounded by his family on Monday in his Mercer Island home. The 88 year old lived his life the way he wanted to, on the hardwood. No services had been announced at the time of this writing. 
www.elisportsnetwork.com