9/7/2020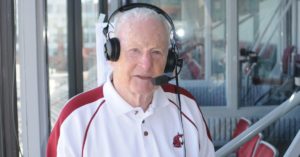 Cougar nation is in mourning with the loss of "the Voice", Bob Robertson the longtime play-by-play announcer for Cougar Football and Basketball. It was reported first by 247sports that the 92-year-old passed away today at his University Place home.
Robertson was the play-by-play man for Cougar football from 1964-2011 where he stepped back and took an analyst role until he retired in 2018. He also called the Cougs Basketball game for 24 years.
Robertson also called decades of minor league baseball in the Pacific Coast League, he was on Seattle area television as a sports anchor he called boxing, filled in with some Seattle Mariner coverage, was the voice of Notre Dame in the 50's and did several State High School events as well.
He was born in 1928 in Fullerton, California but ended up in Blaine and is a Borderite alum. He then attended Western Washington University where he studied broadcasting. His first fulltime broadcasting gig was being the voice of the Wenatchee Chiefs minor baseball team in 1948.
ESN talked with longtime and now retired U-W football and basketball play-by-play man Bob Rondeau who was saddened to hear the news and called him "As iconic at Washington State as the Cougar itself. I always looked forward to our visits at Apple Cup time. Respected him immensely and always felt that respect was mutual."
Rondeau said the "Robertson was such a wonderful connection to a different era in college athletics but a pro who was able to move forward with the times. There simply won't be another like him!"
Robertson was inducted into the College Hall of Fame, broadcast division, Washington sportscaster of the year multiple times, 1995 Broadcaster of the year, inducted into the Pierce County Hall of Fame among other awards but likely the most precious to Robertson was having the Martin stadium radio booth re-named the Bob Robertson Broadcast Suite.
Robertson was preceded in death by his wife of 59 years, Joanne. They have 2 sons and 2 daughters and 7 grandchildren.
You can read the breaking story done by John Witter for 247sports here.

www.elisportsnetgwork.com