9/6/2020
(Auburn, WA) The field has been set for the 85th running of the prestigious Grade 3 $100,000 Longacres Mile set to be run for the first time on a Thursday. Of course due to the Covid-19 restrictions and no fans allowed at the track the schedule was set for 2 days a week and on Wednesday and Thursdays. The big race is set to run as the 8th race on the Thursday night card and will go at ab out 8:30pm.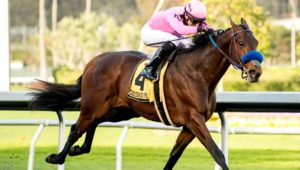 22 nominated and filed of 10 entered at noon on Saturday at the Emerald Downs race office. Last year's 2nd place runner Anyportinastorm was the high weighted nominee and owner Peter Redekop and trainer Blaine Wright decided it was not in the best interest of the horse to bring him up from California so he is one of the 12 nominees who decided not to run. However, Redekop and Wright are not out of the Mile they instead will run Anothertwistafate. The 4-year-old Kentucky bred hasn't run since the 2019 Preakness or 15 months ago. He has been working for quite some time at Golden Gate and has a lifetime record of 3 wins and 2 seconds in 7 lifetime starts with more than 300k in earnings. Anothertwistafate has been made the 8-5 morning line favorite and will break from the 4 gate with Washington Hall of famer Juan Guttierez getting the ride.
The next two are 9-2 shot Five Star General with 2 time Mile and 2-time Kentucky Derby winner Mario Guttierez riding. Five Star General ships in from Hastings where he boasts a 3-0-1 record form 4 starts. The Kentucky bred had been racing on the east coast breaking his maiden at Laurel Park in the Fall of 2018 and then winning his first Stakes at Aqueduct. He then floundered a bit with his next best finish a 2nd place that he actually got moved up from 3rd being on the good side of a DQ.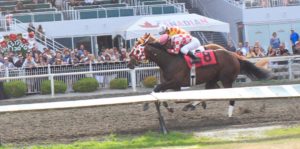 It was after that race that Five Star General was turned out for a rest and then sold privately to Glen Todd who owns and trains him. He brought Five Star out to Hastings where he has been nearly perfect. Todd is firing all of his best shots at Emerald Downs because he also has the 3rd choice of the morning line He's the Reason at 5-1. Both of the Todd entries are multiple stakes winners and will no doubt impact this race one way or another. If there is any question that the Canadian pair will be ready all you have to do is look at last Thursday's Oaks Stakes where Todd brought in Princess of Cairo to take on undefeated Daffodil Sweet. Princess of Cairo ran past the 1-5 favorite for the win so Todd knows how to have his charges ready.
Some may think the local representation may be less than it has been over the past few years with horses like Barkley, Stryker Phd, Noosa Beach and Wasserman to name a few. This year it appears the best chance might be Elliott Bay who is coming off an impressive win in the Mt Rainier Stakes where he ran by Papa's Golden Boy. Elliott Bay is 8-1 and owned by Chad and Josh and trained by leading trainer Frank Lucarelli who already has 5 Stakes wins this year. Eddie Martinez who has 4 Stakes wins this season including on Elliott Bay in the Mt Rainier will get the mount.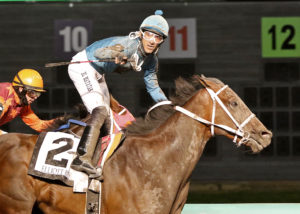 Papa's Gold Boy is another local who brings a lot of intrigue into this race. Papa's Golden Boy may be the fastest horse on the grounds and has shown that off winning speed in two sprints breaking his maiden at 5 and half furlongs by a little more than a length after jetting out to a 5 length lead. In the follow-up allowance at 6 furlongs he led by 12 at one point and finished with an 8 length advantage. In both races he fired a :21.36 & :21.37 quarters. 
He just failed to last in the Mt Rainier at 6 and half but jockey Gary Wales and trainer Vince Gibson have been working with him trying to get him to settle in and save more for the end. If they can get the easy which they should but if they can slow this guy down on the back stretch it could make this a very interesting race. Regardless of how he finishes he is going to impact this race. He is 10-1 on the morning line.
The rest of the line-up includes Take Charge Deputy at 12-1 with Cerapio Figueroa aboard. Jorge Rosales the 2nd leading trainer brings this one to the track after he finished a solid 3rd in the Mt Rainier just a neck behind Papa's Golden Boy for 2nd and about 3/4 of a length behind Elliott Bay. He won his only other start at Emerald on July 15th in an Allowance race where he was 24-1. After the solid effort in the Mt Rainier he will need to be taken seriously.
Makah Lane with Jake Samuels is 15-1. Makah Lane won an 11-horse Allowance and then finished 5th in the Mt Rainier. The Press at 20-1 is coming off a win in an Allowance race and Jennifer Whitaker will get the ride. The Press is somewhat unknown as he was always overshadowed by Barkley where many times The Press was entered with Barkley to fill races. The Press has been getting better with each start this year running 5th then 3rd and then winning a 25k claiming. Likely will have to take another big step in improving to be a threat in this one.
La Waun is also 20-1 and Patrick Henry Jr gets the ride. La Waun just missed winning 3 straight when he fell short by a head in his last. All have been either claiming or optional claiming events and despite going well right now will be in for his biggest test of his life in the Mile.
The longest shot on the M-L is Hollywood Heat at 30-1 with Alex Anaya aboard. Anaya just might be the bet thing going for this outsider as Anaya has brought in the most longshots this season so he is not just happy to be in the race, Anaya clearly believes he can win when most others don't. Hollywood Heat also likes to surprise the betting public winning his maiden at Golden Gate at 10-1 and winning an allowance race at Emerald Downs in his last at 51-1. 
Here is the full field with post positions, odds, weight and riders:
The field for the $100,000 Longacres Mile (G3)
1: Elliott Bay (8/1), Eddie Martinez, 121 lbs
2: Five Star General (9/2), Mario Guttierez, 122
3: The Press (20/1), Jennifer Whitaker, 114
4: Anothertwistafate (8/5), Juan Guttierez, 118
5: He's the Reason (5/1), Alex Cruz, 122
6: Hollywood Heat (30/1), Alex Anaya, 114
7:  Papa's Golden Boy (10/1), Gary Wales, 117
8: Take Charge Deputy (12/1), Cerapio Figueroa, 118
9: Makah Lane (15/1), Jake Samuels, 117
10: La Waun (20/1), Patrick Henry Jr., 115
Kentucky Derby remains best betting race
Authentic stunned racing fans with his impressive front running win in the Kentucky Derby holding off odds-on choice Tiz the Law but really it was simply the 3rd favorite beating the top choice. In fact the top 3 betting choices finished 1st, 2nd and 4th in the run for the roses and the pay-offs once again prove why this is the best betting race of the year.
Even with the field cut to 15 instead of the usual 20 the pay-outs are crazy. Let's start with maybe the most amazing stat to show just how much money is in the pot and it's the simple $2 show bet. Since 2000 13 favorites have hit the board including a 7 year run from 2012-2018. The average odds over those 13 races for the favorite was a hair over 3-1 (3.15-1) That gives you an average pay-out of like $8.10. The show pay-outs, including this year's 3-5 favorite who would have paid $3.40 to win also paid $3.40 to place and $3.20 to show was the lowest pay-out over those 13 years. The average show pay-out for a favorite is $4.53. The highest pay for a favorite was $5.80 whan Always Dreaming won it at 9-2.
There have been 4 favorites at 5-2 hit the board and not one of them paid less than $4.20. There were 3 2-1 shots and they paid $4.80, $4 and $3.60 the only other sub $4 pay over the last 21 races and that was Nyquist in 2016.
Certainly all straight bets were profitable in Saturday's version with Authentic returning $18.80, $6 and $5 to show. Tiz The Law again returned $3.40 and $3.20 and 46-1 longshot Mr. Big News flashed home 3rd and was good for a $16.80 show return.
The chance to win big was again there but like most times to find a longshot the "all" button would have needed to be pressed. But let's take a look first the Exacta was ok with a 3-5 running second but remember even though Authentic was 8-1 he was the 3rd favorite just behind Honor AP who was the second choice at 7-1. The Exacta paid $20.50 on the $1 pay or 19-1.
But the all button now comes into play for the Trifecta and Superfecta. Let's say you like the top 3 you could have bet 16 Honor AP, 17 Tiz The Law and 18 Authentic or 16-17-18 with 16-17-18 with All, meaning hit the exacta and you win the trifecta. The cost to box the top 3 favorites for $1 is $6. The cost to add the all for 3rd in a 50-cent trifecta was $39 so yes $33 difference in your wager but was it worth it, lets see. The Exacta would have returned $20.50 for a $14.50 profit. The 50-cent trifecta paid $655.90 for a profit of $616.90.
Let's go to the 10-cent Superfecta. Same strategy we are going to box the top 3 believing we have the exacta but then going to go all  and all to cover the 3rd and 4th place finishes. The cost of this bet is $93.60 or if you believe the top 3 favorites were going to finish in the top 4 you could have wheeled the field or bet 16-17-18 with 16-17-18 with 16-17-18 with All and then move that all button to each place so 4 bets would cost a total of $28.80. Was the bet worth it? The 10-cent Superfecta paid $792.58 so the first bet of $93 would have made you a profit of $698.98 and the profit off the 2nd bet where you were sure the top 3 favorites would all be in the top 4 finishes was a whopping $$763.79.
The pools were well under from previous due to no fans allowed at the race but still full fields and bigger pots always equal better pays. This is what attracts bettors not number of races or race days. If there were more race cards of 9-12 races with an average of 8 horses there is not doubt the betting and popularity would increase. This would ultimately be better for the everyone with more money in the game leads to more breeding and hopefully you add a 3rd day and maybe a 4th day for some meets.
The betting results every year on the Derby should be the lesson horse racing learns that more simply is not better but quality and quantity should be the goal. Looking at Emerald Downs I would like to see them run 2 day a week meets until the horse population can support a minimum of 9 races and 7-8 horse per race average before thinking about adding another day.
www.elisportsnetwork.com