8/26/2020
(Centralia, WA) The Eli Sports Network is extremely excited to announce a 14-game Football Broadcast schedule this Fall beginning on Friday, September 4 at 7pm and offer them for free on the NFHS Network. The NFHS Network and ESN reached an agreement recently that will allow ESN to re-broadcast classic games from over the past several years and do so with no subscription required.
ESN's Communications manager Will Gaethle says "this is like when HBO offers a free weekend to let viewers who do not have a subscription a chance to test drive the product so to speak. The 14-games will be at 7pm on Friday nights and will allow anyone to watch without a subscription while that broadcast is on. "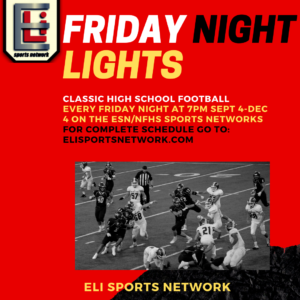 Gaethle says there were some conditions attached to this trial, by the way the only one in the country doing this is ESN but "We were not allowed to air any of the 2019 State Championship games, any games done by Root sports and only games done by ESN or our new affiliate ABC Jam." Gaethle says "this limited us in selecting games. We certainly wanted to pick exciting games and of course as many different schools as possible. But with the restriction on no Championship games from 2019 and none done by Root sports meant we could not do any 4A or 3A State Championship games. That takes a bunch of great games off the table to start with."
"So if you are wondering why the Chiawana vs Camas 4A Championship game or the Royal vs Lynden Christian 1A Title game or the Tumwater vs Steilacoom games weren't selected these are the reasons," Gaethle says. The other hurdle was the limit on only games we did the broadcast. This limits our Central and Eastern Washington games to choose from as we are growing but our library of games that would be good enough to fit in a limited 14-game schedule just wasn't available to us." 
Gaethle says, "we also ran across another issue that this process has really made clear to us and that is our own execution. We have been so focused on simply getting as many games up live as soon as possible that some of our production was not of a quality we could re-air them. Other issues were wifi issues that disrupted games or simply we lost large portions of the games so all these factors played into how we came up with our final schedule." 
The games will air every Friday night from September 4 through December 4 at 7pm. The games will be aired on the ESN/NFHS Network page and no subscription is required for these games. We should note that as a subscriber you do get access to all those other games we cannot air plus all games that have ever appeared on the NFHS Network including those Root Sports games. Also included are the other games and championships ever aired from all sports and from all 50 states. There are literally thousands of broadcasts you can go back and watch with a subscription of $10 a month or an annual subscription for just $70. 
ESN will continue to add other original content during the time of no sports, right now our podcast "Eli's High School Report" airs every Tuesday at noon. In the on-demand section we have all of the "Report" podcasts plus a 12 episode series on Re-Live the Madness where we created a highlight show for each of the 12 State Basketball Tournaments from this past March and Eli's All-Decade Team Broadcast for Basketball is up and is in 4 parts. More to come as well.
This is the link to the ESN/NFHS web page to watch our Friday Night Lights broadcasts for free and/or to subscribe if you'd like total access:
https://www.nfhsnetwork.com/affiliates/eli-sports-network 
Here is our 14-game Broadcast Schedule:
Eli's Friday Night Lights Schedule
Date               Match-up                                           Original Broadcast          
Sept 4            Camas vs Lincoln                                      8/31/2018               
Sept 11           WF West vs Black Hills                            9/28/2018                
Sept 18          Yelm vs Timberline                                   10/31/2019             
Sept 25          Liberty-Spangle vs Kalama                      12/2/2017                
Oct 2              Alm-Coul-Hart vs Sunnysde Ch              12/1/2017                 
Oct 9              Sumner vs Graham-Kapowsin                 9/22/2017                
Oct 16            Connell vs Royal                                       12/3/2016                
Oct 23           Bellevue vs O'Dea                                      11/25/2017               
Oct 30           Woodland vs Tumwater                            11/3/2018               
Nov 6             Union vs Puyallup                                     10/5/2019                
Nov 13           Kalama vs Napavine                                  11/30/2019              
Nov 20          Garfield vs Eastside Cath                            11/17/2017                
Nov 27           Woodinville vs Kennedy Cath                   11/23/2019              
Dec 4             Lynden vs Hockinson                                  12/1/2018    
www.elisportsnetwork.com