6/25/2020
(Renton, WA) The Governor's office and State Health Officials recently responded to the WIAA's request of what guidelines will be needed to re-open sports this coming Fall. This is the link to the WIAA website where you can look at each sports guidelines to meet before competitions can begin.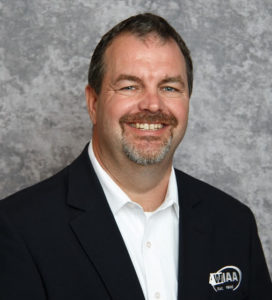 The guidelines were created with a team effort between State Health officials and the National Federation of High Schools medical experts. We talked with WIAA Executive Director Mick Hoffman who says these guidelines are what are in place now but things could change in a hurry. Hoffman says the WIAA Executive Board will meet on July 21 to hopefully make an announcement of what they "hope" they will be able to do when the Fall sports seasons begin but again, it will be a hope as conditions continue to change quickly.
Hoffman talks in depth with us in the below interview but warns parents, students and fans that if you want to see or participate in sports and activities this Fall there is only one way that is going to happen and that is to meet these guidelines and if they change then to meet those guidelines. Hoffman says you can have your own opinion, beliefs and thoughts but those will not help get us to a place where we can compete.
WIAA Executive Director Mick Hoffman gives us the latest status update on re-opening High School sports this Fall
www.elisportsnetwork.com