6/10/2020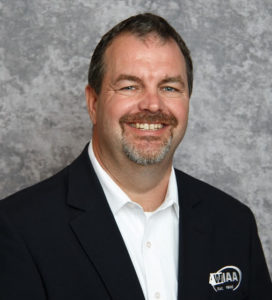 (Renton, WA) WIAA Executive Director Mick Hoffman joined us on our last episode of Eli's High School Report our new podcast launched late last month. We talked with Mick on a variety of issues including a decision for this year on the State Basketball formats a new Foundation game for schools to add an additional game to their schedule and an update on where we are for Fall Sports. You can watch the podcast in our on demand line-up of our subscription based ESN/NFHS Sports Network here.
Sports this Fall
WIAA Executive Director Mick Hoffman says he is more optimistic now than ever before about getting back to competitions this coming Fall. Hoffman was quick to say that it remains in the hands of the Governor's Office, the Department of Health and the State Superintendent but looking at how the Governor's phase in plan is progressing it is giving him a lot more hope to a relatively normal re-launch this September. (Hoffman talked with us for our Eli's High School Report Podcast and the portion of the interview regarding sports in the Fall is down below.)
Hoffman says there are still plenty of chances for things to go off the rails or to be different in different area's of the state and so the Executive Board and the WIAA staff have been working on multiple scenarios and plans to get kids back to competition as soon as possible. Hoffman says ideally all the sports will be allowed to participate as scheduled this Fall but they are ready to make adjustments from delaying the start of a season, possibly cutting a season short to shifting sports from where they are normally played to another time of year.
Part of this work was the NFHS (National Federation of High Schools) requesting some philosophical answers to 4 basic questions. Hoffman says this was part of detailing our plans and contingencies for the Fall. Here are the questions and the answers the WIAA have provided. (Link to full WIAA News Release regarding "Return to Play" guidelines.) 
NFHS Return-To-Play Questions
1. Will the WIAA conduct an athletics/activities regular season or championship if schools
statewide are closed to in-person learning (apart from regularly scheduled school breaks)?
Though many large schools and urban schools may only have distance learning, the WIAA intends to conduct a regular season and/or championships assuming the DOH supports the recommendation. At this time, the WIAA plans to begin the fall season as scheduled but is also examining a delayed start of September 7, 2020 (September 5 for football) as its primary contingency option.
2. Will the WIAA conduct an athletics/activities regular season or championship if schools are
closed only in COVID-19 "hotspots" in Washington (excluding participants from schools that
are closed)?
Although not ideal, the WIAA intends to conduct a regular season and/or championships even if all schools are not able to participate.
3. Will the WIAA conduct an athletics/activities regular season in sports deemed "lower-risk" for
COVID-19 transmission while cancelling athletics/activities considered "higher-risk"?
The WIAA intends to conduct all scheduled fall athletics/activities that are approved by the DOH.
4. Are there recommendations unique to Washington that we need to take into consideration
when developing our 2020-2021 plans? This could include modified seasons, modified rules,
etc.
The WIAA intends to commence sport/activity-specific work groups to recommend and evaluate modifications to rules. It is also recommended the Executive Board prioritize modified season options and determine decision deadlines.
Hoffman says he understands the impatience of not knowing exactly how the Fall is going to look regarding sports but quickly says it is really a waiting game. The State Department of Health is expected to issue rules and guidelines in re-opening high school sports sometime over the next few weeks. Hoffman says he hopes to have as many final answers as possible in early July but cautions that even when they are notified that conditions could change quickly if the virus comes back stronger than anticipated.
Mick Hoffman from "Eli's High School Report" Podcast on Sports in the Fall
State Basketball Tournaments
The WIAA had announced 3 different proposals to change the format of the current tournaments. We will not go through everything that has been discussed, debated and worked on other than to say the WIAA Executive Board decided that changes had to be made as venue costs continue to increase while overall attendance continues to fall.
One of the issues is the format of the current structure where Wednesday of the 4-day run is a loser out game meaning 4 of the 8 teams playing that day are out. The board put out a poll asking for input on the 3 choices and it was overwhelmingly for proposal #3 that would shift most of the tournament action be played in the Yakima SunDome. But the attractive part of this proposal was each team would now be guaranteed 2 games in a big arena. After 2 days of play the final 4 would move on to the next weekend at another large venue that could be in Tacoma, Yakima or Spokane.
So it surprised many people when the Executive Board voted to delay changing the Tournament format for the 2020-21 season. We asked Hoffman why offer up these 3 proposals and stir up a lot of discussion only to not change anything? Hoffman says first the discussion is a must and they need input from coaches, administrators, players, parents and fans so the discussion was needed and needs to continue.
Second, the poll did not get a lot of reaction from administrators and the Board wants to hear more from the group in charge of the schools budget and how these proposals will impact them, positive or negative. Hoffman says there other reasons they felt it necessary to hold sway  for another year including the Corona virus. Hoffman as we will find out later in this story is optimistic about sports occurring and a fairly "normal" schedule but he can not be 100% that there won't be an interruption of play that could impact the regular and/or the post seasons.
One other issue is the WIAA has leases with the Tacoma Dome, Yakima SunDome and Spokane Arena through next year so it was decided that this was a great initial move to really winnow down the options that most people want now there will be time for follow-up. Hoffman says with so much uncertainty what they didn't want to do is make long term decisions in haste and create bigger issues than anticipated.
It has been reported that with this move that basketball will stay the same as last year but that is not true. Hoffman says at a minimum the 3A classification and maybe the 1B classification will have 20-team State Tournaments due to the number of schools in their classification. 3A is now the 2nd largest classification in the state with 79 schools and 1B is the largest with 87 schools. However, Hoffman says they need to confirm how many of those schools have basketball programs competing in the 1B classification. Many small schools have a very limited sports program if any at all and others could be combining with another school and be in a higher classification for basketball. So once a formal count is done for the 1B's there is a good chance they will also have a 20-team tournament.
Hoffman says another round potentially a loser out-play-in game will be added for the 12-20 seeds to get to a final 16 and then the current format would take place. The Executive Board will continue to work on this but now will have more time to take everything into consideration. One final point of contention was some of the teams seeded into the tournament through the RPI formula were clearly miss-seeded. 1A boys champions King's came in as the 14 seed and ended up as Champions. Most people felt King's was at least a top 4 team if not higher.
Hoffman says this situation is unrelated to the new format they are considering because it will now be addressed through the new seeding committee process that will begin this coming sports season.
Foundation Games
The Executive Board passed the  formation of the foundation games. These games are an extra contest that can be scheduled by basketball, soccer, baseball, softball and volleyball teams. Schools would have to pay a rights fee for the extra game to the WIAA but in turn will get to keep all the gate and sales from that extra game. Hoffman says the fee will be tiered for the sport and classification to prevent the schools from losing on these games.
Hoffman says the foundation games have been done in other states some take the whole gate but the WIAA Exec Board wants a partnership as they establish a new non-profit foundation. The goal is for the foundation to be formed where donors can make tax-deductible donations and they can raise further dollars through fundraisers. Hoffman says the foundation can then help with a multitude of costs the WIAA faces with declining revenues yet a push to further expand sports and new activities as official WIAA events.
The foundation will also fund scholarships and help with basic costs for students to simply participate. Schools will have to sign-up for the extra game prior to the season and is available only for varsity teams this first year. The game will count for RPI calculations and for their regular season overall record.
If you'd like to read the WIAA full release click this link.
Hoffman says they will continue to update all information as they continue to collect details and information and look forward to getting back to competing this Fall.
www.elisportsnetwork.com