5/25/2020
By Paul Beattie, ESN
(Centralia, WA) ESPN once again is changing their Monday Night Football announcing crew. As I was reading the story I noticed in the comments the clamoring for old school announcers. Names like Howard Cosell, Frank Gifford, Keith Jackson, Dick Enberg and although still on the air, Al Michaels. It got me to thinking so what is the state of sports announcers? Not talk show hosts but those who called the games, color analysts and studio hosts.
The thought process evolved into a broader picture of sports broadcasting in its current state and what will it be in the future? In this story that evolved several times after talking with several different people with different perspectives and experiences we examine many questions. So what happened to the broadcaster of yesteryear? Is their still a need or even a want and if so how do we do it in this day and age to name a few.
In this story we had the privilege of talking to many who had or remain in the business. We talked with former University of Washington Football and Basketball Play-by-Play man Bob Rondeau. We talked with former KJR morning and afternoon hosts Mike "the Gasman" Gastineau and Mitch Levy. We also talked with the Olympia area's voice of High School sports for more than 50 years Dick Nichols. Plus I have been at this for quite some time and grew up in the 70's listening and watching many of what I consider all-time greats in broadcasting.
Let's set the tone and re-visit where sports broadcasting started and where it came from and the singular word for that is radio. Radio was of course prior to television and just like radio shows such as "The Lone Ranger, Ozzie and Harriett, Dragnet" it was all about theater of the mind before these and more eventually appeared on the box in our living rooms. It was quickly learned back in the 20's that describing a ballgame like a P-A announcer would not work on radio. This led to the play-by-play broadcaster whose job was to relay not only what was happening on the field but the overall view, the setting and most importantly the emotion. People wanted to feel like they were at the game and their only chance would be to listen to the radio broadcasters they were literally your eyes and ears of what was happening.
The play-by-play broadcaster would soon be joined by another announcer in the booth called the color announcer. It was the job of the play-by-play announcer to lay out the basics, someone you could count on to give you all the score, time on the clock, the formation of a play, whether it was a run or pass, a break-away steal and dunk or a ball or strike. The color now called an analyst would provide some of the deeper looks at what was transpiring such as who got a key block to spring a big run, what defense a team is likely to be in at the end of a basketball game trying to preserve a 1-point lead or what type of pitch is coming with the bases loaded and an 0-2 count.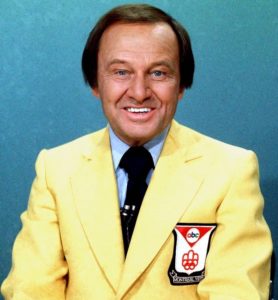 Television was later introduced and a new style of broadcasting was introduced where announcers didn't have to paint the picture or constantly give scoring updates or time checks, it was more conversational. This led to the expectation of more from the color commentators or analysts even adding a 3rd person either in the booth or on the sideline.
Television also introduced us to highlight shows, studio pre-game shows and other sports coverage that may have been ignored in the past. There was more focus on the build up to events or games. Then came ABC's Wide World of Sports and the marathon coverage of the Olympics.
Some of the most important news stories were broken by sports announcers simply because they were on the air or in the location of some breaking news. ABC's Jim McKay was hosting the 1972 Summer Olympics in Munich, West Germany at the time when terrorists from the Palestinian group "Black September" broke into the Olympic Village and took several Israeli athletes hostages. This clip is from a retrospective of that incident and McKay was on the air for 14 straight hours without a break bringing this huge news story including the brutal ending.
Clip of Jim McKay covering the Munich Olympics
Then there was Howard Cosell on Monday night of December 8, 1980 during a Monday Night Football broadcast between the New England Patriots and Miami Dolphins when the news of John Lennon being gunned down outside his apartment broke. The eyes of America were watching the game when Cosell broke this news.
Howard Cosell announcing the death of former Beatle John Lennon
Adding to this is the audio between Cosell and Frank Gifford during a break on whether or not to make this announcement. 
And Al Michaels was in San Francisco when the big earthquake hit the Bay area during warm-ups prior to Game 3 of the 1989 World Series between Oakland and the Giants.
This was the actual live broadcast
The point of these clips to our discussion is there was a time that a journalist be it newspaper, television or radio was a journalist first and news, sports or weather second. Live announcers were considered journalists and still should be as they are describing what is happening for the sake of not only entertainment but history.
But now with 24-hour news, Twitter, Instagram and Facebook to name a few it has changed the landscape of how we consume and receive news. (When I say news I lump news, sports and weather together.) Is this the problem? It is but I think just a tiny portion to what has been a rapid evolution in sports broadcasting and reporting. The impact the new delivery system has created is live video stream, live audio, high quality still pictures and most of all instant reporting.
With the instant reporting also comes more, a lot more. There isn't a game played that someone isn't live tweeting scores or updates. People live video streaming with their phones, and posting big plays or scoring plays within seconds of them happening. However, is this the root cause of where we are today? No it is just part of the overall evolution.
Let me talk big picture and this may sound odd to many but many of us we all know this had tremendous impacts. There were 2 actions taken by Republican President Ronald Reagan in 1987 and Democratic President Bill Clinton that gutted the media industry. In 1987 deregulation was one of Reagan's agenda items and he re-voked the Fairness Doctrine which forbade a bias along with news blackouts. For example in the midst of the Civil Rights movement a television station in the south refused to cover several momentous news stories in regards to this subject and they lost their broadcast license.
The Fairness Doctrine forced television and radio stations to report all news and it also gave them an out when conflicts arose regarding potential sponsors. If a sponsor found themselves in a news story the stations had to report the stories or face license revocation. This is what gave the news much of it's independence. How could a business hold a station accountable for reporting a significant story knowing it could put them out of business?
The Fairness Doctrine was signed into law back in 1949 and for 38 years allowed television and radio news to be regulated which actually gave them the freedom to be an independent news source. What Reagan signed allowed stations to  frankly report opinion as news, bias their views and report unsubstantiated claims as fact.
The next hammer to fall on the independent media was Clinton's 1996 Telecommunications Act which allowed media monopolies. The National media in 1996 was owned by 52 different entities and now it's down to 6. This also allowed large corporations to not only buy massive numbers of Newspapers but also for the first time Television and Radio stations. This resulted in a buying frenzy and the dooming of home grown media.
The Associated Press's Kathleene Parker wrote this story in 2019 on how deregulation destroyed the media's independence.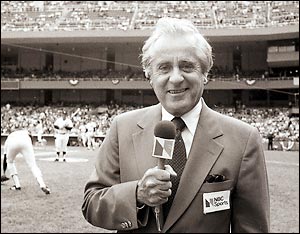 So why would I go into all this talking about sports broadcasting? The reason was to show what all reporters no matter what subject they had been assigned were expected and held to a serious standard of reporting. The other issue is opportunity. When I broke into radio in the late 1980's there were at least 5 AM radio Stations in Thurston County which had about 150,000 population. (For those who don't know it is where the State Capital Olympia is located.) The first FM station would start up in 1990. All of these stations were owned independently so there were 6 radio station ownership groups and 1 newspaper in 1990 in Thurston County.
In Thurston County alone there were 2 radio stations doing live play-by-play broadcasting of High School sports and they competed with each other for sponsors but at the same time worked together to try and avoid both of us at one game. This was the case all over the state. Lots of smaller radio stations independently owned and all with 24-hour live programming or there were some radio stations that were only allowed to operate during daylight hours.
Compared to today it was an odd combination of limited opportunity for the public to listen or consume information from only 5 or 6 sources locally but those sources each needed an on-air staff to cover their hours of operation. The station I got my first job with was KQEU am920 in Olympia otherwise known as KQ92. When I first began interning at the station there was a General Manager, Sales Manager, Program Director, Office Manager, Receptionist, at least 5 full time sales people in additional to the Sales Manager. The on-air staff included 2 full time news reporters, a morning show host, mid-day and afternoon drive host. An evening jock and an overnight DJ. There was a Music Director, News Director, Production Director and eventually I was named the first Sports Director plus at least 6 part-time and weekend announcers and a full-time engineer. One 5,000 watt daytime and 500 watt at night AM radio station had 20+ full-time salaried employees and another 6-10 part time workers.
This was not an unusual staff size, KGY was the long-time powerhouse station in the Olympia area and no doubt they had at least that many on staff and for sure had a much larger news staff. This made for opportunities in radio. It was similar in both Newspaper and Television. All 3 media arms had on-air staff, sales staff, technical crews, Administration and of course Owners or Ownership groups.
I often compared the radio and television business to Major League Baseball. You certainly have your Major League markets like New York, L-A, Seattle and all the big city areas are major markets. Then you had levels of markets from medium to small much like AAA and AA baseball. And just like the minor leagues in baseball that is where most in the business got their training. Young broadcasters learned and honed their skills everything from a DJ, to News Reporter to Play-by-Play announcer.
Many of those training grounds are now gone. The number of radio stations actually calling high school sports on a regular basis is fast disappearing. Many of these stations have been bought up by larger entities such as Clear Channel now Iheartradio, Cumulous and Entercom to name a few. Additionally there is now a push from the radio industry itself to further loosen ownership restrictions which would allow these companies to own as many as they want, period. Iheartradio prior to the 1996 law signed by Bill Clinton owned about 50 radio stations. In just 6 years they had jumped to owning more than 1,200 stations in 2002.
The training ground for play-by-play announcers, high school sports, was being taken away by the former local radio station now owned by a large corporate entity more interested in sound-alike stations that share on-air shows. This is when you began to see little hometown radio stations with no one behind the microphone for all or part of the broadcast day while some generic morning show that airs from Los Angeles or New York or Nashville could go out on any of the stations owned by the large corporation.
And for sports more damaging was AM stations going completely silent with just some National free broadcast like a news broadcast or filled with National talk shows and there was no local on-air opportunity with many of these stations. There has also been an increase in other sales of AM radio stations to religious groups or foreign language only stations.
I know this is a long piece but this is one of the bright spots of the new media with a blog post I can fully explain and give detail to a subject and not cut it short because I am limited to 500 words.
But this brings me back to the original question in the headline, is the new media killing traditional sports broadcasting? I was most intrigued by this question when I saw the number of comments in the Monday Night Football announcement I mentioned when I began this story where most comments were pining for old-school broadcasters. So I asked a poll question on our own social media asking for people's top 3 to 5 all-time sports announcers from play-by-play to color to studio show host.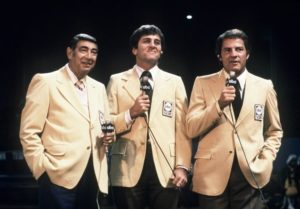 The results included these names, Howard Cosell, Frank Gifford, Al Michaels, Mike Tirico, Dandy Don Meredith, Vin Sculley, Dave Neihaus, Kevin Calabro, Bob Rondeau, Bob Robertson, Keith Jackson, Dick Enberg, Merlin Olsen, John Madden, Pat Summeral, Bob Costas, Jim McKay, Chris Schenkel, Bryant Gumbel, Curt Gowdy, Joe Garigiola and more from that era. Not one for Joe Buck, Troy Aikman, Jim Nantz, Tony Romo, Joe Tessitore or Booger McFarland. Really not many current broadcasters.
So the question to me is are the responses which appeared from all ages and yes a very unscientific poll but more of a snapshot combined with the number of responses to the MNF story it seems fans still want that old-school style. That product is still wanted but there is a struggle in delivering it with the new media.
Or are many of us simply waxing nostalgic missing those voices we grew up with or looking back through rose colored glasses and forgetting that at one time Howard Cosell, so beloved now, was voted in a poll in TV Guide as the most hated sports broadcaster where very 2 our of 5 were not fans. Yet in that same poll Cosell was also voted the most loved sports personality with 1 out or every 5 loving him so in the poll Cosell was the most loved and hated at the same time.
That kind of passion over current broadcasters is what seems to be missing. Sure we always hear the negative and those who don't like something but we don't hear people loving or even liking announcers. It's yah, he or she is alright or no I can't stand him. Can we ever get back to the by-gone era of sports broadcaster? When Frank, Howard and Don would arrive in a city for a Monday Night Football game they would get mobbed and treated like rock-stars. That doesn't seem to be the case these days, no reports of Tessitore and McFarland being bothered by a crazy fan base.
I had the chance to talk with several experts on this subject to get their thoughts. I decided to separate each interview.
Bob Rondeau (Voice of the University of Washington Huskies for 37 seasons, KOMO radio and television)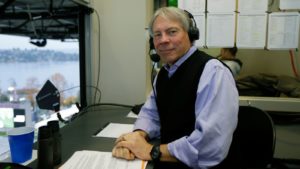 Rondeau had worked his way up through the broadcast ranks from news to sports to play-by-play with several stops along the way including as a horse race announcer at Turf Paradise in Phoenix. Rondeau says his biggest influence was Lindsay Nelson the longtime play-by-play announcer for the Chicago Bears. Rondeau talked about the old style of calling games on radio where great announcers could put you in the seats of the ballpark or stadium and you could feel the game through their voice.
Rondeau was hesitant to say that it's becoming a lost art and in fact pointed out several broadcasters that he believes are at the top of their game starting with NBC's Mike Tirico at the top right now. Rondeau did put I guess we will call it blame, on new technology. He said the interaction of the crowd at Husky games quickly changed when they installed the large video screen. The fans never got to see replays or up close video shots when you attended the game but when the big screen was added much of the immediate reaction to big plays or controversial plays was muted until it was replayed on the big screen.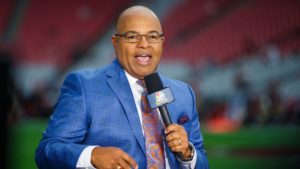 He thinks the same thing is happening with social media where someone on the sideline or with a better angle in the stands can record the game and post it on social media and fans are distracted with the amount of time spent on their phones while watching the game.
Rondeau says he does think there is a danger in today's world of losing the base of what he believes makes a good broadcaster and that includes being trained as a reporter. He says those skills roll over into every aspect of broadcasting because regardless of whether you are doing a story on a play or describing a play happening in front of you both are reporting skills.
Rondeau remains positive though about the future and agreed that the training ground of little family owned radio stations is drying up. He thought the on-line opportunities have opened the door for everyone to get into the business. He hopes as we continue to develop the new technology that in the end it will create more chances to get into the industry.
Mike Gastineau (21 years at SportsRadio KJR, Author and Public Speaker)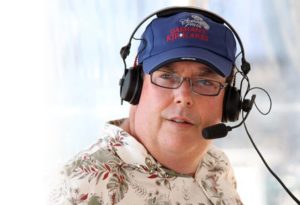 Mike Gastineau commonly referred to as "the Gasman" has been in the broadcast business for decades including a 21-year run at KJR 950am in Seattle. The Gasman has done every aspect of Sports Broadcasting from talk show host to play-by-play, color to studio host. Gastineau was also one who worked his way from college radio at Indiana through the small stations up to the major leagues.
He says there is a big concern that the traditional training grounds are being lost to the new media but more concerning are simply the total number of opportunities. Gas says with the new media it feels still disorganized but believes there is a chance that a formula is figured out to again create the opportunities for sports journalists.
Right now Gastineau cites the lack of independent sports sources and that large broadcasting corporations with some owning their own product put announcers and reporters in a box. No room to be critical, no room to point out mistakes it all has to fit a narrative they are trying to sell. This is really putting reporters and broadcasters in a tight spot and limits their creativity and independence.
He says a lot of the new talent coming on feels somewhat forced. He uses ESPN as an example and when Chris Berman hit the airwaves he had all these nicknames and sound effects and catch phrases and ever since then it feels like most of the ESPN anchors all try to force some kind of hook that doesn't necessarily flow well or even fit. He says that style also takes away from being credible when it isn't natural. He says with Berman it was natural and not forced and he remained a credible voice whereas now when it is jamming a square peg in a round hole you lose some of that credibility to the listener or viewer.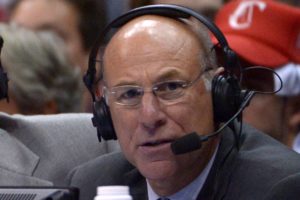 A more local example is former Sonics play-by-play legend Kevin Calabro who has a colorful and powerful delivery. Gas says no one can duplicate "Flying Chickens in the Barnyard" like Calabro and you really shouldn't try. Gas says taking things from seasoned and longtime pro's like Calabro, a Dave Niehaus, Dick Vitale or Vin Scully and using some of those skills to create your own personality is exactly what young or new broadcasters should do but replicating or imitating them does not work and it is important for each person to develop their own flair whatever that may be but it should be natural to that person.
Right now it is difficult to find places where you can grow your broadcasting chops yet it is also the easiest time ever thanks to the new media. Gas says everyone can do their own podcast, you can call play-by-play at a middle school game into your phone to practice. He says the strangling of the art by big corporations is blunting creativity and we're getting more boring broadcasts where everyone sounds the same.
But like Rondeau, Gastineau holds out hope for the huge pendulum to swing back toward more independence and creativity. There will be a day that there is too much "sameness" and fans will demand more originality. He does believe that the next generation of broadcasters will likely need to be even more versatile in their skills and focusing on just one talent is going to limit your options.
Mitch Levy (24 years with KJR radio now the host of his own Podcast Mitch Unfiltered)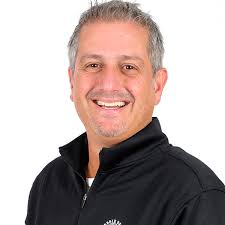 Mitch Levy better known as Mitch in the Morning for 21 years was the voice that woke people up and got them work as the Morning Drive host on KJR radio. Mitch grew up in Florida and knew from a young age he wanted to be a broadcaster. Mitch revealed in our interview he can pinpoint the exact time he knew his future and that was watching the boxing competition of the 1976 Olympics. It was Howard Cosell that hooked him. Levy also does a darn good impression of Cosell but it was his delivery and his credibility that fascinated a young Mitch Levy.
Levy comes at this from a different perspective than the others we talked with and that is he has never been a play-by-play guy or other aspects of sports brodcasting. He graduated from Syracuse University and received an internship at NBC radio in New York. Levy went to work for what became Westwood One as a producer and reporter. He then worked in Washington DC at sportsradio WTEM. Levy was the producer of the Tony Kornheiser show and then the James Brown show. From there he landed the mid-day spot on KJR following the "Fabulous Sports Babe". 3 years later he was the morning show host for 21 years.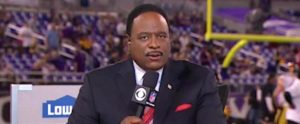 Levy says the new era of media scared him and he was reluctant to give this "podcasting" stuff a try. But after about a year away from broadcasting and at the urging of his family, friends, former sponsors and fans he launched "Mitch Unfiltered". Levy had immediate success and pretty much re-created much of what he did on the air for 24 years. However, Levy says the new format really allows him to deliver the product he has allows wanted to do.
Levy does have sponsors but they are limited and he does not take 20-minutes of commercial and promotional breaks per hour instead it's less than 5 minutes. Levy says there is no time limit either the show could be an hour and 15 minutes or 2 and half hours. So is the new media killing the sports broadcast business, Levy doesn't think so. He says it's really different for sure and right now you are seeing the talk radio format really take off in the podcast format.
Will play-by-play make a similar switch Levy thinks it will. He says you are already seeing colleges switching to a streaming format. This is allowing them to live stream more sports than just football and men's basketball. Levy thinks as streaming gets better and better and the next generation is being raised on wifi not airwaves so the industry has no choice but to shift. Levy says there was a major shift in sports media when radio was introduced and no longer was it just Newspapers. Then television came along and now yet another distribution method has arrived.
Levy says the only difference with this new way of media is that it really does combine all aspects of the traditional media. It won't be long until there is a "New Traditional" media.
Dick Nichols (High School Sports Announcer for KGY Radio in Olympia for more than 50 years)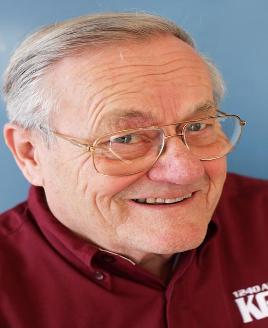 Our final interview for this story was Olympia legendary broadcaster Dick Nichols. Dick and his longtime partner Larry McMillan delivered thousands of High School sports during their time at AM1240. Nichols is an icon in the Thurston County area not only was he long time staff member at KGY but he worked for the Tumwater School District as the Communications Director, a similar position at Puget Sound Energy and was an elected Thurston County Commissioner for a couple of terms to name a few of his occupations.
Dick Nichols and KGY were the Monday Night Football for all of us back in the day. Every summer as we prepared to play football we couldn't wait for KGY to release their broadcast schedule. You always hoped for at least 3 but most years we would be on twice and then play-offs. There was no question we all knew when the game was being broadcast, it was special. We made sure one or two or three of us had someone recording the game on a cassette recorder. Then we would pass it around until the school library got this cool new machine that recorded one cassette to another and in lightning quick fashion where a 3 hour broadcast would be recorded in only 45 minutes! We thought that was the NEW Technology!
Maybe it is memories of these times that make us ask if the new media is killing traditional sportscasting. Nichols says simply the mass of information being released so immediate makes it really difficult to stand out. The specialness of those broadcasts now replaced with broadcasts of some kind virtually at every game. No one ever thought about broadcasting a JV game, C team, Freshman or middle school. Of course back then it wasn't middle school it was Jr High.
Nichols is concerned the long time so-called contract radio stations had with the public is gone. What he means by that minimum standards, one of the things he never did and always encouraged was to not criticize players, coaches or officials. He says the focus should be on calling the game. He'd like to see more excitement come back to announcing. It's too boring now in many cases and we're in a sound alike phase. He also is concerned with the lack of traditional opportunities in the business now but hopes there will be a transition that will allow this sports media to grow.
Nichols says with all the new ways of getting coverage out it feels like it needs to be organized and over time believes we will see media companies come together to present the product like never before and a bright future remains for sports media but right now admits young people really have to take more initiative and likely be more patient in getting to the next level of sports media.
There is no doubt the traditional media will not be the same ever again. The question is how are they all going to converge together in the future. It is ironic I know that I am now working in the new media including live video streaming but I too believe there is a convergence of all media on the way. Eli Sports is trying to do that in fact and we will keep pushing forward. Right now we have 40-50 people who have done games for us and continue to do so on a regular basis. It is at least some of the opportunity we hope helps continue to grow the new format.
I also believe those wanting to get into this business are going to have to be a multi-tasker and be more than ok at the new skill of social media especially Twitter and Instagram. Those seem to be the social media of choice for sports fans. The new sports media reporter will need to know how to write stories, take still pictures, video shorts and edit on the fly. They will need to know how to interview and shoot highlight clips. They will do play-by-play, color and produce and sometimes all at one time.
We ask our guys to not only call the action but sometimes they have to run the camera, produce the show and call the game while tweeting out scoring updates during a commercial breaks. The days of focusing only on calling a game are very likely gone except for the highest level of broadcasting. I do think there will again be the voices of sports that are more than just the voice in the background.
The new media is here and it's not going anywhere. It is now our job to conform to the new delivery system and continue to bring real sports journalism to life. That is what I believe the future of sports broadcasting is, only time will tell.
www.elisportsnetwork.com