5/18/2020
(Arcadia, CA) Flavien Prat fell one Winner's Circle picture short of tying the record for most wins in a single day on Sunday just missing his 7th win which would have tied him with Laffit Pincay Jr. Prat, a 27-year-old from France began riding in the U-S in 2015 after being a Champion Apprentice and Group 1 winner in France. Prat won the Kentucky Derby last year when his horse was moved up from 2nd to 1st when Maximum Security was disqualified. Prat aboard 65-1 shot Country House picked up the win for his first Derby victory.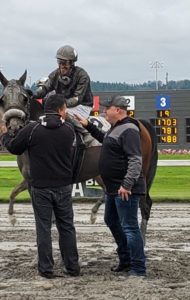 Prat has been off to a blazing start since Santa Anita re-started last Friday winning 2 then winning another 2 on Saturday and finally 6 on Sunday from 25 total mounts or a 40% win clip. He also placed twice and showed 7 times to finish in the money 19 of 25 or a red hot 76%. The average win wager is just short of 5-2 so yes he is winning on favorites but also has brought in a few at a higher price.
His longest shot happened to be aboard Oh Marvelous Me on Friday owned by Todd and Shawn Hanson from Tenino. "Marv" has been a steady presence at Emerald Downs and split the field finishing 6th in last Summer's Longacres Mile. "Marv" was let go at 6.5-1 and returned $15.40. Mark Glatt was the trainer. (See Race below)
Prat got things started on Sunday with a win in the 1st on Querelle then won the 4th on Noor Khan, the 5th aboard Bud Knight and completed a pick 3 with Collusion Illusion. Prat then won the Desert Stormer Stakes at odds-on returning just $3.60 and completed the double taking the 9th with Harper's Gallup. In the final race Prat had a chance to tie Pincay for most wins in a day and was bet down to favortism but faded in the stretch and had to settle for the 6 win effort. The 6 wins tied 12 other riders who have achieved that feat at the Great Race Place.
A couple of other betting notes the 4th-6th race all Prat Pick 3 returned $50 on the $1 bet and the 8th-9th all Prat Double was good for $11 on the $1 double.
Prat aboard odds-on favorite Bellafina in the Desert Stormer Stakes on Sunday
Oh Marvelous Me grinds out a win at Santa Anita
www.elisportsnetwork.com